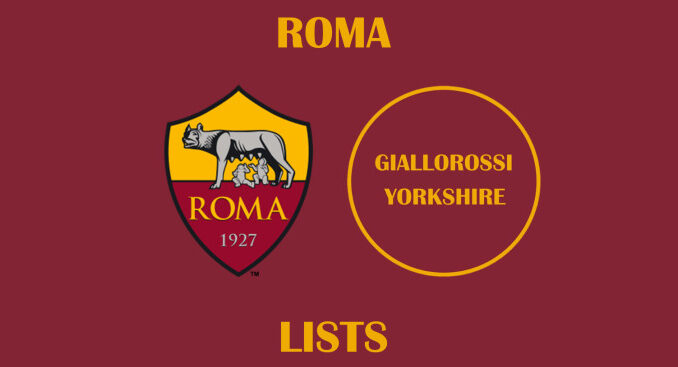 Whenever a new season begins, it is an opportunity for players to show how ready they are for the fresh challenges ahead.
There is always anticipation for who will be the first goalscorers of a particular season, but sometimes a player can make even more of an impression by scoring twice on the opening day.
Here is a look at all the players to have scored a brace or hat-trick on the opening day of a Serie A season for Roma.
2023 – Andrea Belotti
Embed from Getty Images
After going a whole season without scoring in Serie A after joining Roma in 2022, Andrea Belotti began the 2023-24 campaign with a point to prove – and his drought finally ended at the first time of asking in his second season.
Finding the net early against Salernitana with a goal that was ruled out for a narrow offside, he went on to score two goals that did count – one with his left foot and one with his head – in a 2-2 draw.
It put him halfway to matching his tally in all competitions from his first Roma season, and a quarter of the way to what he managed before that in his farewell term with Torino.
2021 – Jordan Veretout
The 2021-22 season – and Jose Mourinho era – for Roma began in the Europa Conference League qualifying rounds rather than Serie A, but when the domestic action commenced, there was a 3-1 win over Fiorentina to celebrate.
It would not have been possible without Jordan Veretout scoring twice against his former club, taking the game away from them after Nikola Milenkovic had cancelled out Henrikh Mkhitaryan's opener.
Initially, it looked as if Veretout would be keeping up his form from the best scoring season of his career that had preceded 2021-22, but he only scored twice again in what turned out to be his last season with Roma.
2016 – Diego Perotti
At the outset of arguably Roma's most successful season in Serie A since they last won it in 2001, they found themselves top of the table after the first matchday of 2016-17 ended with a 4-0 win over Udinese.
Diego Perotti, who had made an encouraging impact since joining Roma midway through the previous campaign, set things in motion by scoring twice from the penalty spot in the second half, before Edin Dzeko and Mohamed Salah made sure of the three points.
And so began the most prolific season of Perotti's career, partially by virtue of the fact that it was also the one in which he made the highest proportion of his Roma appearances.
1998 – Paulo Sergio
After scoring 14 goals in his debut Roma season, Paulo Sergio set out strongly again in his second by scoring twice against Salernitana in September 1998.
His goals came either side of one by Francesco Totti in a 3-1 win in which Roma had to come from behind at Stadio Olimpico.
Sergio matched his tally of 12 league goals by the end of the season before leaving for Bayern Munich.
1997 – Abel Balbo
The final season of Abel Balbo's first spell with Roma began with the Argentine striker sinking Empoli with two second-half goals after strike partner Marco Delvecchio's early opener had been cancelled out.
Despite the competition from new arrival Sergio, Balbo remained Roma's top scorer in the 1997-98 season, which he finished on 16 goals. It meant he had hit double figures in all five of his seasons with the club.
Sadly, when he returned for a second spell in 2000, he failed to get off the mark again, despite being part of a Scudetto-winning squad.
1990 – Andrea Carnevale
After arriving from Napoli, Andrea Carnevale quickly assumed some responsibility for Roma, taking a penalty on his league debut.
He converted it to put Roma 3-0 up against Fiorentina just after the hour mark, before scoring a second from open play a few minutes after.
Carnevale kept up his early promise with goals on matchdays three and four as well, but things soon ground to a halt when he was caught up in a doping scandal.
1962 – Torbjorn Jonsson
In the summer of 1962, Roma were celebrating 10 years back in the top flight after their solitary season in Serie B. Well back on track by now, they had finished fifth in the past two editions of Serie A and would match that ranking again for a third time in a row.
It all began with a 3-0 win over Napoli in September 1962, in which Giampaolo Menichelli had given them the lead before Swedish midfielder Torbjorn Jonsson made it two and three.
Ending the season on 13 goals, Jonsson was Roma's third leading scorer that season behind more naturally attacking players like Pedro Manfredini and Antonio Valentin Angelillo.
1961 – Pedro Manfredini
Manfredini, incidentally, had been Roma's top scorer over the past two seasons as well. In 1961-62, he would end up on 17 goals in all competitions, two of which came away to Udinese on the opening day in Serie A.
Roma found themselves behind at the break before Manfredini turned the game on its head and Francisco Lojacono added a goal himself to gift new coach Luis Carniglia a 3-1 win.
Manfredini scored on his next appearance too, but it was within a loss to Inter at the Olimpico.
1960 – Pedro Manfredini (hat-trick)
The previous campaign had gone far better for the Argentine striker, who scored 34 goals in all competitions in the season in which Roma won the Inter-Cities Fairs Cup for the only time in their history.
In the league, Manfredini's second Roma season began not only with a brace, but a match-winning hat-trick in a 3-0 triumph away at Bari.
As if that wasn't enough, he also scored a hat-trick the following week as Roma's first home game ended 6-1 against Udinese, keeping their place at the top of the league, which they would occupy for most of the first half of the season until their domestic form tailed off.
1955 – Istvan Nyers
Istvan Nyers had hit double figures in his debut Roma season after arriving from Inter, including an opening-day penalty, and started strongly again for his sophomore campaign in the capital.
Just four minutes into the new term, the Hungarian attacker put Roma ahead against Vicenza. Dino Da Costa doubled the lead later in the first half, prior to Nyers converting a penalty to make it 3-0. Both teams ultimately scored again and the three-goal margin separated the two sides by the end of proceedings.
Nyers netted another brace the next week away at Genoa, once again with one being a penalty, and he also got one goal on matchday three. But by then, he had accounted for just over half of the tally of nine goals that he would finish his final Roma season on.
1946 – Amedeo Amadei (hat-trick)
After some war-time interruption, Serie A was officially back for the 1946-47 season. Roma started on the right path with a 3-1 win over Sampdoria, with captain Amedeo Amadei responsible for all of their goals.
He would score another 10 across the course of the campaign, but nobody else hit double figures for Giovanni Degni's side, who ended up finishing 15th.
The following season, in which Roma did even worse and came 17th, would be Amadei's last at the club until he moved to Inter.
1941 – Amedeo Amadei (hat-trick)
Times were much brighter when Amadei hit a treble on the opening day of the Serie A season in 1941. He had also scored a single goal in the season opener the previous campaign, but in a sign of things to come, Roma this time around won 5-1 against Napoli, with Amadei signing off the last three goals.
It put them top of the table and it was there that they would finish the season – having never dropped out of the top three along the way – to claim the Scudetto for the first time in their history.
Amadei, who also scored in the reverse fixture against Napoli, but this time only once, was the top scorer for Alfred Schaffer's side with 18 goals, including one other hat-trick (against Liguria in May 1942) and two additional braces.
1937 – Danilo Michelini (hat-trick)
Danilo Michelini set out on one of the highest-scoring debut seasons by a Roma player when getting going after his move from Lucchese in 1937.
His first outing for the club was a 4-0 win over Fiorentina, in which it took him just seven minutes to get off the mark, before he added a couple of goals within the first five minutes of the second half to complete his introductory hat-trick.
Michelini concluded the season as Roma's top scorer as they finished sixth and he would repeat the feat (albeit with a slightly lower individual tally) when they came fifth the following year.
---
Honourable mentions – Carlo Galli (1951) and Amadei (1943)
This feature has focused on the opening days of Serie A seasons, but there have been two other examples of strikers scoring braces when other league campaigns have begun.
In 1943, Amadei earned his side a 2-0 win over Juventus Roma as the Campionato Romano Di Guerra began, and in 1951, new signing Carlo Galli got off the mark in Serie B with a double to help his recently relegated side start their successful quest for an immediate return to the top tier in a 2-1 win over Fanfulla.