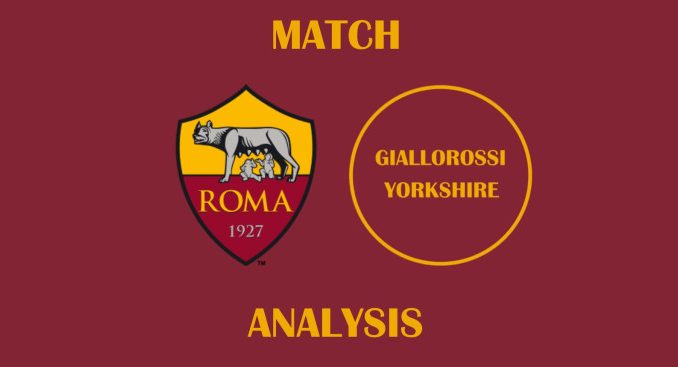 Roma began their 2023-24 season with a 2-2 draw against Salernitana.
In a new style of match analysis on Giallorossi Yorkshire, here's a look back at three themes from the game – one starting with A, one with B and one with C.
Aouar among debutants with mixed fortunes
The start of any new season usually represents the start of some careers at the club, and despite a largely frustrating transfer window until now, it still happened to be the case for Roma.
Leeds loanee Rasmus Kristensen and free-transfer coup Houssem Aouar were handed their first Roma starts, before PSG recruits Renato Sanches and Leandro Paredes came on for their debuts (a second debut in the latter's case) and Primavera product Riccardo Pagano did late on.
Of the starting debutants, Aouar was the more impressionable, but it was an appearance of two halves for the former Lyon midfielder. Before the interval, he was lively and confident on the ball; after the break, he became quiet. However, there have been some promising signs from him.
Kristensen, in contrast, was less impactful and ended up being replaced by forgotten man Rick Karsdorp.
Out of the substitutes who got long enough, Sanches occasionally offered glimpses of his ball-carrying skills, while Paredes immediately showed responsibility by stepping up to set-piece duties, which allowed him to assist the equalising goal.
Overall, there were mixed fortunes for the five newcomers, who will all be hoping to build up their statuses with the team in the coming weeks.
Belotti breaks duck in Serie A
It was an existing player, but one who brought new elements too, who got the goals for Roma. After a goalless season in Serie A last time out, Andrea Belotti put the ball in the net three times at the first attempt for the new campaign.
Only two of them counted, since he was slightly offside for his early opener, but the brace will have done his confidence the world of good.
Roma may well be trying to invest in a new striker, giving Belotti extra impetus to prove himself after failing to meet standards in his first campaign with the club. His first response was positive, though; this looked like a leaner, sharper version of the striker, and one who actually looked at home in the opposition box.
All three of his goals, including the disallowed one after a splendid set-up by Bryan Cristante, were well taken, either with his feet or head. Belotti was Roma's standout player, but must now put a more extensive body of work together to prevent this being a one-off.
Candreva causes uphill battle for point
For the first time since 2015, Roma found themselves behind at some stage of their opening Serie A fixture. After all, Belotti was not the only brace scorer, since Antonio Candreva took Salernitana from 1-0 down to 2-1 up.
Both of the Rome-born winger's goals were well taken too, but there were preventable elements. It was concerning to see Roma's defensive setup played through with relative ease on those couple of occasions.
Candreva had too much space to attack for his equaliser to make it 1-1 after Gianluca Mancini was cut adrift and Chris Smalling was wrong-footed, while there was a marking issue for his goal that made it 2-1, with some players appearing to be out of position. Left-back Leonardo Spinazzola and central midfielder Cristante were effectively stuck in each other's positions and amid the fluidity, the Salernitana star seemed one step ahead of his opponents for the second time of the evening.
But Roma worked their way back into the game eventually, with Belotti convincingly heading home Paredes' corner to claim a point. A draw was not the ideal result Roma would have expected on paper, especially after some signs of fluid passing in the first half, but this team has been a work in progress for a while and that process will evidently be continuing. In the circumstances, a point will do, but the expectations will increase once Jose Mourinho is back on the touchline.