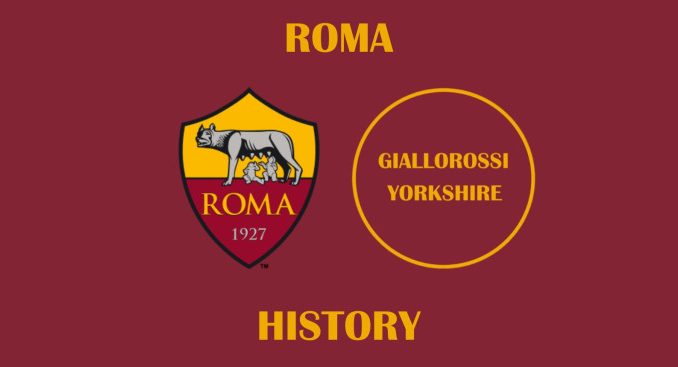 Sergio Oliveira wasted no time in introducing himself to Roma fans by scoring on his debut with a penalty in a 1-0 win over Cagliari on 16th January, 2022.
In doing so, the winter signing joined a select group of players to have scored on their Roma debut – and an even narrower one of those to have done so with a penalty.
Here are the stories he now finds himself alongside of all those who got off the mark for Roma from 12 yards before they did from open play.
1928 – Giovanni Corbjons
The first player to ever score a penalty for Roma was Giovanni Corbjons, who did so in the club's founding season. His first goal for Roma came in dramatic circumstances, too; Corbjons scored a penalty in the 90th minute to salvage a 3-3 draw against Modena in February 1928.
It was his only league goal that season. That July, though, he opened the scoring against the same opponent with another penalty in the replay final of the Coppa CONI, which Roma went on to win.
1929 – Gianangelo Barzan
One of five players Roma brought to the club in the summer before their second season, former AC Milan defender Gianangelo Barzan would score from the spot against his former side with the club's last goal of the campaign.
Before that, though, he got off the mark for Roma with a penalty in a 2-0 win over Alessandria, a result which was upheld after a pitch invasion by fans of the opposition.
1935 – Evaristo Frisoni
Six-and-a-half years after becoming one of the first players to score a penalty against Roma (for Brescia) in their debut season, Evaristo Frisoni finished off a 6-1 rout of Alessandria in January 1935 with the Giallorossi's last goal of the game from 12 yards.
Frisoni scored four goals for Roma across his four-year spell, but that was his only penalty.
1939 – Miguel Angel Panto
One of the key figures from Roma's first Serie A winning squad, Miguel Angel Panto gave a glimpse of what he would be able to contribute right from the start. Indeed, he was the first of three players to score a penalty on their debut for the club.
Like Oliveira decades later, Panto took responsibility at the first opportunity. On the opening day of the 1939-40 season, his goal was the difference in a 1-0 win over Bologna. It was his European debut after joining from Argentine side San Lorenzo.
1941 – Edmondo Mornese
Arriving to form part of the squad that would win the title for the 1941-42 season, midfielder Edmondo Mornese scored the second of two penalties Roma would convert en route to the Scudetto.
His was in a December 1941 draw with Atalanta, which was Roma's second equaliser.
1957 – Giovanni Griffith
Distantly of Irish descent on his father's side, Giovanni Griffith joined Roma as a 22-year-old in 1957. Despite his relatively young age, it wasn't long before he was taking on responsibility.
The defender became the second of four different Roma penalty takers in his debut season when stepping to the spot in a November draw with Vicenza, by which time he had turned 23. The visitors themselves had taken the lead via a penalty. But Griffith kept his nerve to equalise in the same fashion in the very last minute.
1966 – Joaquin Peiro
Joaquin Peiro was brought to Roma with great experience after a lengthy career in his native Spain before two years each with Torino and Inter. A couple of seasons later, he would become club captain. But even before then, he was establishing himself as a leader.
Remembering former Roma captain Joaquin Peiro
Peiro's first goal for the club came in November 1966, his side's second in a 2-1 win over Lecco. He finished his debut season with Roma as their top scorer that year, adding one more penalty within his overall tally of nine goals.
1990 – Andrea Carnevale
By the time Andrea Carnevale joined Roma as a 28-year-old, he had already represented four other clubs in Serie A. Arriving from Napoli, the striker scored the first of 25 goals from his latest three-year adventure from the penalty spot.
A few days after debuting in the Coppa Italia, he netted a double on the opening day of the league season, each goal within three minutes of the other. The first was a penalty, putting Roma 3-0 up in a game that would finish 4-0 against Fiorentina.
2003 – John Carew
Roma's second game of 2003-04 marked the sixth time two of their players scored debut goals in the same match. In a 5-0 win over Brescia, the first had been Cristian Chivu, with a free kick for the second goal after Vincenzo Montella's opener.
A brace from Francesco Totti doubled the lead before Roma won a penalty after their captain had left the pitch. The man who stepped up instead was loan signing John Carew. Subsequently, the Norwegian got the first of eight goals from his solitary season in Italy.
2013 – Kevin Strootman
Embed from Getty Images
Kevin Strootman's debut season with Roma is looked back on with fondness, partly for the shame of how he declined after the injuries that followed, but deservedly because of its intrinsic worth.
The Dutch midfielder made an instant impact after arriving from PSV, scoring a penalty (Totti, 10 years later, again having been taken off) for the third Roma goal in a 3-1 win away at Parma on matchday three of the Serie A season.
2018 – Gregoire Defrel
One of Roma's most regrettable signings of the Monchi era – and indeed, ever – was Gregoire Defrel. The French striker joined from Sassuolo to reunite with coach Eusebio Di Francesco in 2017. However, he was effectively third choice in his position.
Defrel never scored for Roma from open play, instead having to rely on a stoppage-time penalty against Benevento – the last goal in a 5-2 win in February 2018 – for his only goal for the club.
2019 – Jordan Veretout
Embed from Getty Images
One of Roma's most reliable penalty takers in recent times has been Jordan Veretout. He joined the club from Fiorentina in 2019, having scored two and missed two spot kicks for La Viola.
His record with Roma has been much more positive. His first goal for the club came from 12 yards out in a 2-1 win over Napoli in November of that year. It was the first of 13 consecutive penalties Veretout would score for Roma until finally missing in October 2021.
2020 – Amadou Diawara
Veretout's main midfield partner in that first season at Roma was fellow 2019 signing Amadou Diawara. The Guinean only had two goals from his tenure with Napoli, the first having been a penalty.
He used the same strategy to get off the mark for his new club in a 3-2 win over Torino on the penultimate day of his debut season in Rome. By that time, though, he was already beginning to lose his starting spot in the side.
2022 – Sergio Oliveira
With Veretout having missed his last two attempts from the spot and Lorenzo Pellegrini not playing, Roma gave Sergio Oliveira the chance to mark his debut with a goal when they were awarded a penalty against Cagliari.
Having confirmed his confidence from dead-ball situations upon his arrival at the club in January 2022, it only took Oliveira four days to prove why. His composed 33rd-minute conversion was the difference by the end of a productive debut. From it, Roma discovered someone else they can turn to when it counts.
---
Show your support by following Giallorossi Yorkshire on Twitter and Facebook, and subscribe to the monthly newsletter.