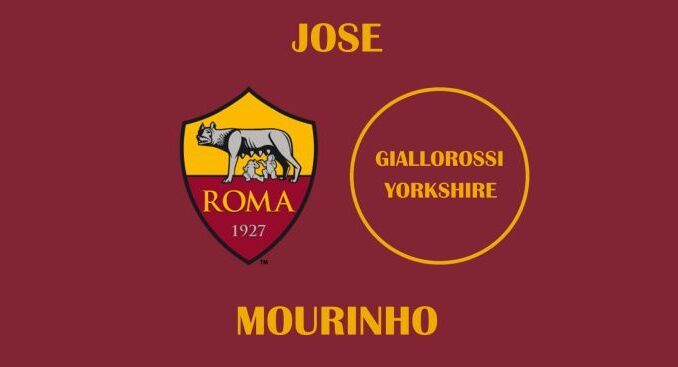 Jose Mourinho reiterated that the Roma project is about long-term success as he vowed to give his all to his new job in his first press conference in the role.
Six days after his first interview with the club's official channels, Mourinho spoke to the wider media for the first time at an introductory press conference, set against a backdrop of the Terrazza Caffarelli in the city.
The coach gave further indications of the transition in mentality that he will bring to the club, addressing each question confidently, on his own terms, with an unwavering belief in the messages he was sending.
Insistent in the long-term project, Mourinho will nonetheless have short-term hurdles to overcome. In the immediate future, he needs to transform the confidence of a group of players who fell well short of their targets last season. As he prepares to take training for the first time, he was asked how he plans to go about the task.
"The first step is to know the group," he responded. "I can't change something before knowing the players.
"Some principles are not negotiable. Today is the first training session and I want the players to understand how we work straight away. I always want 100 per cent from everybody."
Embed from Getty Images
Mourinho denied that he had spoken to any external players about coming to the club, after reports of him calling Sergio Ramos and Gianluigi Donnarumma.
However, he did admit that the club will need to enter the market to find cover alongside Riccardo Calafiori at left-back following the injury to Leonardo Spinazzola.
"It's a sad situation for all of us, but he is incredible for his joy," he said. "He is a positive person, but we won't have him for a long time, it's tough for him and us.
"We have a young player like Riccardo Calafiori, he can be a first-team player, but we need a left-back, sorry director [referencing general manager Tiago Pinto]."
In addition to the stricken Spinazzola, Mourinho revealed his pride in Bryan Cristante for reaching the final of Euro 2020 with Italy, despite not yet working with the versatile midfielder.
"We are all happy that these players are part of a national team that is doing really well and has 50 per cent chances to return here as Euro champions," he said of Cristante and Spinazzola.
"I've never worked with them, but I feel they are my players. Cristante proves the national team is full of great players, but only 11 can play. [Roberto] Mancini can't change this, he respects Cristante and relies on him."
Mourinho did not speak too much about individuals, sidestepping a question about whether Edin Dzeko could be reinstated as captain, but one man he did mention was Nicolo Zaniolo as he nears his return from injury.
The attacking midfielder did not kick a ball last season after damaging his ACL in the summer of 2020. He recently hinted at his enthusiasm for working under Mourinho and it seems that feeling is mutual, even if the coach needs to be patient in the plans to reintegrate him.
"We need to understand and communicate," Mourinho said. "There's a very technical team here, with great passion. Many players have left their comfort zone to come here and work with us, there is a lot of work to do.
"Zaniolo has an incredible talent, like many others in this team. We know his injury history, we need to find the best habitat for him and the others."
The 58-year-old will now have to look at the bigger picture to make the players as effective as possible. Doubts remain as to what formation Mourinho will use, but the upcoming pre-season schedule should give some clues.
Overall, though, he is planning a fluid approach.
"We have an idea, but we must work on it," he said when asked about his system. "We must understand how we can put each player in the best position.
"Football has changed a lot, now it's more difficult to decide a single system. Nowadays you need to be able to change and have more options. Players have a better tactical culture now."
Embed from Getty Images
Mourinho said he would be working 24 hours a day, minus a bit of time to sleep, to ensure Roma improve in all aspects as a club.
That work is already beginning, as he regularly quipped that the press conference needed to end soon so he could head off to the first training session.
It will be the beginning of a new era for Roma, one they hope will be successful. But Mourinho remained unmoved over the prospects of winning something in his first season.
"You always talk about titles, we talk about the project and work," he insisted. "It would be easy to promise a title, but the reality is different.
"We talk about the project and about improving. You talk about titles, we talk about projects. The owners don't want an isolated success, they want to get there and stay there, which is more difficult.
"It's easy to win and have no money to pay salaries, but we want to be sustainable and the club and I share the same view. We'll work and we'll reach a title."
Indeed, as the final question came in, regarding where he sees Roma at the end of his initial three-year contract, he replied: "Celebrating".
Show your support by following Giallorossi Yorkshire on Twitter, Facebook and YouTube, and subscribe to the monthly newsletter.