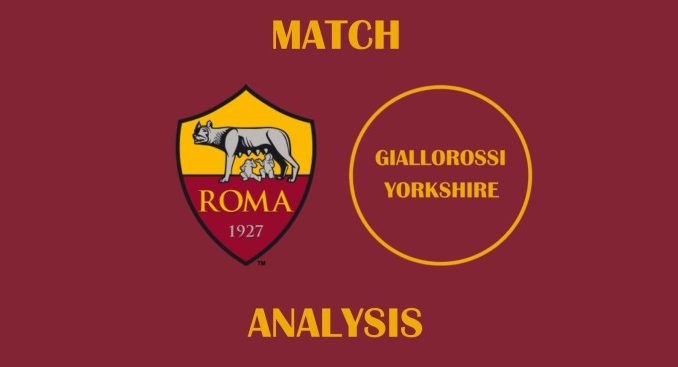 With a fifth win in six games, Roma's strong end of season form continued against Fiorentina on Sunday night.
A pair of penalties from Jordan Veretout against his former club earned a 2-1 win, as Roma continued to bear the fruits of Paulo Fonseca's recent switch to a back three.
At the most specific level, Roma are technically unbeaten with the formation they are currently using. Yes, they lost to Napoli when Fonseca first reverted to three at the back in early July, but the shape in that game was more of a 3-5-2. Ever since then, it has been a 3-4-2-1 – and it has worked practically every time.
Roma have found their balance. The shape enabled Henrikh Mkhitaryan to drift between the attacking lines against Fiorentina, for example, as he does so graciously on a regular basis.
Behind him, Jordan Veretout and Amadou Diawara continued to complement each other in midfield. Little has changed for them in the new system – they still hold down the middle of the park as a pair. More often than not, they do an excellent job.
Veretout did not just impress because of his composure from the penalty spot. The Frenchman was a driving force, once again proving to be the inspiration when things weren't all going Roma's way.
The Giallorossi were the better side and deserved the win, but it was a tough, physical battle. It's in instances like these where Veretout thrives. He is putting together a run of games on par with those in the Autumn, when he refused to be shackled down despite being the club's only fit, natural central midfielder. When things have been tough this season, so has Veretout.
Embed from Getty Images
But perhaps the biggest benefit of the new system is how it accommodates both Aleksandar Kolarov and Leonardo Spinazzola.
When the latter arrived at Roma last summer, he was a major investment. The left-hand side of defence needed freshening up, but Kolarov was not ready to relinquish his starting berth just yet. That forced Spinazzola to cover at right-back instead.
While he is right-footed, it is not his preferred role – and his mixed performances showed it. But now that Fonseca is using a 3-4-2-1, he has found a way to fit both Spinazzola and Kolarov onto the left flank.
Also helped by the rediscovery of Bruno Peres, who has established himself as first-choice at right wing-back, Fonseca has been able to restore Spinazzola to his favoured position wide on the left. The new system is one Spinazzola was beginning to excel in for Juventus, as he had previously at Atalanta. Now he is fulfilling his potential for Roma.
Spinazzola's resurgence makes him a strong candidate for Roma's most improved player this season – and there have been many. Mirroring the ever-more dependable Peres on the other flank, he is now helping Roma solve a problem they have had all season.
From the beginning of his time at Roma, Fonseca has wanted his full-backs to push high up the pitch. However, in the 4-2-3-1 shape, they weren't contributing enough to warrant such an approach. Now, they have less defensive responsibility, allowing them to focus on completing the task their manager wants.
Peres reaped the rewards in the game before this one, against SPAL, with his first ever brace. And while Roma didn't get a goal from open play against Fiorentina, there was further vindication for the recent tactical shift, as this time Spinazzola was effective in the final third.
Embed from Getty Images
With more key passes and successful dribbles than anyone else against Fiorentina, Spinazzola was a vital creator for Roma. He drove at the defence time and time again, always looking a danger.
But this wouldn't work so efficiently if he didn't have ample cover behind him. Fortunately, Kolarov is becoming more and more comfortable as a centre-back.
Roma do miss out on Kolarov's crossing by dropping him into the back three, but in reality, it has not been as effective this season anyway. He remains defensively well alert, though, and proved it against Fiorentina.
Kolarov won four of his six aerial duels, showing his strong perception of the game. He was never dribbled past, helping Roma limit their opponents to just one shot on target – their goal.
And the Serbian wasn't restricted offensively, either. He smashed the post with one of his shots, which led to Roma's winning goal. Kolarov also had more touches of the ball than any other player.
This role makes sense for Kolarov at his age. He can no longer get up and down the flank as quickly as required, but still has the instincts needed to excel at both ends. Doing so from a more central position gives him less ground to cover, but still the opportunity to show his worth.
It has taken Fonseca a while to work out how best to deploy his troops, but he is getting closer to finishing the jigsaw now. The coach has made considerably fewer changes from game to game recently, and it is paying off.
And by finding a way to get two of his key players complementing each other in roles they are more comfortable in, he is bringing the best out of his squad once again.