My fourth Roma match also happened to be my first away day with the club, as I got to witness the first leg of the Europa Conference League semi-final with Leicester City.
Ready to support my team at the stadium for the first time since 2019, I was not going to miss the opportunity to see Roma in my own country – and thankfully, I was lucky enough to get the ticket to make it happen.
As soon as Roma and Leicester reached the semi-finals to set up this tie, there was an anxiousness about trying to get there. Although the excitement kept sparking up too, this feeling continued right up until the entry to the stadium. But the journey would be worth it.
I travelled down to Leicester with two fellow members of the AS Roma North UK fan club. Once we got there, we immediately bumped into a couple of Italian Roma fans at a car park, who were interested to hear our stories.
When I explained how going to my first match at Stadio Olimpico had been influential to the support for the club that has followed, one asked if it was when Francesco Totti played. I confirmed that it was, and he looked me in the eye and said: "I understand".
It was not the only moment where I, as an English fan watching a game against an English team in England, would be made to feel welcome by the Italian contingent. All of the fans I met were proud and kind – even the one whom I let steal one of my chips on the walk to the ground – and wanted to ask about where I was from. The first thing that came to mind for many when I said Leeds was former United manager Marcelo Bielsa.
But they all knew I was not a Leeds fan, instead a Roma one – just like them. Indeed, the sold-out, 1600-strong section of travelling supporters were all there with a common goal. To cheer their team on to win.
The atmosphere had been building throughout the day. We arrived in Leicester in the hour of 4pm before queuing up to trade in a voucher for a ticket. In the queue, chants were already igniting from the fans, ready to take over a city built on Roman foundations.
One of the Leicester fans I met was keen to make that point, thanking the visitors for what they did for the city. There was something of a camaraderie between the two groups of fans, despite the predictable chants and gestures against one another that came inside the stadium ("Champions of England, you'll never sing that," was one admittedly decent one from the home end, but I'm getting ahead of myself here).
Once through the gates of the King Power Stadium, things got even louder. The atmosphere was intense, with pyrotechnics on display after the warm up, from which you could feel the heat. Both sets of fans were playing their part, but the fact that Roma matched – and sometimes bettered – their hosts for volume, despite only having 5% of the ground to themselves, showed the extent of this fanbase's fanaticism.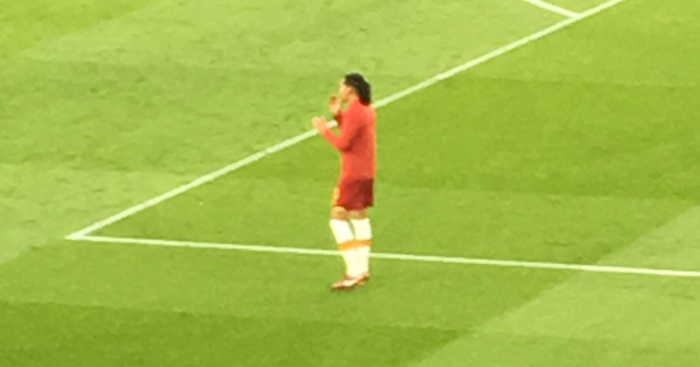 Throughout the game, I enjoyed singing along to the chants I knew, and clapping along to those I did not – of which, for someone whose most popular feature on this site is about the club's songs, there were surprisingly many. Whether I knew the words or not, it was special to be a part of.
When I attend games at the Olimpico, I have so far been in Tribuna Tevere, but closer to Curva Nord than Curva Sud. Therefore, being closer to the ultras was a special feeling. The intensity was invigorating.
When kick-off came, full focus was on the team. In fact, a couple of minutes into the game, I looked towards the touchline and saw a long grey coat – and suddenly remembered Jose Mourinho is the manager of Roma. It is still a surreal feeling, and seeing his presence was an honour.
The players did their part, taking the lead through Lorenzo Pellegrini. The celebrations were long-lasting and the home stands became a lot quieter thereafter.
Overall, the game itself ebbed and flowed, with Leicester having more of the ball. They eventually equalised through a Gianluca Mancini own goal. It prompted the Foxes fans to taunt, "You're not singing any more". But we would be. All night.
By the end of proceedings, some of the surrounding Leicester fans clapped their Roma counterparts, and vice versa, in a sign of respect. Both sets of fans had given their all and seemed to appreciate one another, even if some of their actions over the previous hour and a half may have suggested otherwise!
The away section was held back until about half an hour after the full-time whistle had signified a 1-1 draw being the conclusion. During that time, there were touching moments when Leonardo Spinazzola ran laps of the pitch ahead of his return to action, with the Roma fans in our corner anticipating his arrival and cheering when he reached the flag.
It was one of many moments in which everyone felt together – fans, players and club. Romanisti made their voices heard, and it went appreciated.
And so ended my first away day with Roma. It was all I had been hoping for – and more. But it could have been even better.
Taking a pit-stop just outside Leicester city centre on the way back, we called into a McDonald's. There, we were spotted by an Italian Roma fan, who informed us – and had the selfie to prove it – that Dan Friedkin had been in that very building just five minutes earlier.
I was kicking myself knowing I could have been quicker getting out of the stadium, but we weren't to know. It was just one of those things, but another reminder of where Roma were.
I got back home at around 2am, bringing an end to a long but worthwhile adventure. I would do it all again and strongly recommend such an experience to any Roma fan. The unity was special.
It was my first away day with the club, nearly eight years since my first home game. And I am already hoping it will not be the last.
---
MORE ON LEICESTER CITY V AS ROMA
How Chris Smalling finally got to show England how good he is for Roma
Leicester City v Roma: Player Ratings from the King Power Stadium