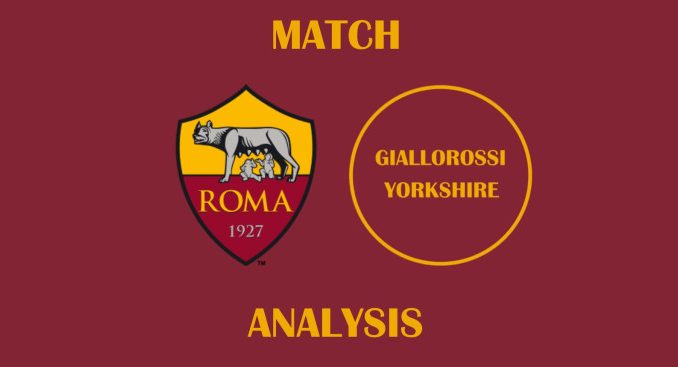 This isn't going to be an easy article to write. Indeed, I've been staring at the screen for 10 minutes trying to come round to it.
I've just checked the analytics for my website and learned that yesterday, for the first time ever, more than 1000 unique visitors landed on Giallorossi Yorkshire. It was the most successful day in this website's six-year existence and I can't quite believe it. Sadly, all the emotions this morning are bittersweet.
Roma fans could have woken up this morning celebrating a second consecutive European trophy, which would have been astonishing. For a time last night, they looked on course to earn it after Paulo Dybala's opener against Sevilla. But things unravelled. Dybala's goal feels so long ago now – and it's been less than 24 hours.
Despite all the commitment, the effort, the resilience, the comparatively decent chances and, yes, the gamesmanship, Roma fell short against Sevilla. It was a penalty shootout that allowed the Spaniards to lift their favourite trophy for the seventh time.
There is a whirlwind of emotions attached to the outcome that will pervade the summer. Was that the end of the Jose Mourinho era (he is suspended for the final Serie A match of the season, against Spezia)? Were Dybala's tears those of a man whose Roma career might be a one and done, who tried so hard to lift a comparatively weaker squad so he could repay the hero's worship he got when he arrived last summer? When will Roma get this close in a competition like this again? Will they even be in it next season?
And yet some voices of reason – like Bryan Cristante, one of Roma's best players this season, although perhaps that is representative of a team not quite good enough to reach the Champions League – are here to remind us that we should be proud. It's true. Consecutive European trophies would have been amazing, but consecutive European finals is still unprecedented for this club. And they didn't lose it within the regulation time.
There are things that could have been done differently. I would have resisted the temptation to start Paulo Dybala and used him as an impact player, like against Feyenoord in the quarter-final second leg, when his goal to take the tie to extra time became one of the highlights of this entire campaign; I would have brought Edoardo Bove on instead of Georginio Wijnaldum at the time of his introduction; and I would have kept Lorenzo Pellegrini on for the penalty shootout no matter what, even just letting him stand up front if he was physically spent. I would even have considered starting Andrea Belotti to do the hard yards before using Tammy Abraham as an impact player (in all honesty, my confidence of getting a winner plummeted when Belotti came on, so if the plan all along was to hold out in the long-term, it may have been better the other way around, even if Abraham wasn't impactful either). But these things are easy to say with hindsight.
There will be what ifs that we look back on. I still think that handball could have been given as a penalty, even if it wasn't quite as blatant an error as the pre-VAR intervention by Liverpool's Trent Alexander-Arnold in the Champions League semi-final five years ago. It may have been a game-changing moment, but it wasn't to be.
Incidentally, I've said ever since that heartbreak against Liverpool that it hurts more to lose a semi-final than a final, without really being able to put my words to the test. You know what? As difficult as this feels the morning after, I stand by that. I'm glad I got to see my team in the final. I'm glad that for a decent portion of it, we believed.
Neutrals – or those who hate Mourinho – may disagree, but there are things to be proud of with this Roma team. While they sought every marginal gain possible, by hook or by crook, to account for the relative lack of depth and ability in their squad, their strength all along this journey has been their heart. Gianluca Mancini and Roger Ibanez may have missed their penalties in the shootout, but the courage for two defenders to step forward when Dybala and Pellegrini were unavailable, and options like Belotti and Wijnaldum were still waiting on the halfway line, is commendable.
How about the effort of Nemanja Matic? The midfielder has really come into his own over the past few months, especially in Europe. For a 34-year-old to spend 100 minutes on a yellow card in a European final and still succeed as a disruptive influence against the opponents was incredible. He deserved more.
And Chris Smalling, the best player when Roma won the Europa Conference League final last year, was particularly immense in those nervy closing stages and extra time.
As a collective, it was a solid effort. Sevilla just had a bit more depth – Suso was hard to contain when he came off the bench, for example, making a much more noticeable impact than someone like Wijnaldum – and their confidence came through in the end.
Let's be honest here as well. There are some great Roma teams from the past who didn't play in European finals, or even win the domestic honours they should have. Being realistic, this isn't one of them. The fact they fought beyond their ability is worthy of appreciation, though – and I hope those players understand how well they have actually done.
Where do Roma go now? It's hard to assess at the moment. Mourinho has confirmed he wants to stay, but didn't finish that declaration without a 'but'. If he goes, the expectations of the club in Europe would deflate again, barring almost impossible upgrades to the squad.
Thus, we might look back at this as something we should have tried to enjoy, but with all the nerves, it was so hard. Maybe the defensive approach doesn't help those nerves sometimes, but it got us this far. There simply isn't the quality in this squad to be a free-flowing attacking unit, nor the depth to keep pressing in the final third.
But these players have – for the most part – put their all in. Those of them who played in both European finals will be part of the club's history. Despite their spirit, we didn't cross the line, and it has been a disappointing season on the whole.
Yet that glimmer of a chance to believe, in a committed team willing to stand up for themselves despite their obvious shortcomings, captured our emotions. What a journey. If only it could have been.