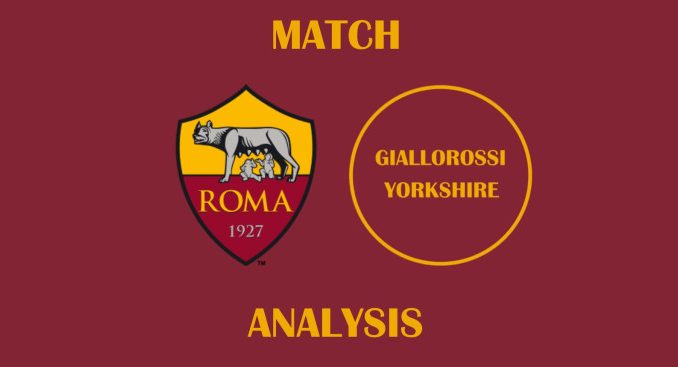 Roma suffered their first defeat of the season on Saturday when they fell 2-1 to Hellas Verona on matchday two in Serie A.
Ondrej Duda put the hosts ahead early on and Cyril Ngonge doubled their lead before half-time. The only consolation by Roma was a goal by Houssem Aouar after the break.
But there was to be no equaliser, even though Hellas had to see out the latter stages with 10 men following a red card for Isak Hien.
Here, Giallorossi Yorkshire reflects on three themes from the game – one starting with A, one with B and one with C.
A – Aouar gets his first goal despite surprise starting omission
Roma's potential route back into the game – which unfortunately they could not complete – came via a first goal for the club from Aouar.
After starting last week against Salernitana, it came as a surprise to some when the summer signing dropped out of the starting lineup. Instead, he and Edoardo Bove were replaced by Leandro Paredes and Lorenzo Pellegrini in the initial XI.
Aouar was introduced for Paredes at half-time, though, and a little over 10 minutes later, he scored his first Roma goal.
Embed from Getty Images
In the build-up, Pellegrini, Leonardo Spinazzola and Stephan El Shaarawy completed a neat triangle of passes on the left flank, before the captain hurriedly aimed the ball into the box. It took a flick off Andrea Belotti before the striker reacted and got his head on the ball ahead of the opposition keeper, which gave the more advanced Aouar an empty net to nod into.
Now off the mark, Aouar will hope to have made his case for more starts rather than substitute appearances as Roma look for the right balance in midfield, which is still a work in progress.
B – Backline broken through too easily
Sadly by that point, Roma were already well up against it after allowing Verona to break through them too easily in the first half.
For the opening goal, there was far too much space on Verona's right wing, which enabled Filippo Terracciano to get a shot away. Rui Patricio fumbled at it before Duda got in between Diego Llorente and Nicola Zalewski to react to the rebound first.
Patricio has come in for some criticism again for his role in the goal, and should not escape blame, but once again, the initial shot should never have been allowed to be made so easily and then Llorente's reaction in particular was too slow as well.
The second goal was also alarming as Verona exploited an empty space in Roma's left-back region again. Paredes was unable to keep up with Ngonge and ended up on the floor, leaving a race between Chris Smalling and the Hellas attacker.
Uncharacteristically, Smalling was too simply wrongfooted by Ngonge after standing off him too much and not committing. It allowed the recent Verona signing to curl in past Patricio with his left foot, having barely had an obstacle on his path from practically the halfway line.
For a player who has prided himself on being tough to get past throughout his Roma career, it was a concerning moment for Smalling – and once again, earlier in the move, questions could be raised of the lack of resilience and positional awareness on display from others.
In their post-match interviews, captain Pellegrini and vice-captain Gianluca Mancini both highlighted Roma's vulnerability on the counter and lack of defensive attention, which will need to be tightened up urgently.
C – Cutting edge lacking from classy captain and others
There were first appearances of the season for Pellegrini and Paulo Dybala after their suspensions last week. In the first half, each of them looked like they could create something – indeed, given the other options on the pitch, the onus was on them to do so – but it couldn't quite come off.
Pellegrini showed some intricate touches and classy control of the ball, but the precision was missing from his final output. For example, he fashioned a decent chance for himself in the first half with some lovely footwork after bringing the ball down on the edge of the box and dragging it past the defenders, but when it came to the easier part of shooting, he aimed wide.
It would have been a contender for goal of the season already had he managed to finish the job.
Dybala, on the other hand, was occasionally drifting into spaces, but lost his mojo after being booked (correctly) for a dive in the penalty area and was ineffective from that point on.
After underperforming their expected goals tally more than anyone else in Serie A last season, Roma will once again have to sharpen up in attack – whether Romelu Lukaku arrives or not – to avoid further setbacks against teams they should be beating.