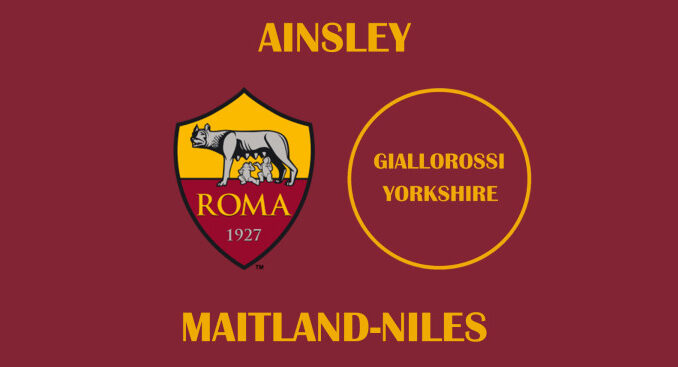 The 2021-22 season marked the first time Roma had ever had two English players in the same squad, and now they have been joined by a third – Ainsley Maitland-Niles.
After Chris Smalling joined in 2019 and Tammy Abraham in 2021, Maitland-Niles has become the latest English player to sign up in Rome, also following in the footsteps of Ashley Cole from 2014.
Maitland-Niles has joined Roma on loan from Arsenal, but just how did he get to this point?
Born in Greater London on 29th August, 1997, it wasn't long before Maitland-Niles' football journey began. He joined Arsenal's academy in 2003, at the age of six.
More than a decade later, Maitland-Niles signed his first professional contract with the club, penning terms at the age of 17 in October 2014. A little under two months later, he made his senior debut in the Champions League and followed it up quickly with his maiden Premier League appearance.
Embed from Getty Images
He would not represent Arsenal in the Champions League again, while he would have to wait to play in the Premier League more often. For the 2015-16 season, after also adding an FA Cup debut to his record in his formative season, he went on loan to Ipswich Town in the Championship.
It was a crucial year for his development, bringing 30 appearances in the English second tier and two more in the FA Cup. He scored once in each competition, including his first senior goal in the league in November 2015. By that point, he had already been making an impression, winning the club award for their player of the month in September.
Earning Arsenal return
Maitland-Niles was ready to return to Arsenal, but he would have to be more patient. He made his first start for the club, as a right-back, in a September 2016 EFL Cup win over Nottingham Forest. However, it was one of just seven appearances he made that season.
The following year – Arsene Wenger's final one in charge of Arsenal – was more productive for Maitland-Niles. As he left his teenage years behind, he made his first Premier League start – this time as a left-back – in December 2017. In total, he played 15 times in the top flight and 13 in other competitions, earning himself a long-term contract by the end of it.
Embed from Getty Images
The next season, in which he recovered from a broken leg to make 16 league appearances, brought his first Premier League goal. His was the consolation in a 5-1 defeat to Liverpool in December 2018. He also scored his first European goal in the Europa League win over Rennes in March 2019.
Becoming more prominent
The 2019-20 season was Maitland-Niles' busiest yet. He featured 20 times in the Premier League, including 15 starts, and 12 times in cup competitions. One of those was in the FA Cup final, which gave him his first piece of silverware.
He would lift another trophy later that month in August 2020, scoring a penalty in the shootout win over Liverpool that gave Arsenal the Community Shield. On the same day, he had more to celebrate by being called up to the England squad for the first time, having already represented his country at every youth level between under-17 and under-21.
But what followed was difficult for Maitland-Niles. The first half of the 2020-21 Premier League season saw him start just five times. Eager for more gametime, having earned five caps at international level that year including his September debut against Denmark, he left Arsenal on loan in January 2021.
West Bromwich Albion were his takers. They gave him more of a platform, providing him with 14 starts in what remained of the Premier League season, which ended in relegation. Meanwhile, his international chances were fading; he would make no caps in 2021.
He wanted to leave Arsenal again in the summer, but they refused to let him go to Everton. It prompted a social media outburst from Maitland-Niles, although he was later reintegrated – minimally – by Arsenal. From the first half of the 2021-22 season, he made two Premier League starts and six substitute appearances, plus two EFL Cup starts and one outing from the bench.
Maitland-Niles Roma association begins
It was not what he wanted, and by this point rumours were growing of interest from Roma. ESPN were the first of a few sources to report of talks between the two clubs on Christmas Eve, and things accelerated quickly.
At times, there were fears of a repeat of the last transfer saga between Roma and Arsenal, which had seen the London outfit hold on to Granit Xhaka in the summer of 2021. But a breakthrough was found and Maitland-Niles became Roma's until the end of the season.
It is his third adventure away from Arsenal and his first outside England. Given his ability to play as a full-back or a central midfielder, he ticks the boxes Roma have been looking to fill.
It remains to be seen what the long-term future holds, but he will be hoping to use the next six months to make a similar positive impression to his compatriots Smalling and Abraham, who will no doubt play a part in helping him settle in.
They have shown what an English player can do in Rome with the right application. Now it is Maitland-Niles' turn to follow suit.
---
Keep visiting this blog throughout January for regular updates on Roma transfer news.