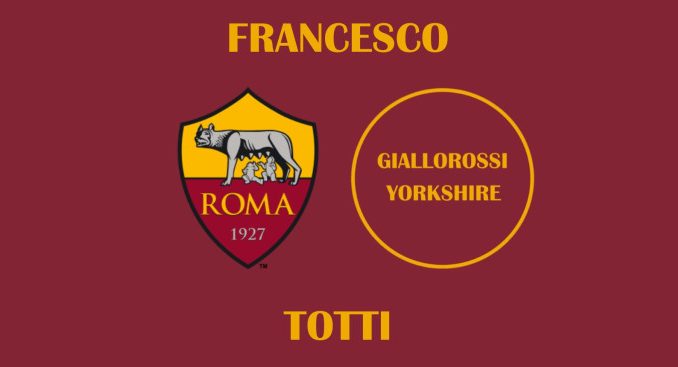 25 days. That's it. That's all that's left. There are as many days left in Francesco Totti's Roma playing career as there have been years in it so far.
Soak it in, savour every breath of it. Because once he's stopped, you know there'll never be another player like him again. There will be no player that you will ever feel the same way about.
Where can you start? The word 'destiny' would be good. Raised in a Roman family, young Francesco was subject of strong interest from AC Milan before he was even a teenager, but his mother refused. There was only one place that her son was going to end up. It truly was destiny. Roma was made for Totti, and Totti was made for Roma.
His talent was visible from a young age. As a four year old, he could already run rings around children twice his age. Having the ball at his feet was a joy. His talent would continue to develop as he grew up, and by the time he was eight he was playing regular youth football. At the same time, Giuseppe Giannini was writing his name into Roma history books as a successful number 10, playmaker and captain. Young Totti idolised him, and desired to be like him. Indeed, one day, he would be. And he would go on further, to surpass the heights of the legend he looked up to.
He joined Roma's academy in 1989, at the age of 13. He was nurtured there for three years, before what is possibly the most important day in Roma's history came along. Totti, aged 16, made his first appearance in the Roma shirt that he would go on to become synonymous with, during a 2-0 win over Brescia. His manager that day was Vujadin Boskov. He has played under 16 more managers for Roma since (Zeman and Spalletti have had two spells each and are only counted once each).
Totti soon became a regular for Roma in an attacking midfield role, although that is not the only position he has flourished in over the last 25 years. He has been deployed as a left winger, a striker, a false nine and in several other positions. It was as a trequartista in a 3-4-1-2 that his greatest triumph for Roma came: winning the Scudetto in 2001. Under Fabio Capello, Totti, in his third season as Roma captain, led the team to success in Serie A. He was becoming more influential by the minute.
2006/07 was possibly the best season of Totti's life. After representing his country at the 2006 World Cup in Germany, in which he contributed four assists and one goal to Italy's tournament victory, he finished the next league season as top scorer, not just of Serie A, but across the whole of Europe, winning the European Golden Shoe with his haul of twenty six goals. It was during these times that he attracted interest from the biggest clubs in the world, Real Madrid coming close to capturing his signature. But if there's one word that sums Totti up, it is loyalty. His passion for Roma has meant that he has never wanted to wear another shirt.
Even at the age of 40 now, he is remaining committed to his one and only club. He has passed 300 goals in all competitions, and is the club's all-time record scorer and appearance maker. He holds dozens of other records for Roma and has climbed to third in the list all-time appearances in Serie A (behind only Gianluigi Buffon and Paolo Maldini). He stands second in the league's all-time scoring charts, 24 goals behind Silvio Piola. He has scored the most Serie A goals from penalties (71), and the fourth most from free kicks (21).
Despite his age, he still possesses a range of technical qualities that only a few players could dream of achieving. His vision is superb, and in recent seasons he has become a great provider to his teammates, spotting passes that only the most special and gifted players can. He is able to break down the most resistant defences, finding spaces where no others can. His skill and touch are quality; his leadership incomparable as he carries the weight of a whole club on his shoulders. He is an emblem of Roma, club and city. As Claudio Ranieri said, "The icons of Rome are the Colosseum, St Peter's Basilica, and Francesco Totti."
Totti will be missed on the pitch hugely; however, his influence at the club will remain, as he enters a five-year contract as a director. His name will forever be inseparable from his club, and vice versa. Roma and Totti live side by side, and will continue to do so as he moves on from his playing career.
On 10th March 2002, after Roma's 5-1 win over city rivals Lazio, Totti famously wore a shirt reading '6 Unica', a play on words in Italian meaning 'You are unique', dedicated to the club's fans. Now, we will be reflecting similar messages back in Totti's direction. Francesco Totti, one of the most gifted footballers of the past thirty years, will be able to look back on an incredible career, safe in the knowledge that he too, is unique.
Grazie, Capitano.