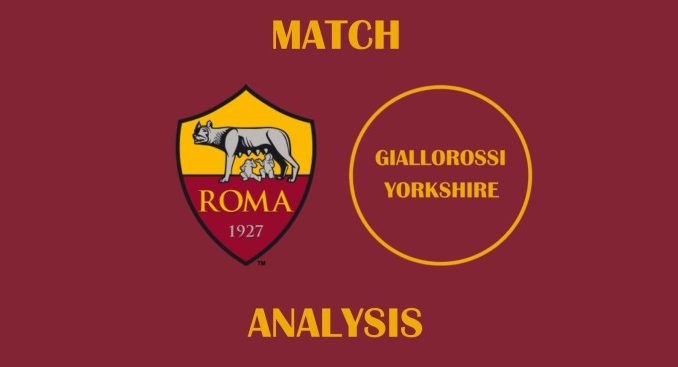 The Paulo Fonseca era at Roma began yesterday with a 12-0 win over local side Tor Sapienza in a friendly match.

Fonseca selected two entirely different lineups for each half, with new signings Pau Lopez and Leonardo Spinazzola making their debuts.

A Roma side featuring the duo, Steven Nzonzi, Gregoire Defrel and Javier Pastore took a five-goal lead into half-time, before Mirko Antonucci took centre-stage in the second half with a hat trick, playing alongside the likes of Edin Dzeko, Alessandro Florenzi and Robin Olsen.

Against opposition of little quality, it's hard to read too much into the performance, but even so, there is a story behind every game. And especially with this being the first in charge for Fonseca, there were some interesting observations to be made.

Pastore's movement

This year could be a fresh start for Javier Pastore, who struggled tactically and fitness-wise in his first season with Roma. While last season he was often quite lazy, against Tor Sapienza he roamed freely about the pitch, looking to get on the ball. It was still hardly a display of top level dynamism, but it didn't exactly need to be against such opposition. Perhaps he can build on this to find a rhythm ahead of the new campaign.

Spinazzola's positive debut
The reaction to most of Roma's signings this summer has been positive, but perhaps the one to have received the most mixed reception was Leonardo Spinazzola. His quality wasn't in doubt, but fans were concerned over his fitness, and the fact that his arrival meant the sale of Luca Pellegrini to Juventus. However, his debut showed he can become a solid presence for the team at left-back. He even marked the occasion with a goal, in which he cut inside onto his stronger right foot. Notably, he was one of the only players to break into a smile after scoring – another sign that he seems genuinely pleased to be at the club, and ready to kick on and prove himself.
Anonymous strikers
Both Dzeko and Patrik Schick got on the scoresheet, with the former contributing an impressive assist for Cengiz Under's goal as well, but besides that, their involvement in the play was minimal. Schick's two goals were good finishes, but he still looks unsettled in a Roma shirt, struggling to get involved in the play. Dzeko dropped off massively in intensity after getting his goal, wasting a couple of opportunities. Unlike Spinazzola, his head is clearly not with Roma right now. Meanwhile, fellow striker Defrel returned to the right wing, after impressing centrally with Sampdoria last year, and encountered similar problems to the ones he had in his first season at Roma. In patches he was lively, but lacked the conviction to take on some shots as well. He remains not quite up to standard for a club of Roma's ambitions.
Youth's contrasting fortunes
Fonseca called up Primavera midfielders Emanuele Spinozzi and Alessandro Bordin – both of whom spent last season out on loan – for the game, with each playing in one half. The former even got on the scoresheet, and looked eager to get forward. The most successful youngster on the pitch, though, was undoubtedly Antonucci. Also returning from a loan, and the only one of the three to have featured for Roma's first team in a competitive match to date, the attacking midfielder took his opportunity by adding three goals and an assist for Florenzi. Whether the 20-year-old has the physicality to compete at a more realistic level remains to be seen, but he was certainly central to Roma's fluidity.
Right-back experiments
Four right-backs took to the pitch, but only two were used in that role. In the first half, Davide Santon partnered Juan Jesus at centre-back, and while he wasn't tested much, it may be an experiment worth persevering with. Perhaps more significant was the deployment of Florenzi as a left winger in the second period. The captain has played there before, only rarely, yet he didn't look out of place. He's no Stephan El Shaarawy, but perhaps he can revive his reputation by putting in some good performances from the opposite side of the pitch to usual.
Player Ratings: (First Half) Lopez 6; Karsdorp 6; Santon 7; Jesus 7; Spinazzola 8; Nzonzi 6; Spinozzi 7; Defrel 6; Pastore 7; Perotti 7; Schick 6
(Second Half) Olsen 6; Bouah 7; Capradossi 6; Fazio 6; Kolarov 6; Cristante 6; Bordin 6; Under 7; Antonucci 8; Florenzi 7; Dzeko 6
Man of the Match: Antonucci