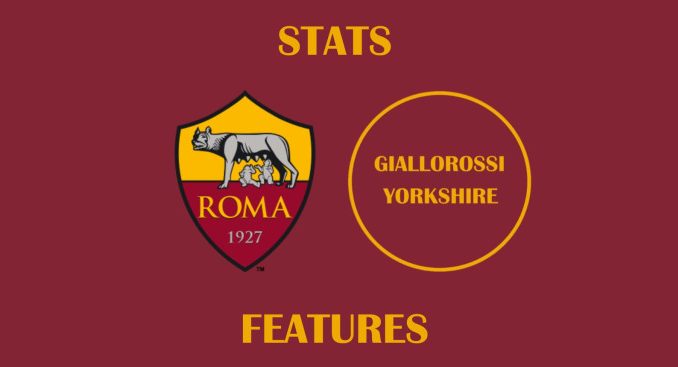 Gianluca Mancini has shown versatility in the first few months of his Roma career by playing as either a centre-back or a defensive midfielder.
The summer signing from Atalanta, 23 years old, made his debut as a substitute in the season opener against Genoa, before being thrown into the cauldron for his first start in the Derby Della Capitale against Lazio.
Initially playing in his natural centre-back position, Mancini became a different part of the jigsaw when midfielders Amadou Diawara, Bryan Cristante and Lorenzo Pellegrini all suffered injuries – with coach Paulo Fonseca opting to push Mancini forward as a solution.
With his passing ability one of the main reasons Roma were attracted to him in the first place, he seemed the obvious choice to fill the gap. But how have his performances differed between the two positions?
As Diawara and Pellegrini begin to return to fitness, thus increasing competition in midfield again, Giallorossi Yorkshire examines the statistics (via WhoScored) to see if it would be better for Mancini to stay in his new position, or move back to more familiar territory in defence.

Let's start by looking at the team's performances overall. Mancini has started seven games in defence, with Roma not losing in any of them. Meanwhile, Roma have won half of the six games he has started in midfield.
The amount of goals the team has scored is identical, but there is a contrast between those let in at the wrong end. Roma have conceded one more goal with Mancini in midfield than in defence, while also keeping one less clean sheet. Is this a sign that the defence is suffering without Mancini in there?
Indeed, Roma have gained more points per game when the Italian has featured in the backline, compared to when he has started in midfield.
To gain more insight, a closer inspection of Mancini's individual defensive stats is needed. He has been significantly stronger in the air when starting from a deeper position, winning four aerial duels on average per match as a defender. In addition, he has made more interceptions as a defender, while being dribbled past only once – coming all the way back in his first start.
However, there are areas where he has succeeded in midfield. In that position, he has won more tackles and committed fewer fouls. For example, as a defender, he was sent off against Bologna for two bookable offences. In reality, though, he has received the same number of cautions as a defender and as a midfielder – being carded three times in each position.
In fact, the concept of Mancini tackling better as a midfielder may be misleading. He has attempted nearly double the number of tackles than in defence, but only 57% of them have been successful. In contrast, his tackles from defence have a success rate of nearly 92% – perhaps showing his increased confidence in reading the game from his natural position.
As stated, it was Mancini's passing ability that encouraged Fonseca to move him into the midfield in the first instance. However, the data paints an interesting picture about his ball retention.
Not only has Mancini got on the ball a lot more at the back – averaging nearly 20 more touches per game as a defender – but he has also attempted and completed more passes from there. This really highlights the emphasis Fonseca places on playing out from the back.
Mancini is pivotal to that formula. With a better pass completion rate than any of his fellow centre-backs – and central midfielders – he is the go-to man for build-up play when deployed in defence.
When adapting to the new role, Mancini also had to consider his attacking output. Obviously, as a midfielder, he would be expected to get forward more and take on more shots and dribbles, in addition to using his passing skills to sustain attacks.
Indeed, he reacted well to his new tasks. While he has actually attempted more shots as a defender – probably from set pieces – his only effort on target has come as a midfielder. Of course, it would have been unfair to expect him to become a goalscoring playmaker and change his game completely, but elsewhere, certain fundamentals, like keeping possession, should not be overlooked.
Making two key passes as a midfielder, in comparison to one as a defender, shows how he used his qualities to influence things further upfield – as should have been expected.
One area in which he did struggle to adapt was in relation to the lower amount of space in the midfield – leading to him completing fewer dribbles in that area of the pitch. He was also dispossessed twice as often in midfield, giving the ball away once a match on average.
Conclusion
Embed from Getty Images
Mancini has adapted well to his new role, filling in an important gap at a difficult time, but the evidence shows he is better suited to his natural defensive role. While he has been able to create more chances from the middle of the park, that would have been expected in a more advanced position anyway – and besides, he was brought in to do a job in the defence. While he is still growing into that position at Roma as well, the statistics prove he is more comfortable defending from within the backline.
That's what he was brought in to do, so that's where Roma should utilise him – especially with some of the injured bodies set to return to the midfield.
While he remains an option in the middle if needed, Mancini was a long-term investment to improve Roma's defence. It will take time for him to become fully established within its heart, but the only way for him to grow into what the club hope he will become is to play him there so he can gain the right experience.