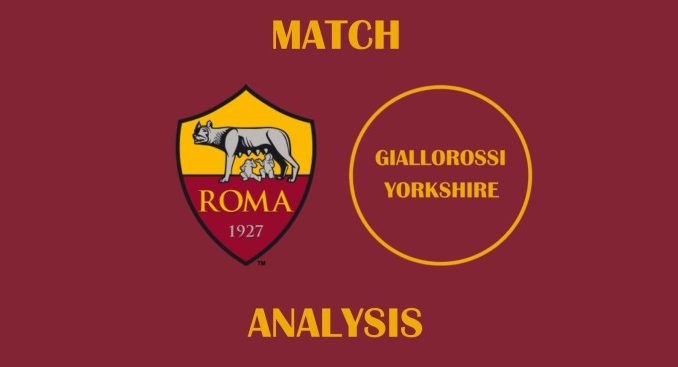 Edin Dzeko scored a brace of volleys to give Roma a winning start on their return to Serie A action, as they beat Sampdoria 2-1.
Competing for the first time in nearly four months, Roma made a quick start, but fell behind first. Manolo Gabbiadini scored from a tight angle after a misplaced pass from Amadou Diawara.
The Giallorossi had plenty of chances to get back in the game before half-time, but were unable to. However, in the second half, Dzeko was back to his best, latching on to aerial balls from Lorenzo Pellegrini and Bryan Cristante respectively.
The result keeps Roma in the hunt for a top four place, although Atalanta's win over Lazio means the gap stays at six points.
Here, Giallorossi Yorkshire picks out four players who had a decisive impact on the game.
Edin Dzeko
Embed from Getty Images
Where else to start? When Roma needed someone to step up, Edin Dzeko took the responsibility yet again. No matter the circumstances, Dzeko's instinct and hunger for scoring remains the same.
And that's why he's the captain. His performance against Sampdoria sent a reminder of how Dzeko leads by example. He was a handful for the defence, and even though space was sometimes tight, he was always alert to a potential scoring opportunity.
Dzeko's first goal was reminiscent of his career-defining strike against Chelsea. The Bosnian hit the ball with his left foot after watching it over his shoulder, sending it on a trajectory back towards the goal.
It wasn't quite as impressive as that Chelsea goal, as it was from closer range – but it was another display of fine technique on his weaker foot.
The second volley also showed great control. Dzeko connected perfectly with Cristante's high ball over the top – and even though this time it was on his stronger side, he still had a lot of work to do.
The way Dzeko reads the game and keeps his focus even when he isn't fully involved in the action – even though he did have a few dribbles and tried to create chances – is a sign of what a professional he is.
Lorenzo Pellegrini
Embed from Getty Images
On 61 minutes, Lorenzo Pellegrini came on as a substitute. On 64 minutes, Roma scored. Coincidence? It was not.
Pellegrini has been Roma's best creator this season, so it was fitting that he was the man to set up the side's best scorer, Dzeko, for their first goal since the re-start.
The midfielder's ninth league assist of the season was the spark of creativity Roma needed. Pellegrini has a tendency to see things that others cannot. Immediately, he spotted an opportunity to send Dzeko in – and his captain did not disappoint.
It wasn't just the assist that impressed. There seemed to be a greater rhythm and fluency to Roma's game when Pellegrini was on the pitch. The tempo was faster and the approach was more direct.
It's no secret that Pellegrini needs to add more consistency to his game, but producing an impact of that level in his first half an hour back from such a long break is a positive sign for the weeks ahead.
Bryan Cristante
Likewise, the man who got the other assist also made an impact from the bench. Brought on at the same time as Pellegrini, Bryan Cristante replaced Amadou Diawara, whose stray pass had led to the goal Roma conceded.
Cristante brought a better balance to the midfield, finding the tempo of the game quickly. He kept that intensity high with his long-range passes, and kept his shape well.
Usually, Diawara is a better passer of the ball than Cristante, but it was clear a change was needed on this occasion. The Canadian-Italian stepped up, offering a different dimension that was appropriate to Roma's need at the time.
Cristante may have put himself in contention for a starting berth in the upcoming clash with his former club, AC Milan.
Henrikh Mkhitaryan
Embed from Getty Images
The first major opportunity of the game came from Henrikh Mkhitaryan. A moment of quick thinking caught the Sampdoria backline out and created a big chance for Dzeko.
Unfortunately, Samp keeper Emil Audero was equal to it, for the first of several fine saves in that first half. But Mkhitaryan – one of the most in-form players before the break – showed that his mind was still as sharp as it has been all season.
Deployed on the left wing, not everything he tried came off, but the Armenian dominated the territory. Mkhitaryan does not only have tactical intelligence – he backs it up with physicality as well. Much like Dzeko, but from a different position.
At times, Roma's attacking shape was hard to define, because of the inter-changing movements between the three attacking midfielders. Carles Perez was also integral to this, while Javier Pastore had a couple of positive moments – including an impressive dribble past three opponents in a tight space.
As negotiations continue over a permanent deal for the Arsenal loanee, Mkhitaryan showed why Roma want to keep him so badly. It wasn't his best game, but there were flashes of his raw talent.
Overall thoughts
In general, it was a positive, lively display for the first game back. At times, it looked like the shape may have been restricting the deeper midfielders, but once Roma found the right balance, their attackers – specifically Dzeko – made the difference.
It leaves Roma in a good position ahead of what may be a tougher challenge against AC Milan at the weekend.