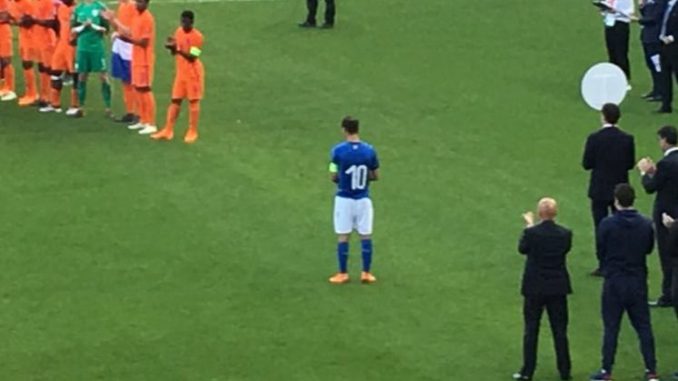 Francesco Totti. Daniele De Rossi. Giuseppe Giannini. Agostino Di Bartolomei. Bruno Conti.
When it comes to producing youth talent for the first team, Roma have had more success than a lot of teams across the globe. As seen from the players listed above, the athletes who graduate from the club's Primavera squad often go onto become not just top professionals, but club legends.
Because of this rich history of homegrown players, Roma fans are always keeping half an eye out for who could be the next in the list. Sunday's final of the UEFA U17 European Championship in England gave a good hint.
Italy may have lost out on penalties to Netherlands after a 2-2 draw, but the two Roma youngsters playing in the side impressed. Midfielder Jean Freddi Greco was the only Italian who scored from the spot, as the Azzurrini lost the shootout 4-1. And one of his teammates impressed even more. Meet Alessio Riccardi.
Riccardi was named as Italy's captain for the tournament, and donned the number 10 shirt. Not a bad start for a player who cites Totti as his idol.
The 17-year-old played as a left-sided forward for Italy. He is right-footed, athletic, and has great technique. This was exemplified in the second half of the final, as Riccardi put his side 2-1 up with a phenomenal finish.
Receiving the ball on the left wing, he turned inside and sent the ball flying into the top corner with an expertly curled finish. It was a goal worthy of winning a tournament, and his teammates celebrated emphatically with him, thinking that would be the case. It didn't turn out to be, as Holland equalised late on, but that takes nothing away from Riccardi's finish. It was the best goal of the game.
Riccardi had also scored in Italy's opening game, against England. Again, this strike came from outside the box. The youngster arrowed the ball right into the bottom corner from a similar position, leaving the opposing goalkeeper helpless.
It wasn't just the goals that impressed about Riccardi though. In the final, he wore the captain's armband well. As Italy's first two penalty takers missed their 12-yard efforts, Riccardi walked towards them as they returned to the half way line, wrapping his arms around each player to console them. It's little acts like this that stand out at youth level, showing which players are mature beyond their years.
Eagle-eyed readers may recognise Riccardi's name. He was called up to Eusebio Di Francesco's senior squad for Roma's 5-2 win over Benevento in February. Although he did not feature in the game, the experience he gained from being around great professionals, and potential future teammates, will have been invaluable.
He also got to play around four minutes as a substitute in the September friendly against Chapecoense, and has featured heavily for Alberto De Rossi's U19 side this season, predominantly as a midfielder. Appearances in the UEFA Youth League have also been awarded to him. This is a young man getting big opportunities at a tender age.
In total, he has played 25 times for the Primavera in the league this season, scoring seven goals – despite being one of the youngest members of the team. Those 25 appearances are more than Mirko Antonucci, Rezan Corlu or Andrea Romagnoli have managed, for example. In fact, only five players have featured more than him. And his seven goals have been bettered only by Zan Celar, with 11.
So, can we expect big things from Riccardi in the future? It's important not to heap too much pressure on a young player by talking about potential, but he is progressing at a very good rate. He is clearly impressing his coaches at club and international level.
As he continues to feature for the Primavera, he will progress under the tutelage of an excellent youth coach. De Rossi has had a hand in the development of many great young players, and his expertise will greatly benefit Riccardi.
He is a player with great talent, and is one to keep an eye on as he rises through the ranks and tries to emulate the paths of his role models.
Remember the name of Alessio Riccardi.