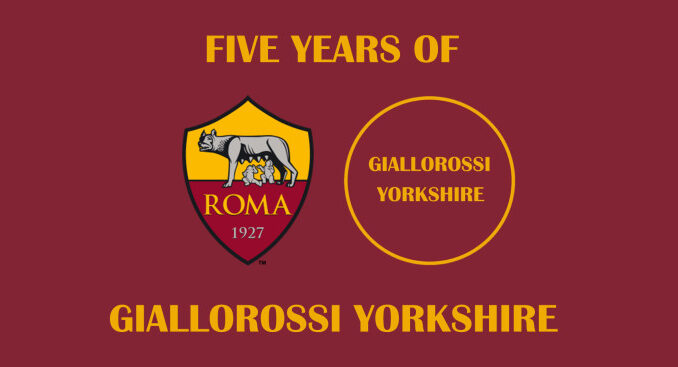 The date of 13th April, 2017 might not mean much to Roma fans – but over here, it is the date that Giallorossi Yorkshire was launched to the world (well, a small but appreciated audience within it).
In the pipeline for a number of months before, the website went live (originally on a subdomain elsewhere) just two days before a fixture between Roma and Atalanta, which ended as a 1-1 draw.
Somewhat fittingly, Edin Dzeko – the Roma player written most about on these pages in these first five years – scored the Giallorossi's goal that day. Here is the full lineup alongside him – and what has happened to them since.
Wojciech Szczesny
At the time of the launch, Wojciech Szczesny was in the second season of his two-year loan spell with Roma from Arsenal. He left at the end of it, instead signing on a permanent basis for Juventus, where he remains number one.
Antonio Rudiger
Deployed as a right-back on the day, Antonio Rudiger is now one of the strongest centre-halves in the world. He is in the final few months of his contract with Chelsea, the club he joined from Roma at the end of the season in question here.
Federico Fazio
The last man standing from this starting XI until his departure from Roma in the winter of 2022 for Salernitana, Federico Fazio was enjoying a strong debut season in the 2016-17 campaign. His loan from Tottenham was made permanent that summer but his form was never quite as consistent.
Kostas Manolas
One of the longer-serving members of Roma's squad of the time, Kostas Manolas wore the Giallorossi jersey between 2014 and 2019. He memorably scored the decisive goal against Barcelona in the 2018 Champions League quarter-final comeback – a game Giallorossi Yorkshire founder Samuel Bannister was in attendance for, leading to some enjoyable content – before leaving for Napoli at the end of the following season. He is now back with Olympiacos.
Mario Rui
2016-17 was Mario Rui's only full season with Roma – and for much of it he was out injured. Since his exit, the left-back has remained in Serie A with Napoli.
Daniele De Rossi
Ah, Daniele. Still Roma's 'future captain' when Giallorossi Yorkshire was born, this website would regularly fight De Rossi's cause to stay with the club longer until he was sent away in 2019. He is the only member of this lineup to have since ended his playing career; the ex-midfielder is now embarking on a coaching career.
Kevin Strootman
Kevin Strootman got back to regular football in 2016-17 after his well-documented injury struggles. He enjoyed a decent season, but dropped off in the following year and was sold in 2018. Since then, he has played for Marseille, Genoa and his current club Cagliari.
Mohamed Salah
Poor Mohamed Salah. Things really haven't gone so well for him since leaving Roma at the end of the 2016-17 season. He has only managed 153 goals for Liverpool and now has to put up with being in the conversation for potentially being the best player in the world. OK, guess we miss him more than he misses us…
Radja Nainggolan
Under Luciano Spalletti, Radja Nainggolan got a new lease of life as a goal-getting, attacking midfielder. But after this season, he would struggle to replicate that impact under Eusebio Di Francesco. That said, his 2018 sale to Inter Milan was still controversial. In Roma's defence, he has struggled since – and is currently playing club football in his native Belgium for the first time with Royal Antwerp.
Diego Perotti
2016-17 was Diego Perotti's first full season as a Roma player after joining midway through the previous campaign. He was often impactful – scoring winning goals in the farewell matches of both Francesco Totti and Daniele De Rossi – but injuries have hampered his progress since leaving Roma in 2020. He is currently trying to get back up to speed in Serie A with Fazio at Salernitana.
Edin Dzeko
During the season of Giallorossi Yorkshire's launch, Edin Dzeko was on fire. He broke the club record for the most goals in a single season in 2016-17 (but somehow missed out on any of this website's awards for the season). Eventually becoming club captain, the striker is one of the few names on this list who can claim to be a genuine Roma legend. Now, though, he represents Inter Milan instead after his summer 2021 exit.
Subbed on
Bruno Peres – Partway through an underwhelming first season with Roma at the time. Earned back some credit after returning from loan spells away in 2020, but left as a free agent the following year and joined Trabzonspor.
Stephan El Shaarawy – In the time Giallorossi Yorkshire has been live, has left the club and re-joined 18 months later. The only name of these 14 to still be a Roma player now.
Francesco Totti – One of the more obscure players to be written about on the odd occasion here… It was time for him to hang up his boots soon after this site went live, but it has been nice to see things come full circle with the former captain attending some recent Roma matches. Still waiting for that exclusive Giallorossi Yorkshire interview, mind…