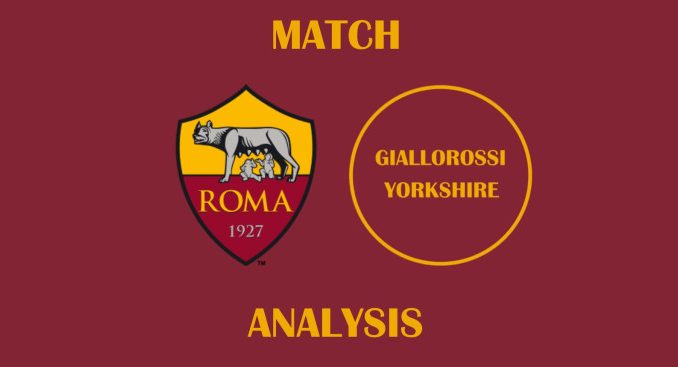 Was that one of those moments when you realise the tide may have turned?
In recent years, questions began to arise about Roma's performances in big games. Particularly under Paulo Fonseca, they struggled to obtain positive results against fellow members of the seven sisters.
Even in the first few attempts of Mourinho's reign, there wasn't much difference. Last season, there were double losses to Juventus, Inter and Milan, and a double draw with Napoli. It almost felt like Roma were cursed, or something psychologically negative was lingering within them.
In Mourinho's second season, though, things might be becoming a bit different. On 5th March, he oversaw a 1-0 win over Juventus in a game that was equally exciting and tense.
Gianluca Mancini – of all people – fired in a rocket from the edge of the box, in the same game his durability for was cast in doubt in the early stages after what appeared to be an ankle injury.
As the game progressed, Mancini was central to the key action, ultimately not only scoring one of the best goals he ever will, but being on the receiving end of the kick out that got Moise Kean sent off for Juventus.
Mancini can frustrate some at times with his overdriven energy and antics, but if he is somewhat crazy, moments like this make up for it. He has improved this season, and seeing the passion flowing through his veins served as a reminder of why he can be important to this club.
In the bigger picture, perhaps apart from the nervy seven minutes of stoppage time, was there ever really a reason to doubt Roma during the match? Probably not. And how often has that been said in bigger matches in recent years?
Roma set up to soak in some pressure, playing without a centre-forward at first. But despite the more compact setup, they played fluent football, which was more exciting to see than it had been in recent matches. Lorenzo Pellegrini had one of his better games creatively and in terms of work rate after overcoming the flu, while Nemanja Matic looked after the ball to an impressive degree.
Tactically, it was one of Mourinho's best matches of his Roma tenure. Indeed, this is the ideal vision of what Mourinho's Roma should look like. For various reasons, some beyond his control, that hasn't always been the case, but this is the blueprint of what this era should all be about.
By beating Juventus at home after drawing away earlier in the season, Roma have successfully avoided defeat in either of their league games in the same campaign for the first time since 2003-04, Fabio Capello's last in charge.
Of course, this came after a shock defeat to relegation-threatened Cremonese, who hadn't won a league game all season. But if you could have offered Roma the chance to win one and lose one of those games, then as embarrassing as the Cremonese defeat was, surely this way around feels better anyway.
And this is where a wider change in fortunes may have become apparent. Previously, again rewinding to the Fonseca era, Roma were a winning machine against lower-ranked teams, before running into a stumbling block when it came to direct rivals.
Although Roma's record in big games is still far from perfect, they don't feel as daunting as before. They have already beaten Inter this season too, as well as drawing with Milan.
Their six league losses so far have come to Udinese, Atalanta, Napoli (twice, despite a standout performance in one of those games), Lazio and Cremonese. Of course, Atalanta, Napoli and Lazio are other members of the seven sisters, but the Udinese and Cremonese results have been surprises. There have also been dropped points against the likes of Sassuolo, Torino and Lecce.
Roma now need to look into how they can break down more cautious teams – while they themselves have earned a better defensive record this season, the clean sheet against Juventus the latest example from a side yet to concede at home in the league in 2023 – whereas they look like they can at least be competitive again versus more expansive and ambitious sides.
There are some big games still on the calendar this season, so the transformation is far from complete. This is a slow process still. But now, there is more of a balance to where Roma might be able to get their points. Struggles in big games can happen again in future, and it'd be absurd to imagine they won't, but it is no longer a constant theme.
For now, revelling in a big achievement against a historic rival is something Roma can deserve.