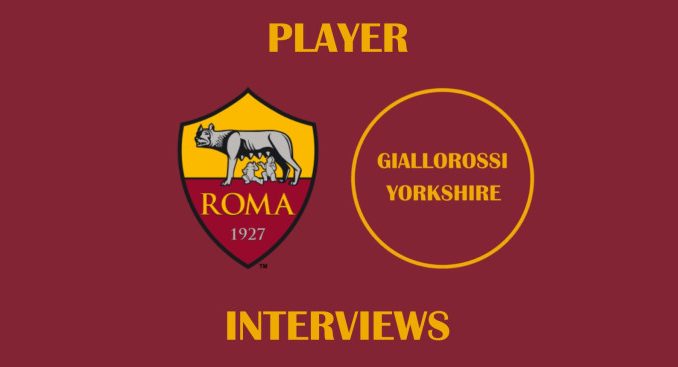 Emma Lipman has never been one to turn down a challenge.
The 29-year-old defender has excelled this year for Roma's newly-formed women's team. She is one of a rare group of English players willing to test themselves abroad, and her decision is paying dividends.
Former Leeds United and Manchester City defender Lipman first moved to Italy last season, when she played for Verona. She featured in 21 matches as her first year in foreign football ended with a midtable finish. Then, in the summer of 2018, Roma announced their plans to integrate a women's team. It was something that Lipman wanted to be a part of.
"I took the decision after last year's season ended to take some time away from football travelling," Lipman tells Giallorossi Yorkshire. "I knew I wanted to stay in Italy and I was looking for a new challenge but I wasn't quite sure where and how it looked.
"I'm fortunate to have a great agent who was busy talking with clubs while I was away relaxing in the sunshine! He contacted me with the news that AS Roma had been in touch with him expressing their interest. I was already aware of the plans they had for the season, affiliating with the men and also the vision they had longer term. The project really excited me and the feeling I got after receiving the phone call confirmed it's where I wanted to be!"
It was an exciting time for the group of players. For the first time in Roma's history, a women's team would be officially connected with the men's team, a valuable part of the club. To guide these players in their debut season, experienced coach Betty Bavagnoli was chosen. She is someone who has had a major positive influence on Lipman's time at Roma so far.
"I remember a few weeks before I flew out to meet the team Betty rang me to introduce herself and express her gratitude for my signing. Straight away this put a picture in my head to how she might work as a coach and to date she hasn't disappointed.
"The biggest difference for me with Betty compared to previous coaches I've had is her ability to put the person first, with the intention of developing the player. With such a young squad, for me, this is so important. The football environment she has created along with the rest of the staff is one of the best and most enjoyable I have ever been part of."
After some positive results in pre-season, a real buzz began to grow around the team. There was excitement for the squad to get going in Serie A, to see what they could achieve. With fans taking an interest in the new team, Roma were ready to showcase what they could do in a competitive environment.
However, the Serie A season didn't get off to an ideal start. Roma went 2-0 down in the opening 25 minutes of their season opener against Sassuolo, and despite a spirited effort, they couldn't recover, eventually losing 3-2. Another defeat, to Lipman's former side Verona, followed, before reigning champions Juventus inflicted a 4-0 loss on Roma in the Giallorosse's first home game.
Despite the negative results at the start of the campaign, Lipman insists the squad were never hitting the panic button.
"Yeah of course the start was difficult," she admits. "You have to be realistic, building a new team takes time. We were all very aware of that but I think we'd had such a good pre-season together that maybe our optimism had rightly grown. Then you play three games with three losses, for sure doubts start to creep in. That said, upon reflection I think it was important as a group we experienced these lows early on, we had to learn how to win games as a team and not through individuals.
"I don't think it was ever a question of if we would turn it around, but when. We've grown so much already as a squad in such a short space of time and these moments of adversity can only make us stronger for the long term."
Lipman's reference to the long-term is a clear indicator of the culture of the club. This is a team that has been assembled to provide stability for the future, much like the men's team. The club aren't recklessly chasing success, but are looking at how they can give younger players opportunities to develop, knowing the strategy will pay off in the future.
There are already signs that the method is working now, with several of the younger members of the squad taking their opportunity to impress. As one of the more experienced players in the squad, Lipman is excited about what the future holds for some of the younger generation – whilst also recognising the value of having experienced players like herself, captain Elisa Bartoli and goalkeeper Rosalia Pipitone around them.
"There is so much talent in this squad, the potential is endless but development takes time," she explains. "I believe it's very important for these young girls to have experience around them, especially when things aren't going well. Hopefully that's where we can help by protecting and supporting them either on or off the pitch.
"Saying that I also feel very fortunate to be playing alongside players like Elisa and Pipa. Although I have different playing experiences, mine is not specific to Italian football. They have both really helped me to understand the league better, the style of play and also what it means to play for AS Roma."
Another key component of Roma's backline so far has been Angelica Soffia. Aged just 18, she has played in all 12 of Roma's league games, and Lipman is fully aware of the right-back's potential.
"I know Angie from when I played at Verona last year. She was captain at the time and coming in again as one of the more experienced players we built up a good relationship. I supported her and she was my English translator!
"Angie has so much potential with a very good footballing brain to go with it. As long as she continues to work hard, learn and challenge herself I believe she has the ability to become whatever player she wants."
Another teenager who has impressed has been fellow defender Heden Corrado, although Lipman is keen to pour praise on all members of the squad.
"As I previously mentioned we have so much talent in the squad. These girls can become whatever they want as long as they continue to challenge themselves mentally. For me this is the area which distinguishes the good from the great.
"To date I would have to say the player who has really stood out for me is Heden Corrado. I have played at the back a few times with Heden now and considering she's only 16 I have been so impressed with her tactical awareness, reading of the game and communication. Such mature performances for a girl who's still so young."
When the squad was assembled in the summer, it gave female Roma fans the opportunity to dream about playing for the club, something they had never had before. Being a club that has prided itself on having players who grew up as Roma fans representing the team – Francesco Totti, Daniele De Rossi, Alessandro Florenzi, Lorenzo Pellegrini – it was important for Roma to take this into account in the women's setup too. Players like Bartoli, Claudia Ciccotti and Giada Greggi have brought their passion for the club they have supported all their lives onto the pitch, and Lipman is well aware of the advantages of having so many Romaniste in the lineup.
"It's really obvious to see and feel the pride and passion that's shown to the club by all fans, players and staff working here. When you put the shirt on there's a real acknowledgement that you're part of something far greater than just a football club.
"For sure our biggest Roma fan has to be Elisa, that's what brought her to the club, a chance to play for the team she's had in her blood since she was young. She's a true Romanista and is the perfect example of what this club means to its followers. Playing and battling alongside her every week is a real privilege."
Characters like these have brought a real team spirit to the squad, ensuring Roma approach every game with a positive attitude. The players are fighting for each other on the pitch, showing commitment to the badge as they strive to make their debut season together a memorable one.
It seems there's plenty to look forward to for this group of players. Having overcome the difficult start, Roma have won six of their nine games since, form which has propelled them to 4th place in the Serie A table. One of those matches was the impressive 7-1 thrashing of Chievo, in which Lipman scored her first goal for the club. In doing so, she became the first English player ever to score for AS Roma – something that no man has ever done.
Lipman has been an integral part of Roma's early successes and she will be hoping for more of the same in the second half of the season. Exciting times await this determined and passionate squad.
Stay tuned for Part Two of Giallorossi Yorkshire's exclusive interview with Lipman in the coming days.