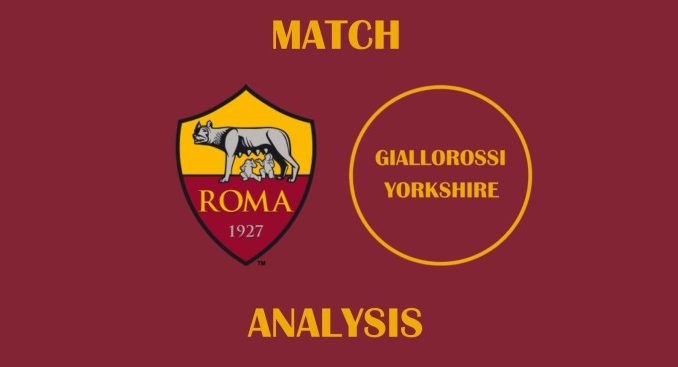 Paulo Fonseca fell to his first defeat as Roma coach on Wednesday night as Atalanta won 2-0 at Stadio Olimpico.
On a disappointing evening, goals from Duvan Zapata and Marten De Roon sank Fonseca's side, condemning them to their first loss of the season.
A sluggish Roma never really found their rhythm, with Atalanta playing like the home side despite the venue – forcing Fonseca into changes, which did not make the desired effect.
Solid start for Smalling
Among the few players who could hold their heads high was debutant Chris Smalling. The on-loan Manchester United man was handed his first appearance after a minor injury, taking suspended Gianluca Mancini's place in the defence. While he wasn't able to mark his debut with a clean sheet, he looked the most likely to prevent the opponents scoring.
The Englishman was strong and composed in the tackle, putting in a well-timed last-ditch challenge on Josip Ilicic near the end of the first half, preventing the attacker from having a one-on-one with Pau Lopez, and further showing his strength by taking the ball off Duvan Zapata in the second half. For a signing that did not convince all fans at first sight, Smalling did enough to make a positive first playing impression in front of his new home crowd.
Florenzi's flaws not related to position
The second goal for Atalanta highlighted a worrying lack of organisation at the back from a set piece. Alessandro Florenzi's positioning was all wrong, with his body shape not facing his marker. Hence, he was not able to prevent De Roon from sneaking in at the backpost for an easy finish.
The reaction to this error has been hyperbolic from both those who attack Florenzi and those who defend him. It is worth remembering that he does have value, and is one of Fonseca's only options at right-back currently. His supporters argue that he has been played out of position as a full-back for the majority of his career. But there are two flaws in this argument. A player's position on a field is not the one they adopt for a set piece. Anyone should be able to do their job when assigned a task in their own box for a free kick or corner – whether they are a striker, midfielder or defender. Secondly, Florenzi is as much a right-back now as he is any other role. He has been played in that position for too long, that it has worked to his detriment. He has, in some respects, forgotten how to play in what may be called his 'natural' position as a winger. Perhaps that was one of the reasons Fonseca quickly moved him back early on in the game.
While his passion and commitment are an obvious benefit, the captain still has a lot to learn – and they are mainly lessons he should know better by now.
Where were you, Amadou?
One of Roma's main downfalls was their inability to maintain possession for sustained periods of time. The Giallorossi's passing play has generally been fluid under Fonseca, but was much more frustrating against Atalanta. Central midfield duo Bryan Cristante and Jordan Veretout, who have both played well recently, struggled to provide the glue to the buildup play. Consequently, players like Aleksandar Kolarov reverted to long balls from the back, which clearly did not suit Roma's game.
Someone who could have helped Roma change that would have been Amadou Diawara. The former Napoli man is arguably the most suited midfielder Roma have with regards to a possession game. He can bring calm to the centre of the pitch, and at €20m is a valuable investment from whom more gametime should be expected. Fonseca should have seen that something needed to change in the middle, and that Diawara was the ideal player to affect things.
Tactical tweaks need time
For the first time this season, Fonseca ditched his preferred 4-2-3-1 formation around a quarter of an hour into the game, adapting to a 3-4-2-1. The switch did not work. If anything, pressure was invited onto Roma, who also suffered in attack.
While it is a positive that Roma have a backup plan, these things need to be tried and tested beforehand. Reports did suggest that Roma had used a back three in training, but if that had been effective, it was not translated onto the pitch. There were numerous friendlies where Fonseca had the chance to work these things out in a game-based scenario.
Fonseca has worked quickly to instill a philosophy into his new players, and for the most part, their game has improved as a result. Straying from that, then, was maybe not the wisest solution. However, it remains important for Roma to keep a Plan B in their system – these ideas cannot be written off straight away.
Lack of width concerning
When playing against a back three, often it is prudent to exploit the spaces in behind the wing-backs and attack from wide zones. Roma's setup did not allow them to do that. Even when they started with a 4-2-3-1, the external players were Alessandro Florenzi and Nicolo Zaniolo, who unusually were not inverted. Even so, neither caused much of a threat out wide.
When Roma switched to a back three themselves, it left Florenzi and Leonardo Spinazzola as the advanced full-backs tasked with providing the width. Neither were able to do so – with statistics showing the latter's average position to be narrower than central midfielder Jordan Veretout. Admittedly, some of that data may be skewed given that Spinazzola started at right-back, but even after switching to the left, his tendency was to play very narrow.
Later on, Roma finished the match with Edin Dzeko and Nikola Kalinic as strikers, with Pellegrini and Henrikh Mkhitaryan tucked right in as narrow attacking midfielders behind them. As Justin Kluivert – another player who could have been called upon to make a difference – watched on from the bench, Roma failed to make the most basic advantage out of a system which led to them being out-thought and outworked.
Player Ratings: Lopez 6; Fazio 5; Smalling 7; Kolarov 5; Florenzi 5; Cristante 5; Veretout 5; Spinazzola 6; Pellegrini 6; Zaniolo 5; Dzeko 6
Subs: Jesus 4; Mkhitaryan 4; Kalinic 4
Coach: Fonseca 3
Man of the Match: Smalling