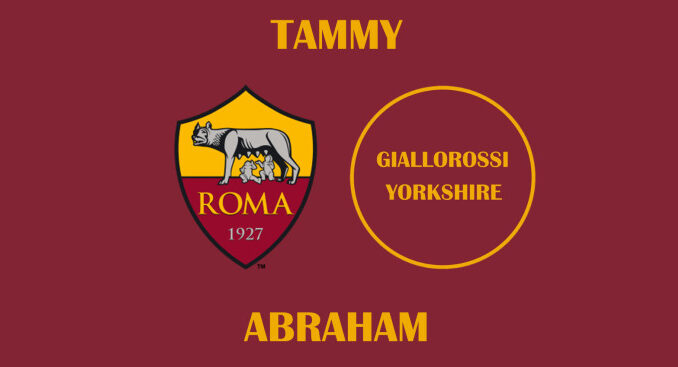 Tammy Abraham has insisted he is not just at Roma because of Jose Mourinho and thinks Italian football is more challenging than its English counterpart.
Abraham recently became the third Englishman to ever play for Roma after joining in what could become a club-record transfer from Chelsea.
The striker made a bright impression on his debut and will be hoping to build up some form in front of goal in the coming weeks, having already made himself popular with the fans.
After his first two appearances for the club, it was time for Abraham to meet the media at his presentation press conference on Friday. During his discussions, he spoke confidently, calmly and cheerily, displaying his passion for his new adventure.
Very few English players move abroad, so it has been a big step for Abraham, but he revealed that the vision shown by coach Mourinho and general manager Tiago Pinto meant he didn't need too much persuasion.
"Luckily for me I spoke to Jose and obviously Tiago before coming here, and they told me the ambition of the club, what they want from the club, their project for the club and how they see the club moving forward," he said. "I am someone who is very ambitious myself. When I see a vision, and I believe in the vision, and I feel I can help with the vision, then I am all in with the vision.
"I came here to win. I didn't just come here to play and score goals, I came here to help the team as much as possible and hopefully we can win a trophy as part of that."
Within the same question, Abraham was asked about Roma's chances of winning the Europa Conference League after qualifying for the group stages. The 23-year-old has both short- and long-term goals, he revealed.
"Right now we are focused on taking every game as it comes," he added. "There are a lot of very good teams in the Conference League, so we cannot say that we are just going to win the competition. But Roma are going to fight until the end – we've got a good team and we believe we can fight all the way."
In his last two appearances, Abraham has been taken off for fellow summer striker signing Eldor Shomurodov. The prospect of them playing together has been the cause of intrigue recently and the ex-Chelsea man believes his versatility from earlier in his career means they can both be accommodated.
"As I grew up, I wasn't originally a striker, I was a right winger," he explained. "So I am used to playing many different positions, I'm used to playing with different types of players and different strikers – not just me alone up front. I can do that but whatever the team is, whatever the formation is, whatever players he puts alongside me, or me with them, I will always try to do my best and do what I can to score and assist and have an impact on the game. So, for me, I am happy with either one."
Elaborating on his decision to join Roma – and in the process sacrifice Champions League football and the opportunity to continue his career in his homeland – Abraham insisted there were many factors, including but not limited to the manager.
"I would like to say that it's not just because of Jose that I am here. Of course he has had a big impact on why I am here, but I've also grown up watching Roma on TV, in the Champions League and everything else, and so I've known about the club for a very long time.
"I've had the privilege of playing with players like Antonio Rudiger and Emerson Palmieri, who have been at this club as well. Rudiger told me so many good things about his time here, so that had an impact on my decision as well.
"And, of course, Jose the manager has been very successful, he's very ambitious – and that's what I love, because I'm exactly the same. The difference is he is the coach and I am a player. But it's nice to have someone of that high calibre be the manager of such a great team."
Embed from Getty Images
On the topic of the move abroad, Abraham gave a refreshing response about the differences between the game in Italy and England.
"Watching Italian games on TV, playing against Italian teams in the different age groups growing up, I always knew Italians are very tactical. They defend well as a team, they have a good structure to how they play. It's always hard to break teams down and score against them.
"One thing I have learned here already is that every team is very good. Every team is good. Compared to the Premier League, let's say, if you are at one of the good teams you are going to have a lot of the ball, and you are going to dominate against the, let's say, smaller teams. But here everyone is equal. Everyone wants the ball, every team is compact and has a good shape and so you have to find different ways to break teams down."
While Abraham moved from England to Italy, one man who went in the opposite direction between the two countries was Romelu Lukaku. The Belgian striker left Inter Milan to return to Abraham's former employers Chelsea, in turn sparking Edin Dzeko's departure from Roma to Inter.
For Abraham, being part of that transfer merry-go-round was a source of privilege.
"For me, I was focused on my football. I was focused on wanting to play football," he said of being involved in the saga. "I want to help a team. When Roma came in and showed they were interested, I got my mind focused on coming here and helping as much as I can.
"Now I am the No. 9 here. I have to give Dzeko credit, I grew up watching him, when he was at different teams, and he did well here and it means they are big boots to fill. But I am a person who always believes in myself, I always back myself to help the team as much as possible.
"Lukaku did that and has now gone back to English football, while Dzeko has moved on as well, and they are both very good strikers. To be named alongside those guys is a privilege for me.
"But I am very young, I still have a lot of time to go and a lot of things to develop on. This is a step forward but it is not the end, it's just the beginning."
Embed from Getty Images
As a section of the fanbase without huge representation, English Roma fans were largely enthusiastic about Abraham from the beginning. But after his first couple of games, those closer to the action in Italy have been warming significantly to him as well.
He was greeted by a group of supporters as soon as he landed in Rome and the sense of appreciation from the fanbase has only increased.
"You know, since I arrived in Rome the fans have been amazing," he concluded. "They have welcomed me, and so have the players as well. I felt at home as soon I got here. With fans like this I want to make everyone happy, I want them to all enjoy watching football again. We've had Covid, we've had situations that mean fans haven't been at the stadium. So we want to put on a good performance for them."
Show your support by following Giallorossi Yorkshire on Twitter and Facebook, and subscribe to the monthly newsletter.