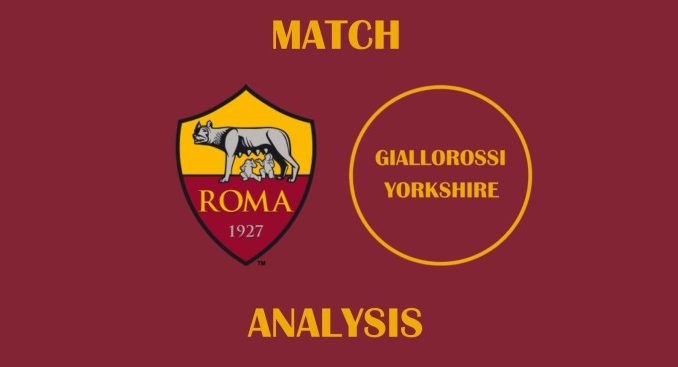 Roma were pegged back late on by Torino on Sunday to only come away from the other Stadio Olimpico with a 1-1 draw.
Here, Giallorossi Yorkshire picks out three themes from the match – one starting with A, one with B and one with C.
A – Adapting to a new target man
It was a third goal in as many starts for Roma's new striker Romelu Lukaku, which is a promising sign after last season's issues up front. Indeed, it is actually an unprecedented achievement in the club's history for a newcomer.
Lukaku pinned his marker in the box and finished on the swivel to put Roma ahead, although it sadly would not turn out to be the winner.
The fact he is getting on the scoresheet with consistency is a massive relief to Roma already, but his teammates are still building up their chemistry with him in other phases of the game.
For example, players sometimes looked to rely on Lukaku's aerial ability too much, whereas he actually had more success getting the ball to stick to his chest rather than by challenging for headers.
Lukaku is different from Tammy Abraham in that he is better with his back to goal, while he is far more of a target altogether than Andrea Belotti. In turn, Roma's midfielders and wide players will have to adapt to having this new kind of option to aim for.
The understandings will come in time – there were flickers in the first half of Paulo Dybala combining with him, until the Argentine went quiet – but Roma now have a very strong striker, those strengths of whom's they must work out how best to play to.
B – Breaking into the box becomes part of changing Cristante role
Arguably Roma's best chance other than their goal came when Bryan Cristante burst into the box and came within a whisker of connecting convincingly with the ball.
The way in which he was able to roam into the space on the edge of the area – compared to Frank Lampard on the TNT Sports commentary – was indicative of the freedom he has been developing recently, no longer shackled as a defensive midfielder.
It has taken Cristante a long time to find his true function in the Roma system, no matter how many coaches have relied on him. All of a sudden, though, it seems as if he is carving out his niche.
It would be easy to wonder why he wasn't this expressive next to Nemanja Matic last season, when he began to find his consistency, but something about his new partnership with Leandro Paredes appears to have unlocked a new element of his game that will keep him a formidable option for Lorenzo Pellegrini, Renato Sanches and Houssem Aouar to rotate with.
Admittedly, there are only a few formations in which the way he paired Paredes would work. Cristante hasn't always asserted himself in a midfield three before for Roma, while playing as part of a holding pair in a 4-2-3-1 would similarly restrict him.
Thus, it would either have to be a 4-4-2 (a formation Roma don't really have enough wide players for) or more likely a continuation of the 3-4-3 that Jose Mourinho adjusted to against Torino.
Competition for places in the Roma midfield is now finally high again, so the contenders like Cristante will have to keep showing the strings they have to their bows.
C – Collapsed deal comes back to haunt Roma
The goal of an ex is something that seems to haunt Roma on a regular basis, but on this occasion, the player who took two points away from them was one who almost joined the club.
Before Roma miraculously loaned in Lukaku, they were close to taking Duvan Zapata from Atalanta until the deal confusingly collapsed. The Colombia international has obviously gone on to join Torino instead.
While the aforementioned exploits of Lukaku mean there aren't too many regrets about missing out on Zapata, there was a degree of irony that he would be the one to deny Roma a second successive Serie A win.
Arriving between Cristante and Evan Ndicka as a free kick swung in, Zapata headed the ball past Rui Patricio to earn a draw for the hosts.
After enjoying some late drama last season, this time Roma were on the receiving end and will have to tighten up to get back on track against Genoa on Thursday.