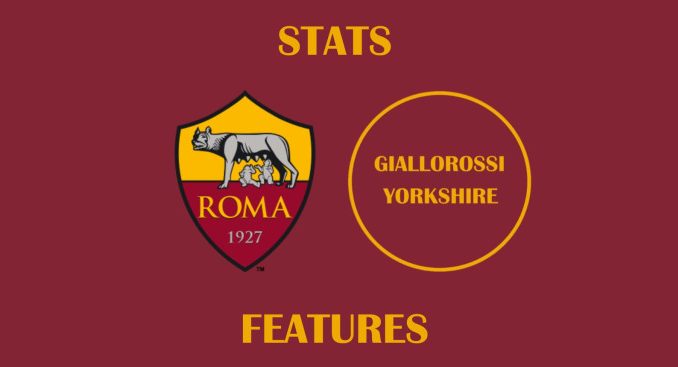 It was a day to remember for Annamaria Serturini on Sunday as she extended her records as the player with the most appearances and goals for Roma Women.
Serturini became the first player to reach 50 appearances for Roma Women as she started against Inter Milan – and the Italian winger made an impact by scoring the first goal of the game, her 20th for the club.
Sadly, Roma could not hold on for the win, as the game finished 1-1. However, it was a landmark day for Serturini on two fronts.
Roma's top scorer in their first ever season, Serturini has led the way for the club right from the start. And the stats show just how efficient she is in front of goal.
Inspired by her success, here are the 10 players with the best goals-to-games ratios for Roma Women so far.
10. Luisa Pugnali – 0.19 goals per game
One of the strikers from Roma's first season, Luisa Pugnali left the club having scored four goals in 21 games. Given that only 12 of her appearances were starts, she could be pleased with her efficiency.
9. Andrine Hegerberg – 0.22 goals per game
Dynamic midfielder Andrine Hegerberg brought an eye for goal when joining the club in 2019, scoring five goals in her first season. She is yet to add to her tally this season, but remains a goalscoring threat from the middle of the park.
8. Flaminia Simonetti – 0.24 goals per game
A player who lined up against Roma for Inter on Sunday, Flaminia Simonetti found some good form towards the end of the club's first season. She ended her first and only season with the Roma first team with five goals from 21 games – only 12 of which were starts.
7. Agnese Bonfantini – 0.26 goals per game
Roma's second highest scorer of all-time behind Serturini, Agnese Bonfantini's output doubled in her second season, having netted four goals in 2018-19 and eight in 2019-20. She is also second only to Serturini in the all-time appearances chart.
6. Martina Piemonte – 0.27 goals per game
Roma's main striker in their first season, Martina Piemonte scored six times for the club before leaving. She reached that tally in 22 games, and was the club's second highest scorer behind Serturini in that year.
5. Amalie Thestrup – 0.33 goals per game
Arriving last summer to act as Roma's new centre-forward, Amalie Thestrup endured mixed fortunes during her first season in Italy. However, she managed to score once every three games, departing the capital with five goals from 15 appearances.
4. Lindsey Thomas – 0.375 goals per game
Roma's top scorer in their second season with nine goals, Lindsey Thomas brought a new element to the frontline. Able to play as a centre-forward or winger, she was the highest scoring foreign player of any team in Serie A Femminile in 2019-20.
3. Annamaria Serturini – 0.4 goals per game
Serturini has been crucial for Roma ever since their first steps into women's football. Deservedly leading the way in terms of appearances and goals, she has even scored at a slightly higher rate than Francesco Totti did for the men's team, albeit over a much shorter period and in a different competition.
Her 20th goal was a simple finish as she broke the deadlock against Inter, but during the past three years, she has shown a variety of skills in front of goal. Serturini can be clinical, and will take some catching if she continues to score at her present rate.
2. Andressa Alves – 0.42 goals per game
Andressa Alves arrived at Roma with big expectations last summer, having established herself with Brazil and Barcelona. The versatile wide midfielder lived up to those hopes by scoring seven goals in 14 games in her first season.
Having only scored one from five so far this season, her ratio has dropped slightly below 0.5, but given her role as the team's main penalty taker, she will likely add to her record in the coming weeks.
1. Paloma Lazaro – 0.6 goals per game
Having made a fast start to her life in Rome, summer signing Paloma Lazaro leads the way so far this season with three goals from her first five games for the club. Serturini is the only other player to have scored in more than one game so far in 2020-21.
Lazaro has led the line well in her first weeks as a Roma player, showing different types of finishes to become the first player ever to score in her first two games for the women's team. The striker will be important for the challenges ahead.