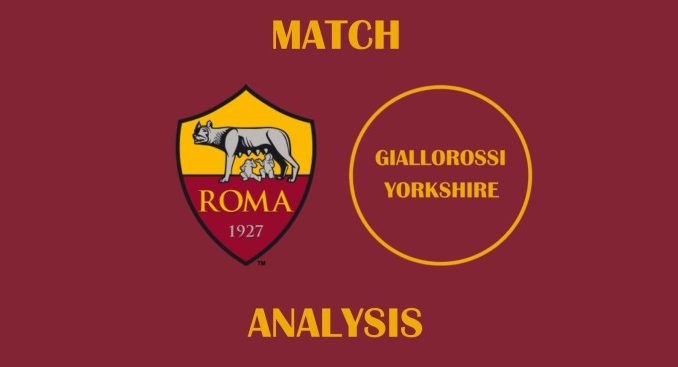 Paulo Fonseca's first pre-season in charge of Roma continued on Saturday with a comfortable 10-1 win over Serie D side Trastevere.
Gianluca Mancini made his debut in the second half, while fellow new signings Pau Lopez and Leonardo Spinazzola both featured again.
There were nine different scorers, with Edin Dzeko notching a brace. Once again, a former Primavera player found the net, with Christian D'Urso making his mark this time. Elsewhere, Cengiz Under, Mirko Antonucci, Patrik Schick and Diego Perotti all scored for the second game running.
Like Thursday's pre-season opener, it was a game more about fitness levels and getting players minutes, but there were still some interesting talking points from the encounter.
Florenzi always higher up the agenda
Fonseca decided to use captain Alessandro Florenzi as a left winger in his first game in charge, after years of seeing the Roman wasted at right-back. He deployed the Italian in the same position again in the first half against Trastevere, and it looks like the 28-year-old is finally being unleashed. He threaded a delightful through ball to Under for his side's third goal, and after being moved to another role, central midfield, for the start of the second half, he set up Patrik Schick for another assist.
Double threat down the left
Despite his positive start to pre-season, Florenzi still may find it difficult to hold a regular place in his new position, due to the strong impact Diego Perotti has also made. The man who has worn the captain's armband in Florenzi's absence so far, Perotti seems ready to take a step up after an uneventful season on a personal note. He linked up well with left-back Spinazzola, with the duo combining for Perotti's goal. Both are right-footed players, but are showing confidence to go to the byline and use their weaker left feet as well. These combinations and alternative options will keep opposing defences guessing at any level.
Bouah's positive impression
Playing in Florenzi's old right-back role for the second half was Primavera defender Devid Bouah, who for the second game in a row made a good impression. Only 17 years of age, the Italian enjoyed surging forward and put in some good crosses. Roma have an abundance of options in the position now, so it shouldn't be expected to see him playing regularly come the new season, but he certainly looks like a prospect for the future.
Concentration is essential
It can be easy for players to get carried away when taking on an opposition of far lesser quality, but there is no excuse for complacency. Some started to creep in from Roma, with certain players trying too many flicks and ultimately losing possession. It's good for them to be creative and try new things, but even though these games are easy, they need to be treated in a manner relative to the kind of matches Roma will be playing in during the season. Those failed flicks will be punished in Serie A and Europe. There was also an error of judgement from Rick Karsdorp that led to Trastevere's goal. The full-back needlessly threw the ball to Federico Fazio, who couldn't control it, before the opposing attacker beat Robin Olsen in a one-on-one. Such risks don't paint a good picture and need to be reduced.
Selection issues
On the topic of the Swedish keeper, what can be made of the fact that he was playing? He surely has no future at Roma after last season's disaster, so why take minutes away from other keepers who do? Perhaps it has just been to put him in the shop window again, but it would be more beneficial for even a youth keeper to take part in these games instead. Likewise, Edin Dzeko started and put in a much improved performance. Is the striker being re-integrated into first team plans despite all the talk of a move away? If he can replicate that kind of performance against the better teams for Roma, then it would be fine, but it still looks likely that he'll be leaving. Surely the side needs to come first when the lineups are being picked.
Player Ratings: Olsen 5; Karsdorp 6; Capradossi 6; Fazio 6; Kolarov 7; Cristante 7; Nzonzi 6; Under 7; Antonucci 7; Florenzi 8; Dzeko 8
Subs: Lopez 6; Bouah 7; Jesus 6; Mancini 6; Spinazzola 7; Santon 6; D'Urso 6; Defrel 6; Perotti 8; Schick 5
Man of the Match: Perotti