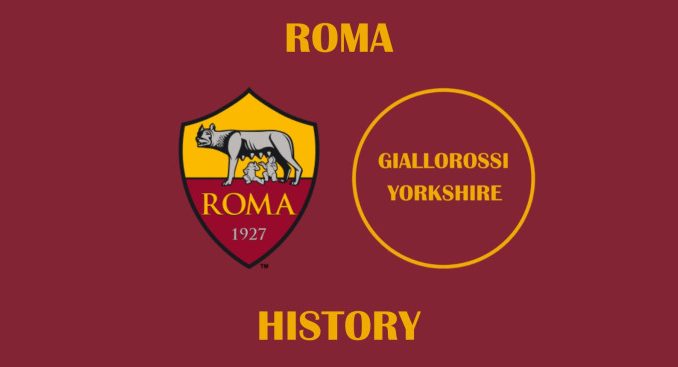 "Thank you Roma. This is also yours."
That was the caption Paulo Dybala used on Instagram to accompany an image of him kissing the World Cup trophy, which he had just won with Argentina, on 18th December, 2022.
Having joined the Giallorossi from Juventus in the summer, Dybala became the 16th different player in the club's history to win the World Cup as a representative of Roma.
In the process, he helped Roma set a record, as they became the club to have had at least one of their players in a World Cup winning squad in the largest number of editions of the tournament (nine).
Here, Giallorossi Yorkshire looks back at every player to have won the World Cup as a Roma player, or joined the club as a reigning world champion having won it while owned by another club within the previous four years.
Guido Masetti
Roma had three players in the first Italy squad to win the World Cup in 1934 – and one of them would be there for their follow-up success in 1938 as well.
Guido Masetti is often regarded as the first great goalkeeper in Roma's history. It is hard to tell of his technical quality, but stories of his legacy have been passed down through the generations, so much so that he may well be the most significant keeper the club have ever had.
Before captaining Roma to their first Serie A title in 1941-42, Masetti made it into the Italy squads for World Cup triumphs in the second and third editions of the tournament. Sadly, he played in neither; in fact, he only ever earned two international caps.
But his experience must have been beneficial in Italy and France for his successes with the Azzurri, just as it was when he featured more prominently for Roma.
Attilio Ferraris
Roma's first ever captain, Attilio Ferraris, was also in the Italy squad that earned the first of the country's four global crowns.
With his place in history secure as the club's first ever representative of the Italy national team back in 1928, Ferraris was keen to make his mark on the world stage.
Starting the 1934 final, which was an after-extra-time win over Czechoslovakia, Ferraris earned praise for his performances throughout the competition. Unfortunately, 1934 would also represent the year in which he would leave Roma.
Somewhat surprisingly sold to Lazio despite proving his revival at the World Cup, Ferraris would thankfully wear the Giallorossi colours again, after a stint with Bari, when he returned for the 1938-39 season. By this point, his international career was over.
Enrique Guaita
Another starter in the 1934 final, Enrique Guaita's star burned brightly in the two seasons he spent as a Roma player. To this day, he still has the best goals-to-games ratio of any player to reach a particular threshold of appearances in the club's history.
Originally coming from Argentina, Guaita switched international allegiance to represent Italy between 1934 and 1935, before he left the country to return to South America due to fears of being called up by the army.
Who knows how many goals Guaita might have gone on to score had he been able to stay at Roma, but his record of 42 from 61 games – including 28 from 29 in the season after he became a World Cup winner – has stood the test of time.
Luigi Allemandi
Another member of the 1934 Italy squad would go on to represent Roma within 12 months. Luigi Allemandi, an experienced defender, was an Ambrosiana (effectively Inter) player at the time of the World Cup win, but moved to the capital in 1935.
Allemandi, coincidentally, had started the final alongside the next person you are about to read about in this list.
He also served as Italy's captain during part of his time with Roma, which lasted for two seasons. His Italy career ended in 1936, two years before their next success.
Eraldo Monzeglio
When Italy retained their trophy in 1938, they once again had some Roman representatives. As stated, Eraldo Monzeglio had been in the 1934 squad (as a Bologna player), and would again be involved four years later.
Roma had signed him in 1935, providing him with a place to spend the final four years of his career.
Monzeglio did not play in the 1938 final, which represented the culmination of his journey as an international player nevertheless.
Aldo Donati
A somewhat unique case, Aldo Donati never actually made his debut for the Italy national team. However, he was in their 22-man squad for the World Cup in France back in 1938.
Donati had joined Roma from his hometown team Bologna one year before. After getting 20 Serie A appearances under his belt in his debut season in the capital – a significant improvement upon what he had been managing with Bologna – the midfielder rose to the Azzurri's attention.
Although his involvement in Italy's World Cup win was minimal, he played a big part in helping Roma win the Scudetto four years later, enjoying his busiest ever season by only missing one league game of the title-winning campaign.
Pietro Serantoni
The last player from the 1930s to consider here is Pietro Serantoni, a midfielder who joined Roma from Juventus in 1936 and stayed for four years.
Although he had made his Italy debut in 1933, Serantoni was overlooked for the 1934 tournament. However, he earned his place in their squad for the defence of their crown in 1938.
In fact, Serantoni started the final, adding a World Cup medal to his collection.
After retirement, he went on to manage Roma, but it wasn't a successful spell. Indeed, he was one of the three coaches who spent time at the helm in the season the club suffered relegation to Serie B for the only time in their history.
Alcides Ghiggia
Embed from Getty Images
Certainly one of the most legendary names to ever play for Roma in a wider footballing sense, Alcides Ghiggia scored one of the all-time most memorable goals in a World Cup final.
Back in 1950, the winger scored the winning goal for Uruguay against hosts and favourites Brazil to silence the Maracana – something he would later quip only the Pope and Frank Sinatra had otherwise managed to do – in one of the competition's most historic upsets.
Three years later, he left Penarol in his native country to join Roma for his first experience of club football outside Uruguay. Understandably, he was extremely well received upon his arrival; the club recouped around a third of the transfer fee they had spent on him just from the takings from his presentation match, against Charlton Athletic.
Ghiggia would go on to play more than 200 times in Serie A for Roma, even being able to switch international allegiance to Italy for a time.
Bruno Conti
Several tournaments would pass before Roma once again had a World Cup winner among their ranks. In 1982, though, Italy added their third title.
The great Bruno Conti was Roma's sole representative in the squad, which was largely made up of Juventus, Fiorentina and Inter players.
Conti would start on the wing in the final, in which Italy defeated West Germany 3-1. Playing a significant part in his side's last two goals and winning them a penalty that they would alas not convert, he more than earned his place in the team of the tournament.
Indeed, the biggest legend of them all, Pele, declared Conti the best player of the tournament afterwards.
He took the inspiration back with him to his club, where he would go on to win Serie A the following season.
Pietro Vierchowod
One influential player in Roma's Scudetto win was Pietro Vierchowod, who spent 1982-83 on loan at the club on the back of winning the World Cup.
The defender didn't actually get to play at Spain 1982, but would manage to make it to the next two editions of the tournament.
Ever-present in Serie A in the glorious season that followed for Roma, he moved on at the end of it and enjoyed a lengthy career that would last until 2000.
Francesco Graziani
In preparation for their first European Cup campaign in 1983 after their second Scudetto, Roma brought in experienced attacker Francesco Graziani from Fiorentina.
One year earlier, Graziani had also been a starter for Italy in the World Cup final, playing in a similar role to Conti but on the opposite side.
By the time he joined Roma, Graziani had already made his final Italy appearance, but was still a reigning world champion. He ultimately spent three seasons in the capital.
Rudi Voller
In 1990, a streak began by which Roma would have a World Cup winner at five consecutive editions of FIFA's showpiece event. On this occasion, West Germany were the victors – funnily enough, in Italy.
One of their players starring near his home turf at club level was striker Rudi Voller, who by this point was three years into his five-season stint in Serie A.
West Germany's number nine had hit double figures of goals in each of his most recent two campaigns with Roma and went on to score three goals at the World Cup. Infamously, he was also involved in a spat (literally) with Frank Rijkaard in a match against the Netherlands.
Voller started the final against Argentina at a certain Stadio Olimpico in the end, which his side won 1-0. Upon his return to Roma for his penultimate season in Italy, although in his 30s by this point, he enjoyed his most prolific season with the club by scoring 25 goals for a side who won the Coppa Italia and finished as runners up in the UEFA Cup.
Thomas Berthold
Also playing at his home ground in the 1990 final was Roma full-back Thomas Berthold.
His time with the club began a bit later than Voller's, in 1989, and would only last for two seasons, so his World Cup triumph came right in the middle.
Berthold fell one shy of the 50-appearance mark in his World Cup victory-lap season with Roma, a tally that his compatriot Voller actually surpassed.
Thomas Hassler
Finally for 1990, there was a third West German player who would go on to join Roma within the cycle before the next World Cup.
Thomas Hassler had also started the final in midfield and his displays in Italy put him on the radars of Serie A clubs. Juventus bought him from FC Koln shortly after the tournament concluded.
His time in Turin only lasted one season, though, and he ended up at Roma in 1991. Hassler endured three seasons with the Giallorossi, making more than 100 appearances in all competitions before going back to the Bundesliga as Karlsruher's record signing.
Aldair
Roma have had many great foreign servants – including plenty of Brazilians – over the years, but the one with the most appearances for the club was Aldair.
The defender, nicknamed Pluto, spent more than a decade with Roma, reaching a tally of games that only four Italians could better.
Having joined the club in 1990, Aldair would four years later become the first then-Roma player to win the World Cup with a South American nation, after Brazil beat none other than Italy on penalties in the final.
Aldair started and finished the final in California, but the story could have been different. In actual fact, he wasn't included in Brazil's original squad, but was called up after another player became ill before the tournament. He went on to compete in the 1998 World Cup final, which Brazil this time lost, before his international commitments ended in 2000.
Paulo Sergio
Another future Roma player in Brazil's 1994 squad was Paulo Sergio, then of Bayer Leverkusen.
The forward didn't feature in the final, though, and actually never played for Brazil again beyond that calendar year despite only being 25.
Sergio signed for Roma in 1997, still as a reigning world champion since Brazil would not be dethroned until the following year. He scored 12 league goals in both of his seasons in Serie A before returning to Germany with Bayern Munich.
Vincent Candela
Although Aldair and company would lose the 1998 final, one of his teammates at club level had much more to celebrate.
Vincent Candela, a Roma player between 1997 and 2005, played once in his home tournament as France completed the first half of their one-two of consecutive major trophies, with the wing-back involved in their successful Euro 2000 squad too.
Candela, of course, would follow it up with a Serie A winner's medal with Roma in June 2001, before scoring in the Supercoppa Italiana later that summer to cap off a productive peak of his career.
Cafu
Embed from Getty Images
Roma's other starting wing-back of the 2000-01 Scudetto campaign reached an even higher pinnacle in 2002. That year, Cafu not only won the World Cup, but lifted it as Brazil captain.
Also having been part of the triumphant 1994 squad, at which point he was a Sao Paulo player, Cafu was the only Brazilian to feature in all three of their consecutive finals up until 2002. Indeed, nobody else in history has played in three World Cup finals.
Brazil's most-capped player of all time, Cafu prolonged his international career until 2006 – three years after he left Roma for AC Milan – in time for one more World Cup.
Those with an interest in Italian football, of course, will know exactly what happened then…
Francesco Totti
Embed from Getty Images
You may have heard of this one. Five years after captaining his one and only club to the Scudetto, Roma's biggest legend of them all became a World Cup winner with Italy.
Francesco Totti's participation in the 2006 World Cup was in serious doubt due to injury, but he fought his way back just in time to make an impact.
Featuring in all seven matches, Totti provided four assists, which was a joint-record for the tournament, and scored a crucial, match-winning penalty against Australia in the round of 16.
Totti was a starter in the final against France, in what turned out to be his final appearance with the national team. Winning the World Cup was quite the way to bow out – and he would go on to outscore every other player in Europe in the season that followed with Roma.
His club career would last all the way up until 2017, while Italy struggled to find anyone else like him – as evidenced by the fact that there were still considerations to take him to what would have been the last available World Cup in his career, in 2014.
Daniele De Rossi
Of course, the 2006 squad contained another player that Roma had produced from their own academy. The man who would succeed Totti as the club's captain many years down the line, Daniele De Rossi, was also a winner with Italy that year – as the youngest member of their squad.
His tournament was admittedly something of a rollercoaster on an individual level after a red card in a group match, but he returned from suspension to come on for Totti in the final.
De Rossi went on to convert his penalty in the shootout, which Italy won 5-3.
A decade later, in 2016, De Rossi buried his World Cup medal in the coffin of Italy's kitman during the successful tournament, Pietro Lombardi.
Simone Perrotta
It ought not to be forgotten either that there was a third Roma player representing Italy for their 2006 success – and it was one with a fairly unique story.
Simone Perrotta is the last English-born person to win the World Cup, having originally hailed from Ashton-under-Lyne.
Spending all his club career in Italy, he was with Roma from 2004 until his retirement in 2013.
Perrotta also participated in each European Championship either side of the World Cup win.
Luca Toni
In the final six months of Italy's reign as world champions before the 2010 tournament took over, Roma took on another member of their triumphant squad.
Luca Toni returned to Serie A on loan at Roma from Bayern Munich for the latter half of the 2009-10 season.
The former Fiorentina forward's impact was short but sweet, as he scored five goals in 15 league games for the Giallorossi, who finished a frustrating two points off the top of the table despite being in the lead with four games to spare.
Luca Toni and 11 other players who had a positive short-term impact at Roma
Toni's return to form wasn't enough, though, for him to make it to the 2010 World Cup; in fact, by the time he joined Roma, he had already, unknowingly at the time, made his last appearance at international level.
Steven Nzonzi
Roma's run of having a World Cup winner at every edition from 1990 to 2006 also remains a record for any club. It would end in 2010, though. There wouldn't be a Roma representative in a winning squad until 2022.
In the previous edition in 2018, though, there was someone who earned football's biggest honour a month before becoming a Roma player: Steven Nzonzi.
The defensive midfielder had come on for France in the final of their win over Croatia and looked to be a smart signing from Sevilla for Roma. However, Nzonzi struggled to adapt to Serie A and only spent one season in the squad before being shipped off elsewhere.
He didn't add any caps to his collection with France in 2019, but did return to contention for them in 2020, by which point he was back in Ligue 1 with Rennes. There have been no further international appearances for him since that year.
Paulo Dybala
Embed from Getty Images
In 2022, the World Cup was held in the winter rather than the summer. Thus, by the time it came around, Paulo Dybala was a Roma player.
His arrival at the club after his release by Juventus was a monumental moment for Roma, who quickly began to benefit from his talents.
An injury put his World Cup hopes in doubt, but he battled back in time. His role at the tournament was a limited one, but he did crucially score a penalty in the final's shootout for Argentina against France.
Thus, even if for some it is still sinking in that Dybala is a Roma player, the club have a World Cup winner among their ranks again.
And although he didn't get too many chances to express it in Qatar, he is something special too.
Leandro Paredes
Another component of the Argentina squad that Dybala won the World Cup with was Leandro Paredes, who would return to Roma for a second spell with the club half a year later.
He previously made his senior international debut a few weeks before his first spell with Roma ended, back in 2017. While representing clubs like Zenit St. Petersburg and Paris Saint-Germain, he remained a regular on the international scene.
When the time came to go to Qatar, he started two and came on in three of Argentina's matches. He scored a penalty in the shootouts for their quarter-final win over the Netherlands and in the final against France.
When he won the World Cup, he was on loan at Juventus from PSG. After they declined the chance to keep him, though, it presented Roma with the chance to welcome him back in the summer of 2023.
At the age of 29, he made the first appearance of his second spell as a Roma player that August.
---
This article was originally published on 23rd December, 2022, and has been updated since to include Paredes.