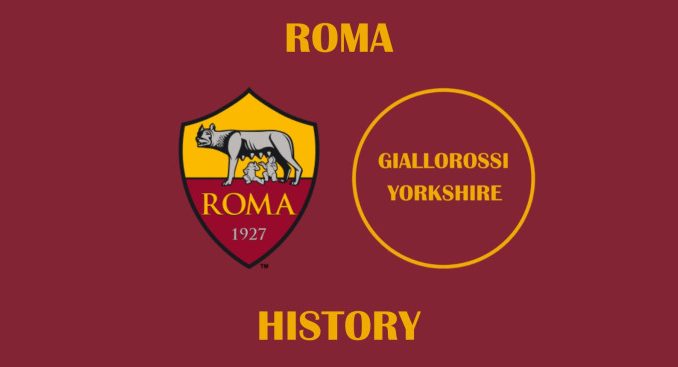 26th May marks the birthday of a former striker who spent just a fleeting time at Roma, but still managed to make an impression.
That player is Luca Toni, a man who spent half a season on loan at Roma in 2010, scoring five goals in 15 appearances in Serie A ⁠— including one against Inter Milan, which allowed the club to dream about winning the league again, only for them eventually to fall short.
The turnover rate of talent at Roma has been quite high in recent years, and Toni is one example of a player who could have made more of an impact had he stayed for longer. His loan was not made permanent; parent club Bayern Munich then released him, allowing him to move to Genoa instead.
When Toni scored the winner against Inter on 27th March, 2010, it sparked genuine belief that Claudio Ranieri's side could turn the tables on their rivals. Thanks to that goal, to clinch a 2-1 victory, Roma cut the deficit behind the eventual treble winners to just one point.
🔙 #RomaInter 
🗓️ 2009-10
⚽️ Luca Toni 💥
🐺 #ASRoma pic.twitter.com/WSnUfpxVuA

— AS Roma (@OfficialASRoma) December 2, 2018

  
Had the Giallorossi found a way to overtake Inter ⁠— they eventually finished two points behind the Nerazzurri, in part due to a slip up against Sampdoria a few games later ⁠— then Toni could have been remembered as a Roma hero for the impact he had.
While his legacy could have been greater, he is still fondly remembered for making the fans believe for that brief moment. Here are 11 other players who all made less than 50 league appearances for Roma ⁠— most in fewer than two seasons ⁠— but still earned a place in the hearts of supporters.
Alisson Becker
Embed from Getty Images
Alisson only spent one season as Roma's first-choice goalkeeper, but by the end of it, most fans were in agreement ⁠— he was the best keeper they had ever seen play for the club.
Of course, in terms of a Roma legacy, Alisson does not match the likes of Guido Masetti and Franco Tancredi, but the levels of ability he reached in his second and final season with the club were like nothing many had ever witnessed.
The Brazilian international was a pivotal part of Roma's run to the Champions League semi-finals, while he was consistently excellent in Serie A. It wasn't just his shot-stopping ⁠— his distribution and ability on the ball were also of the highest level.
Thus, it was a major disappointment for Roma to lose him at the end of that season, but they realistically had little chance of convincing him to stay, now that the world was at his feet. Slight consolation came in the fact that he was sold for a world record fee for a goalkeeper ⁠— a sum that was quickly surpassed when Chelsea signed Kepa Arrizabalaga ⁠— but the heights that Alisson reached in 2017-18 suggested he could have gone for even more.
Despite the regrets, Alisson's time with Roma was something to savour. Few players have been able to claim to be the world's best in their position while at Roma, but Mr Becker certainly could.
Marquinhos
Another Brazilian to be brought to Europe by Roma, only to be sold on for a substantial profit, was Marquinhos. The defender had only just turned 18 when Roma signed him in 2012, but in his sole season in the capital, he soon became a regular starter.
Able to play as a centre-back or a right-back, Marquinhos made 30 appearances in total, before being sold to Paris Saint-Germain for around 10 times the value Roma had originally paid for him.
As a collective, Roma did not enjoy a successful 2012-13 season, but Marquinhos was one of the stronger elements, and turning such a big profit so quickly was a transfer success ⁠— even if the club's inability to retain their biggest prospects has been a source of frustration over the past decade.
Medhi Benatia
Embed from Getty Images
It was a similar story with the man signed to replace Marquinhos ⁠— Medhi Benatia. He too spent just one season at the club before being sold to a European giant, this time in the shape of Bayern Munich.
Benatia made 37 appearances for Roma, in what was admittedly his last season as a regular for any club. His form helped new manager Rudi Garcia to an impressionable second place finish, and the club doubled their money when they sold him at the end of the campaign.
The circumstances of Benatia's departure were rather controversial, but the defender appears to have kept a place for Roma in his heart. His later decision to join Juventus, coupled with the manner of his exit, meant that such fondness is not necessarily reciprocated from supporters ⁠— despite the appreciation of his successful season in Rome.
Pietro Vierchowod
A fleeting part of an even more successful era, Pietro Vierchowod arrived at Roma from Sampdoria in a swap of loans with future European Cup finalist Dario Bonetti in 1982.
Just 23 at the time, but already with plenty of experience, the defender proved to be one of the missing pieces of the puzzle that would finally fit together to bring Roma their second Scudetto by the end of that season.
Vierchowod was ever-present in the league ⁠— the only outfield player for whom that was the case ⁠— as Roma boasted the second-best defensive record in the division on their way to becoming champions.
The Italian defender never scored for Roma in his 43 appearances in all competitions, but excelled at the job he specialised in ⁠— keeping the ball out of Franco Tancredi's goal.
Vierchowod was chosen by many as the best player in Serie A that season, but despite his success at Roma, he did not make his move to the capital permanent. Instead, he returned to Sampdoria, where he later won another Scudetto towards the end of a spell that lasted longer than a decade, before brief stints with the likes of Juventus and AC Milan.
Vierchowod may have only spent one season at Roma, but how glorious it was.
Herbert Prohaska
Another important element of the Scudetto-winning season of 1982-83 was Herbert Prohaska, who had joined from Inter Milan in the prime of his career.
The midfielder made 42 appearances in all competitions, scoring five goals, but like Vierchowod, he left after just one season, having got his hands on the Serie A trophy.
Prohaska returned to his hometown club, Austria Vienna, at the end of the campaign, where he immediately won three more league titles in a row.
Hidetoshi Nakata
Embed from Getty Images
Roma had to wait until 2001 to lift the league title again, but one man who played a big part in helping them achieve that was Hidetoshi Nakata. The Japan international became the first Asian player to represent Roma when he joined in January 2000, and the 18 months that followed saw him become a cult hero.
Undoubtedly Nakata's biggest contribution to the club came in May 2001, when he inspired a comeback against Juventus that would cement Roma's place at the top of the table. After scoring one goal from outside the box to halve the deficit against one of the only sides that could still catch Fabio Capello's league leaders, another long-distance effort from Nakata was spilled by opposing keeper Edwin Van Der Sar ⁠— for Vincenzo Montella to pounce and grab a vital equaliser.
Nakata's role in the success was even more significant given that he had replaced Francesco Totti as a substitute ⁠— but the bold decision paid off, as Nakata stood up to the pressure and played a huge part in one of the most important matches of Roma's most recent Scudetto-winning season.
Mapou Yanga-Mbiwa
While there was to be no Scudetto under Rudi Garcia, despite a few months of promise, there were still opportunities for his players to stand up in the big games and write their names in the history books.
Few embody that more than Mapou Yanga-Mbiwa, whose header to win the Derby Della Capitale near the end of Garcia's second season ⁠— and thus beat their rivals to Champions League qualification ⁠— remains one of the most fondly remembered goals of recent years.
It was the only goal Mapou scored from his 38 appearances at Roma ⁠— all coming in that season ⁠— but it was one of the most significant anyone scored that whole year.
While the Frenchman was a decent player, it's fair to say he has not really been missed since his 2015 move to Lyon ⁠— but no-one can deny how important he was at such a pivotal moment.
#OnThisDay in 2015, Mapou Yanga-Mbiwa became an #ASRoma hero by scoring a late winner against Lazio to win the #DerbyDellaCapitale and qualify for the Champions League.

One of the most iconic moments in recent Roma history. 😍pic.twitter.com/wrYUxcfDWH

— Giallorossi Yorkshire (@RomaYorkshire) May 25, 2020

  
John Charles
The first British player to ever represent Roma, Leeds United legend John Charles joined the club midway through the 1962-63 season. With the legendary Pedro Manfredini ahead of him in the pecking order, Charles was limited to just 10 appearances ⁠— but he still managed to score four goals in that time.
While his tenure in Rome lasted only a few months, that goals to games ratio is certainly impressive. It all started with a goal on his debut, but the promise never quite lasted.
Unfortunately, Roma finished the season in fifth place and were knocked out of the Coppa Italia in the Round of 16. Had the campaign gone a little better, then perhaps Charles' time in the capital would have been as memorable as it deserved to be.
Karl-Heinz Schnellinger
A couple of years after Charles' departure, arrived another player with a decent reputation. In 1962, Karl-Heinz Schnellinger had finished third in the voting for the Ballon D'Or, so when he came to Roma in 1964, it was a major coup.
The versatile defender played for just one season at Roma, but was one of their most-used players, making 36 appearances in all competitions. Two of those came in the final of the Coppa Italia and its replay, from which the Giallorossi emerged victorious.
Schnellinger was signed by AC Milan at the end of the season, and he stayed with the Rossoneri for over a decade. His reputation there earned him a place in their Hall of Fame, but it could have been different had he spent more time at Roma.
Lucas Digne
Embed from Getty Images
A more recent left-back to spend a solitary season at Roma, Lucas Digne largely impressed during his loan spell from Paris Saint-Germain in 2015.
Having reunited with his former Lille coach, Rudi Garcia, the Frenchman established himself as first choice for most of the season, and it seemed an easy decision for Roma to make his loan permanent.
Somewhat surprisingly, that was a decision they did not take ⁠— with Digne ending up at Barcelona instead. He was replaced from within by Emerson Palmieri, himself another player who was relatively successful at Roma despite only staying for two-and-a-half seasons.
Federico Balzaretti
Finally, another left-back who made even more of an impression. Unlike the other players in this list, Balzaretti's time at Roma did extend into a third season ⁠— but given that he spent much of that time injured, he was restricted to just 44 appearances in total, affording him room for a place here.
Like Yanga-Mbiwa, Balzaretti got his moment to shine in the Derby Della Capitale, setting Roma on their way to a victory over their rivals Lazio in 2013. The passion Balzaretti exerted when celebrating made that moment one of the most iconic pictures of the past decade for Roma.
After his retirement in 2015, Balzaretti's association with the club continued in an off-field role until 2019. The fact he was offered such a role despite only being at the club a few years shows how well-respected he had become.