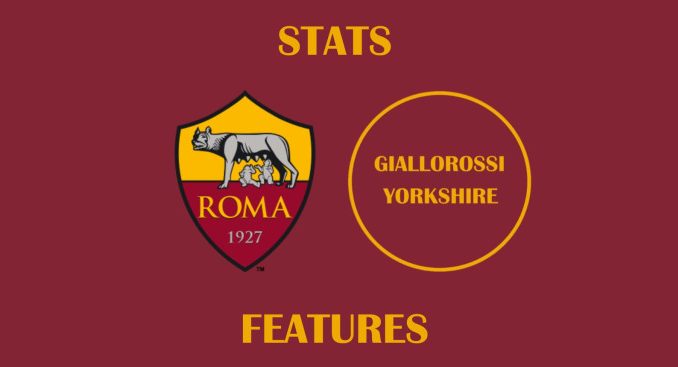 Roma have reinforced their defence ahead of the new season by bringing in Evan Ndicka, who might end up taking the place of Roger Ibanez.
Ndicka's arrival on a free transfer from Eintracht Frankfurt was confirmed on 21st June. Before then, it was expected that Ibanez would be sold by the end of the month because of Financial Fair Play.
As things stand, it now appears other players will be making way first, but Roma still might negotiate a sale of Ibanez later in the summer. Even if he stays, the Brazilian will now face serious competition for his place, since Ndicka is left-footed and would therefore be a more natural fit to feature on the same side of Roma's back three that the right-footed Ibanez has.
But how do the two of them compare? Here, Giallorossi Yorkshire has looked back at each player's statistics from the 2022-23 season, considering only their league appearances for Roma and Eintracht respectively.
(The data has been sourced via the Squawka Comparison Matrix and WhoScored, both of whom use Opta for their information.)
Ndicka v Ibanez defensively
First and foremost, it is important to determine how Ndicka and Ibanez compare defensively. The data shows that Roma's number three averages more than twice as many tackles per 90 minutes (2.2 compared to 0.9), but also more fouls (1.5 compared to 1.1) than Ndicka.
Furthermore, Ibanez records double the number of Ndicka's interceptions (2.2 compared to 1.1) and is also superior for ball recoveries (7.1 compared to 6.5). In contrast, Ndicka outranks him for clearances (4.8 compared to 3.0) and blocks (0.7 compared to 0.4).
Embed from Getty Images
One similarity between the pair is that they were each dribbled past an average of 0.5 times per 90 minutes, or in other words, once every two full games.
Each of them was responsible for one own goal over the season, though in terms of being part of a unit to keep opponents out, Ibanez helped Roma to more clean sheets (0.4 compared to 0.3 per 90 minutes, or 10 compared to 6 in total) and fewer goals conceded (1.2 compared to 1.5 per 90 minutes, or 35 compared to 44 in total) than Ndicka with Eintracht. Of course, that isn't entirely down to the two individuals in question here, rather the overall systems they were parts of.
Duels
In terms of more general duels, Ndicka contests and wins more aerial duels (4.3 compared to 2.9, and 2.7 compared to 2), though it is actually Ibanez who has a better success rate in that department (68.54% compared to 60.94%).
As for ground duels, Ibanez contests and wins more than twice as many (6.8 compared to 3.2, and 4.1 compared to 1.5). Furthermore, he has the better success rate (60.19% compared to 46.81%).
Embed from Getty Images
Discipline-wise, Ibanez received more cards than Ndicka. In total, he got nine yellow cards and one red, in contrast to the Frankfurt man's four yellows and no reds. Using the per-90-minute metric, Ibanez's average for a yellow card was 0.3 and Ndicka's was 0.2.
On the ball
In addition to their defensive duties, modern centre-backs need to have some ability in possession. On that topic, Ndicka averages more touches of the ball (73.4 compared to 68.2) and attempts and completes more passes per 90 minutes (60.3 compared to 53, and 52.1 compared to 46.6) than Ibanez. That said, the latter is slightly more accurate (87.96% compared to 86.36%), though there isn't much to separate them in that regard.
Interestingly, Ibanez completes more long passes (2.8 compared to 2.6), whereas Ndicka completes more short passes (49.6 compared to 43.9). That said, in total, 95.18% of the passes Ndicka completes are short; Ibanez's equivalent is 94.06%, so they aren't actually that dissimilar in terms of their variety of distribution.
Despite that, the new arrival actually attempts more forward passes (25 compared to 18.3), while Ibanez aims to pass sideways slightly more frequently (32 compared to 31.4), which does seem to slightly contradict the previous point somewhat.
Nevertheless, 41.46% of the passes Ndicka attempts are forwards; the figure is just 34.53% for Ibanez.
Other factors worth mentioning are that they scored an equal amount of goals (three each, or 0.1 per 90 minutes), but that none of Ndicka's were headers, while one of Ibanez's was.
Conclusions
In summary, it could be argued from the data above that Ibanez has been better defensively due to his superiority at tackles and interceptions, but less clean because of his fouls and bookings. On the other hand, Ndicka has been a better passer of the ball.
In Ibanez's favour is the theory that he is more efficient with his duels, even if Ndicka (who is almost three inches or seven centimetres taller) might be up for an aerial battle more often.
On the whole, there are a few similarities between the pair, such as their passing accuracy or being dribbled past, but Ndicka should have several of his own qualities to bring and bolster the Roma backline in new ways – whether Ibanez goes or not.
Besides, reports have indicated Roma might bid for another direct replacement if they do let Ibanez go later in the summer, so more changes could yet be afoot for what was largely a solid defence last season and will hopefully be again next term.