Over six seasons with Roma, Edin Dzeko proved himself to be a modern-day legend.
Arriving with a big reputation, he further enhanced it by steadily rising up the club's all-time goalscoring charts, eventually ending up in third place with a tally of 119.
Along the way, there were goals of all types, as Dzeko became one of the most complete centre-forwards fans of Roma had ever seen.
But of all those goals, which typifies what Dzeko was to Roma the most? Which single strike can fans look back on as the purest representation of his goal-getting qualities?
What you are about to read is an attempt to find the answer. It will be a journey back through all of his memorable moments to paint the truest picture of Edin Dzeko.
The goal that will first spring to mind for any fan when Dzeko's name is mentioned is his volley against Chelsea from the Champions League in 2017. It was undoubtedly the best of his career, but that will not be the answer here; it was a moment of rare brilliance, rather than something to expect every week. Instead, this will be a quest to find something that best sums up Dzeko in one shot.
So follow along as Giallorossi Yorkshire looks back through the archives to find an ideal way to say thank you to a club legend…
The process of finding the quintessential Edin Dzeko Roma goal
Embed from Getty Images
To start with, let's set out the process. Each Dzeko goal will be watched back and categorised in various ways; tallies will be kept of what body parts he used to score, what kind of territory he scored from, how he received the ball before his shot, how many touches he took before shooting (if any), and so on.
Once those have been totalled up, the steps will be retraced to find a goal that ticks as many of the most common boxes as possible.
So, let us begin…
From the outset, what would a typical Edin Dzeko goal be expected to look like? Despite his height, he was never a great header of the ball, instead using his towering presence in other ways. And although right-footed, many of his best goals came from his left foot.
Furthermore, Dzeko's best goals all seemed to be instinctive, rather than ones where he had plenty of time to pick his spot. So, can the mathematical evidence prove what is the most common type of goal?
In the days leading up to and after Dzeko's departure (okay, months after – it took a bit longer than intended…), Giallorossi Yorkshire watched back all his goals in order. These are the findings…
Themes of Dzeko goals
Many of Dzeko's goals were first-time finishes, although they were not all necessarily tap-ins. He excelled at shifting his weight to find space, or simply arriving in the right place at the right time. Furthermore, the vast majority of his finishes were with the inside of his foot, opting for placement rather than power.
As the years went by, he increased the variety of his finishes. In that regard, there were more left-footed goals – of course, the famous Chelsea volley, but also the one against Torino in 2018, for example.
Around that time, he began to take one touch more before taking his shot. That was perhaps a sign of him slowing down as his years increased. But the ball was still ending up in the back of the net.
In terms of his posture, he generally faced forwards when receiving the ball, even though he was capable of controlling it from anywhere. Likewise, he could take the ball from different heights – often using his chest well – and executed a number of finishes with the ball on the bounce.
By his penultimate season at Roma, he was starting to move into closer range to get on the end of chances. But he was still capable of opening his body up to place it from further out on occasion.
Thus, with those general themes established, how did Dzeko's goals categorise?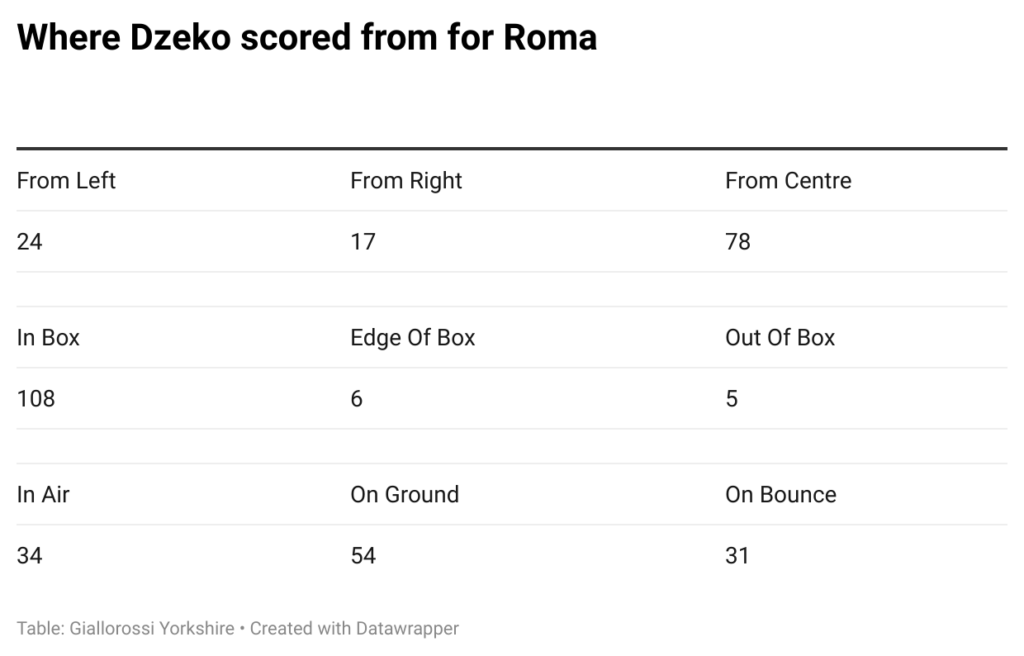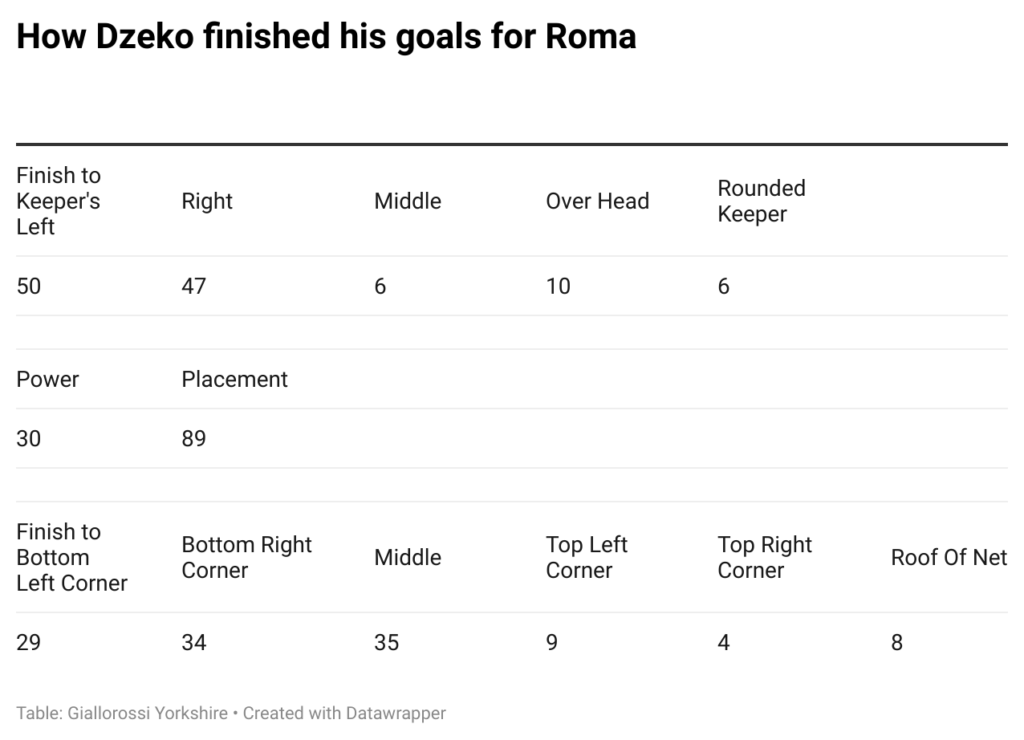 Thus, the key criteria are that it should be a right-footed goal (but maybe left), in the box, from the centre of the pitch (or perhaps slightly to the left), with the inside of his foot, first time, along the ground, having received the ball from either side, while facing forward, and finishing it either side of the goalkeeper, with placement.
Looking back, which goals match all those categories?
Four full matches
There are four that match all 10, and 14 that match nine. Those that match 10 are: his second goal in the home fixture against Crotone in 2016-17; his first goal against Austria Vienna in the same season; his goal against Juventus in 2018-19; and his second goal against Benevento in 2020-21.
The first of those, against Crotone, saw him receive the ball from a racing Mohamed Salah – someone with whom he enjoyed a fine working relationship – on the right. Salah slipped the ball between two defenders to pick him out, before he turned it in with his inside. The ball was still travelling rapidly when he diverted it goalward. But he finished off the move with good technique and awareness in the box.
The Austria Vienna goal was not as fast-paced, but followed a similar route. Dzeko received the ball from the right and converted it past the goalkeeper in a controlled manner.
Fast forward to the Juventus goal and, despite Dzeko being older at this point, he could still finish off a pacy move. This time he was set up by a short pass from the left. With space ahead of him, he could comfortably slot home.
Likewise, against Benevento, Dzeko had no pressure on the ball to deal with after receiving a pass from the left. In behind the defence, he simply tapped Henrikh Mkhitaryan's pass into a vacated net.
Secondary matches
Are any of these the best representation of Dzeko, though? There could be something better lurking within the group of goals lacking only one common match. In that regard, the least critical factors would be which foot he used (since he scored a good blend with his left and right), or the direction he was facing (since he was actually positioned to the side more often than forward, just in either way).
Other factors are so heavily weighted that they are important, such as shooting from the centre, or finishing to either side of the goalkeeper. Ruling out those from the secondary category that lack these criteria – while also cancelling out goals scored into empty nets, since that wouldn't be a fair way of best demonstrating one of the best strikers of his generation – whittles it down to a selection of six more alternatives.
They are: in the 2015-16 season, a left-footed tap-in from close range against Carpi and a goal where he was assisted from behind by Mohamed Salah against Udinese, plus a chest-down-and-strike at home to Palermo; in 2016-17, a finish against Inter where he wasn't facing forward, and his first goal against Napoli with the similar lacking criterion; and in 2019-20, a finish not facing forward after a Nicolo Zaniolo assist at the expense of Istanbul Basaksehir. The latter can be ruled out, since it was largely the work of the provider. Therefore, that brings us to a primary list of four goals and a secondary list of five.
Narrowing it down
Of the four primary goals, the one against Benevento can be cast aside due to its sheer simplicity as a tap into an empty net. Then, the Juventus goal can be disregarded since it came from just outside the central range of the goal. Likewise, the Austria Wien goal is slightly to the right and perhaps too close. It makes the Crotone goal the best candidate from that group.
Of the five secondary goals, the one against Carpi is simply too close-range to count as his most accurate representation. His goal against Udinese also features a shot on the turn from behind, which makes it of a lower classification. And the one against Napoli is perhaps more of a swinging finish than what was usually characteristic of him; it's getting down to the fine details by this point, since it was a very good finish still.
Conversely, the one against Inter could be a good choice since the move includes one of his aerial involvements in the build-up. Even though he is close he finishes at pace – in a big game too. Likewise, the goal against Palermo is worthy of contention due to his use of his frame and the finish.
Which brings us down to a very final shortlist of three goals, all from 2016: against Palermo from that February; against Crotone in September; and against Inter one month later. This is where it has been getting difficult – and the deliberation has taken a few days of reflection.
The most representative Edin Dzeko Roma goal
The temptation is to lean towards the goal from the bigger game – the type for which Dzeko often turned up. But in truth, he scored against opponents of every calibre.
Yet, the goal against the club he would later leave Roma for is indeed a strong representation of what he was during his time in the capital. He would drop deeper to bring others into play, using his chest, and find scoring positions to attack first-time shots with. Therefore, it is the goal against Inter that will be chosen here as the goal most representative of Dzeko's 119 for Roma.
Even if it may not have been the pinnacle of his repertoire, it really is a fitting example of what an Edin Dzeko Roma goal looked like.
And so concludes a mammoth task that has taken more than half a year. Hopefully the end product was worth it. Just don't ask for an equivalent for Francesco Totti; it was quite enough sifting through a tally not even half of his…
Anyway, even if this message should have been for when he left the club, instead it can come on his birthday, beyond his time with Roma. Grazie Edin.
---
Subscribe for free to the monthly Giallorossi Yorkshire newsletter – next edition out March 31st.