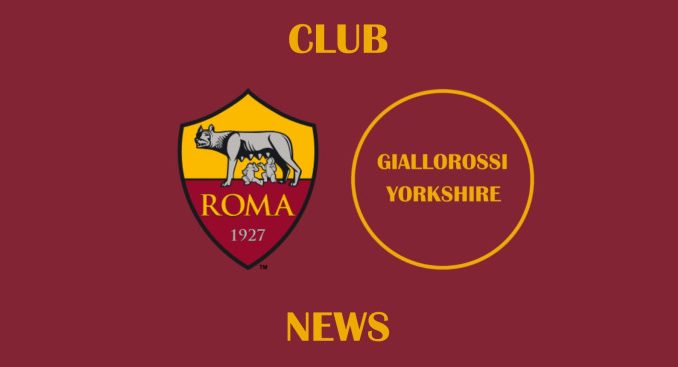 Tiago Pinto has reflected positively upon Roma's summer transfer business this year.
In Pinto's first summer as general manager, Roma signed Rui Patricio, Eldor Shomurodov, Matias Vina and Tammy Abraham, while also offloading dozens of players who were surplus to requirements.
Pinto is quickly earning admirers for his transparent approach, which he further enhanced by explaining Roma's work at a press conference one day after the transfer window closed.
The 36-year-old began by insisting it has been a team effort, something which has stemmed from the ownership.
"First and foremost, I want to thank the ownership for all the work they have put in over these last few months," he said. "And not just in terms of the investments made, but also for the assistance, for their presence around the club every day, for the vision that they have.
"When I got here, they talked a lot about teamwork. But not just in theory, in practice too. We have worked hard together, with the coaches too. We have shared the decision-making process and that is something I am really pleased about, because it is something that you need to do and it is something that will only end up being for the better for Roma.
"To conduct more than 40 transfer negotiations in less than two months is not just the work of Tiago Pinto, but it's the work of the legal team, the finance department, Morgan [De Sanctis] and Maurizio [Lombardo, Chief Football Operating Officer], who all helped. For you [journalists] a lot of the time what matters is the name of players. But in modern football it's complex and difficult to bring negotiations to a positive conclusion, especially if you don't have such a committed and expert team with the willingness to work hard to do it.
"I am very demanding with myself: I am the first to be angry when things go wrong. But I can say that this was possibly the most challenging and difficult transfer window in the recent history of football. And yet, in the end, we were able to conduct a good transfer window.
"I am not one to shout to you guys about the great business we've done, that's not the way I operate, but in such difficult circumstances we have been able to hire the best coach in the world, we have built a stronger squad and we have found solutions for more than 30 players. Of course you will all want to talk about the business we didn't manage to do, but I think we've done great work."
Of course, alluding to the business Roma failed to do, a defensive midfielder never arrived, despite being a request of Jose Mourinho. Granit Xhaka was his top target, but Arsenal kept him and, besides, Pinto and company began to look at other priorities.
Embed from Getty Images
He denied the lack of a signing in that area was due to a budgetary issue, though.
"The issue is not the budget: we need to be aware that what we have invested in this transfer window is more than Dan and Ryan [Friedkin] had initially imagined," Pinto explained. "The market is dynamic and, in crucial moments, we had the desire to do something to accelerate the rebuilding process here.
"All of you know about the interest we had in Xhaka, which in the end we didn't manage to do because other things happened. We wanted to address the most urgent needs the squad had.
"I don't ever want to try and justify my work, but we shouldn't forget the situation we inherited. When the season started, we had more than 60 players under contract. That is not easy to manage. It's understandable that you and the fans will look at what's missing, but we need to keep some perspective. We did what we thought was right in order to become stronger."
Despite the lack of a midfield signing, Pinto is confident Mourinho has enough to work with – before swerving a question about the January transfer window.
"In the end, there is also always this link between an incoming and outgoings of players," he said. "We have six central midfielders and, with how the market panned out, we decided not to purchase another.
"But I think it's important to say that Roma's midfield contains a European champion in Bryan Cristante, the midfielder who has scored more goals than anyone so far this season and is in the France squad [Jordan Veretout], it has Gonzalo Villar who started every one of Spain Under-21s recent games, it has Amadou Diawara and Ebrima Diawara and Edoardo Bove… we can't talk as if there isn't already a midfield there.
"Now we need to balance things out. As far as January goes, I think you all believe that most success in this sport is down to transfer business and that's why, when the transfer window closed yesterday, you are already asking me about January. But I believe there is always work to be done every day with a football team that ultimately helps you to win, not just the transfer market.
"The transfer market is important, of course, and in January we will be there to analyse and understand if players have progressed or not, if any have got injured, if the coach is satisfied, how the league table looks… we will look at everything, but right now we can't jump from September to January."
In addition, Pinto denied failing to sign a midfielder was his biggest regret, despite being one. He said: "When we weren't able to sign Xhaka… he wanted to leave Arsenal but in that moment they did not want to sell him. That was a regret.
"But the real regret is this situation with these unwanted players, because we really worked hard alongside Morgan and others in this room in order to bring decent, respectable offers to the players involved."
Although Pinto was not mentioning names, the likes of Steven Nzonzi, Federico Fazio and Davide Santon have not left the club, despite being separated from first-team training and receiving offers.
Some are hoping for a reintegration, but that will not be happening. Indeed, Pinto warned them that they could be sold to countries where the markets are still open.
"We still have 10 transfer windows open, he reminded. "We will continue to work in order to find solutions.
"Mourinho has already spoken about this topic: we worked hard and we brought to the table offers for every single one of our players. Good offers, offers that meant none of them would have lost out on even one euro. But I cannot go inside the heads of the players. Let's see what happens. We still have a few transfer windows open [in other countries], we will work with their agents and our staff. After all the markets are closed, we'll see."
He added: "Part of my job is respecting players and their decisions but I have to be honest: it's not easy for me as the sporting director to find four, five, six offers that I consider to be good and which don't harm the player financially or do him a dishonour and to see them not accepted."
Of course, many players did find solutions, such as Edin Dzeko who caught Mourinho by surprise by joining Inter, Alessandro Florenzi who backtracked on his decision not to play elsewhere in Serie A by joining Milan, and Pedro who made the very rare move to rivals Lazio.
Pinto is not concerned about the risk of strengthening rivals, though.
"In this job every decision you take involves a risk," he insisted. "When [Barcelona president Joan] Laporta decides to let [Lionel] Messi leave, he's taking a huge risk.
"The three players you mentioned were all different situations. But when a player doesn't want to play for Roma and wants to join another team, that has a strong bearing. We're building something new and different here where players must be ready to die for Roma. We managed to reach an agreement with all of them.
"If we look at what happened with all the big names moving on this summer, Roma didn't do anything different to the other teams. Perhaps the communication wasn't as good. I'm probably at fault because I always want to tell the truth but at the end of the day those players were on big wages and a club that's trying to be sustainable has to make certain decisions. So yes, the decisions we've taken did involve an element of risk.
"But I don't watch Inter's games hoping Dzeko doesn't play. I'm happy. Dzeko was an important player for Roma and it was a pleasure working with him. Last season we had him and [Borja] Mayoral; now we have Abraham, Shomurodov and Mayoral, so I don't think we're worse off."
Embed from Getty Images
Far from being worse off, Pinto was even asked if the amount Roma have spent this summer – more than anyone else in Italy – makes them title contenders.
He replied: "My target is not the title, but to work hard every day in order to cut the distance between Roma and success. We have talked a lot about time, but time is not an excuse to not win. It's clear that we want to win, starting with next week's game against Sassuolo.
"We have the best coach in the world, we have a better squad than last season and we have also made a lot of changes to the structure around the players. And all of that will hopefully bring us closer to success.
"But I cannot be thinking about May, because we are in September: we have to make sure we are focused on winning every game. Then, if at the end of the season we are in the hunt for the title, then we will be there."
He added: "It's clear that qualifying for the Champions League is the main target. I won't hide from that. That's why we are here."
With the transfer window now closed, Pinto will be able to focus his attention on getting Lorenzo Pellegrini to sign a contract renewal. His deal expires at the end of the season, but there are no concerns.
Pinto confirmed: "Lorenzo wants to renew his contract with Roma and Roma wants Lorenzo to renew. There's no issue."
Embed from Getty Images
Perhaps the most important piece of business Roma have done in the Pinto era, though, is appointing Mourinho as manager.
The Special One has made a bright start in the dugout and having him there is a source of pride for Pinto.
"I am very pleased that we were able, all together, to bring Jose Mourinho here. It's an honour," he said. "I am Portuguese, I am 36 years old and since I was a child Mourinho was an icon – even if he coached Porto and I was a Benfica fan. Mourinho is an incredible figure for any Portuguese person.
"Today I am a working colleague and there are lots of occasions in which we might not agree on things – but I learn something every day from him. Because he has worked for the best clubs in the world, he's won everything there is to win, he's won five league titles.
"But I don't feel the pressure – we are able to work together every day, since even before the season started, and we went through the squad together and we worked out what we needed to do, what we could do and what we couldn't do. I am pleased, proud and motivated to be working every day with Mourinho."
Show your support by following Giallorossi Yorkshire on Twitter and Facebook, and subscribe to the monthly newsletter.