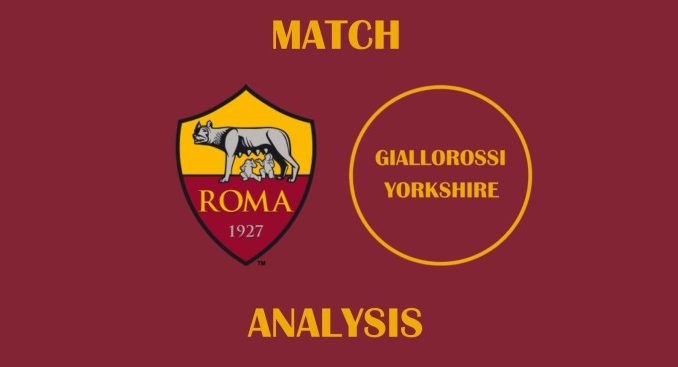 There were smiles all around as Roma wrapped up qualification to the Europa League group stages with a 3-2 win over Torino on Wednesday night.
Despite going behind to an Alex Berenguer goal, Roma hit back quickly to restore their footing in the game. A great piece of vision from Henrikh Mkhitaryan picked out Edin Dzeko, who scored to equal Rodolfo Volk in fourth place on Roma's all-time top goalscorers chart.
Not long after, Chris Smalling put Roma ahead with a towering header from a Carles Perez corner. As negotiations with Manchester United stutter, fans will be hoping it was not the last goal Smalling ever scored for La Magica.
A penalty won by Dzeko in the second half gave Amadou Diawara the chance to score his first ever Roma goal, making it 3-1. However, the Giallorossi couldn't relax just yet, as teenage wing-back Wilfried Singo pulled one back for Torino on his first Serie A start.
While Singo deserved to score for his impressive performance, in truth, Pau Lopez should have dealt much better with his shot. It raises questions over the goalkeeper's long-term future at Roma.
Nonetheless, it's a time to focus on positives. Roma have now mathematically ensured they will be in the Europa League group stages next season, avoiding the awkward summer qualifiers.
Fifth place wasn't the initial target this season, but as the campaign progressed, it became the most achievable, while still respectable. Getting there by continuing their run of seven games unbeaten – their longest in Serie A under Paulo Fonseca – is a sign of the potential in this squad.
Potential. It's a frequently used word in the footballing lexicon, but one that sometimes falls in the wrong places. Sometimes it is mistakenly used only as a synonym for youth. But potential is about what a team can achieve as a collective.
Over the past few weeks, Roma have shown they have potential. And it's not just because of young talent like Nicolo Zaniolo, Roger Ibanez and Amadou Diawara – although they all definitely play their part. It's because of the effort seen as a whole.
Falling short of fourth place again was not the idea this season. But finishing fifth is an achievement given the unexpected circumstances that have arisen over the course of the year: Lazio's rise into the top four; Atalanta's consistency to stay there; a global pandemic disrupting the season…
This past month has suggested that, as long as they are able to keep their core, Roma have planted the seeds for progress.
Embed from Getty Images
The way they have responded to adversity shows their potential to go further in the future. The way Paulo Fonseca has adapted tactically shows their potential to go further in the future. And the way key players are stepping up at the right time shows their potential to go further in the future.
More than most, Edin Dzeko epitomises this. The Roma captain has worked hard in recent games, and covered a lot of ground once again in Turin.
The run he went on to win the penalty for Roma showed a different aspect of his game. Taking the ball from in his own half, he dribbled half the length of the pitch, outskilled his opponent with a stepover, and drew the foul.
It was one of several examples of Dzeko's desire to help the team in different areas on the night. The Bosnian occupied all kinds of different positions. Confident with the ball at his feet, he was eager to make an impact.
Embed from Getty Images
He could have had another goal, too. Dzeko can only have been millimetres offside when his second goal was ruled out. It would have been among his best if it had stood, as he weaved into the penalty area and curled it home from a tight angle.
Whether the decision to disallow it was right or wrong, though, Dzeko could take pride in his performance.
Now, he is the joint-fourth highest scorer in Roma's history. He is one of only four players to ever have scored 16 Serie A goals in three different seasons with the Giallorossi. At 34 years of age, he is showing little sign of slowing down.
Hence, when Roma look towards the future, and the potential that it now appears to possess, they should not discount Dzeko as part of that. Yes, he is closer to the end of his career than the start. But he remains a powerful option for Roma, who can be pivotal.
Dzeko is someone to build around and keep at the core of the team. The same goes for 31-year-old Mkhitaryan and 30-year-old Smalling. They have shown on multiple occasions this season that age is just a number.
These players may be in the twilight of their careers, but they still have enough to give to be part of Roma's long-term vision. As much as anyone, they show this team's potential.