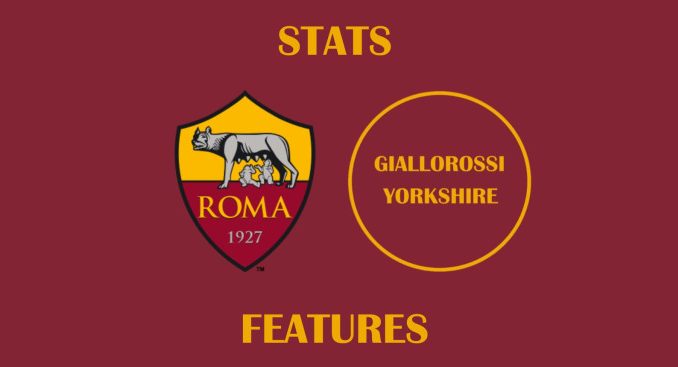 Roma appear to be close to signing Arkadiusz Milik as a replacement for their captain Edin Dzeko.
Dzeko has spent the past five seasons at Roma, becoming their all-time leading foreign goalscorer. However, the 34-year-old looks to be coming to the end of his time in the capital, ready for a new challenge with Juventus.
Milik is the main candidate to replace him, and reports are gathering pace that Roma have found an agreement with both club and player.
#Milik is closer to #AsRoma 
(3+15+7: €25M, €4,5M/season) #Dzeko is closer to #Juventus 

Negotiations ongoing no stop. @SkySport #Transfers ⚽⚽ pic.twitter.com/YmAR0XQP3W

— Angelo Mangiante (@angelomangiante) September 14, 2020

  
The transfer is likely to divide opinion between Roma fans, but how does Milik compare to Dzeko statistically?
Here, Giallorossi Yorkshire takes a look at each player's stats from the 2019-20 campaign. Only Serie A games are considered, while the players are judged for their output per 90 minutes. The idea is to make it a fairer comparison, given that Dzeko played a lot more than Milik last season.
The two strikers are very similar in some aspects, while each has their strengths in comparison to the other. So, who is more productive, and how might Roma's style change with Milik?
Stats where Dzeko and Milik are the same
On the face of it, Dzeko and Milik are quite similar. Both are tall strikers, who act as target men but still score the majority of their goals with their feet.
Last season, both players scored 0.2 headed goals per 90 minutes. They also scored an equal number of goals in the box in such a timeframe – 0.3.
Those statistics suggest that both players can be focal points for their teams, and like to score from close range.
Anyone who has watched Roma regularly over the past five years knows that Dzeko is about much more than being in and around the box, though. He excels at dropping deep to help out the buildup play, controlling the ball well and bringing others into play.
If Milik arrives at Roma, he could perform a similar job. In fact, both players are identical in the number of successful lay-offs they complete per 90 minutes – two.
But their shooting ability is the main factor on which they are judged, and it is a fourth area in which they are virtually equals.
Both players get 1.5 shots on target away per 90 minutes. On average, however, Dzeko attempts slightly more shots (3.8 compared to 3.5), so Milik is more accurate.
Stats where Dzeko exceeds Milik
Embed from Getty Images
Being eight years older than Milik, Dzeko has developed more experience, and therefore has a more multi-dimensional game.
The former Manchester City striker uses his teammates well, giving him 0.2 assists per 90 minutes last season. Milik didn't get any.
Dzeko also created more chances than Milik (1.8 per 90 in comparison to the Pole's 1.1), and made more accurate long balls (1.7 compared to 0.3). Perhaps that is a sign of two teams with slightly different approaches, as in contrast, Milik made more successful short passes than Dzeko (19.3 versus 15.3).
Hence, it shows how Dzeko can come deep and try to switch the play, whereas Milik prefers to stay higher up the pitch in a more fluid attack.
Embed from Getty Images
Sometimes, Dzeko dropping deep leaves Roma light up front, but he times his runs better to get into good positions. In fact, Dzeko was caught offside less frequently than Milik, seeing the flag raised against him 0.5 times per 90, rather than 0.7.
And when roaming about the pitch, Dzeko put his height to use. Whereas the pair were equal for headed goals per 90 minutes, Dzeko won more than double the aerial duels all over the turf than Milik did – 4.1 compared to 1.9.
Dzeko's free-roaming approach also allowed him to have more touches of the ball (40.7 compared to 35.9) and both attempt and complete more dribbles (1.1 out of 2 compared to 0.4 out of 0.8).
In the defensive phase, he committed slightly more fouls (1.1 in comparison to 1), but was booked less frequently, receiving 0.1 yellow cards per 90 minutes in comparison to Milik's 0.3.
And in duels the other way, Dzeko drew marginally more fouls than Milik – with the pair winning 1.5 and 1.4 respectively.
Stats where Milik exceeds Dzeko
Embed from Getty Images
While Milik perhaps has a more one-dimensional approach, he actually exceeds Dzeko in the department where strikers will always be judged – goals.
Milik scored at a slightly quicker rate than Dzeko last season, with 0.6 goals per 90 minutes compared to 0.5. The Napoli striker only started 19 games in Serie A, but still managed 11 goals; Dzeko got 16 goals having made 31 starts.
Milik outperformed Dzeko in terms of goals scored in the six-yard area, with 0.3 per 90 minutes rather than 0.2. One of Milik's, coincidentally, came in the first meeting between Roma and Napoli last season. He could be more of a poacher than Roma's current number nine.
He also managed to get one type of goal that Dzeko did not – scoring from outside the box once.
Embed from Getty Images
As mentioned earlier, Milik's shooting was more accurate than Dzeko's, with a greater proportion of his efforts being on target.
And while Dzeko's link-up play was decent, Milik actually had a significantly superior pass completion rate of 82.3%. Dzeko's was just 69.9%.
Milik also showed he can replicate what Dzeko does in terms of hold-up play. In fact, the Poland international had fewer bad touches per 90 minutes (2 in comparison to 2.6) and was dispossessed less frequently (0.8 against 1.2).
The former Ajax striker also showed he has the work-rate to lead the line both in and out of possession. Defensively, he made more tackles per 90 minutes than Dzeko (0.6 against 0.5), although the Bosnian made twice as many interceptions (0.2 against 0.1).
Conclusion
Roma's main concern when entertaining the idea of selling Dzeko has always been who would be a cost-effective replacement. Good value-for-money strikers are hard to find.
And while €25m for a player in the last year of his contract may be slightly excessive for Milik, the stats show he at least has enough similar attributes to Dzeko to succeed.
It would be interesting to see how Milik's stats changed with a larger sample size, given that Dzeko played more than 1,000 minutes more than him in Serie A last season.
However, in the opportunities Milik did receive, he showed he can be clinical, and might just be the man to lead Roma into the post-Dzeko era.