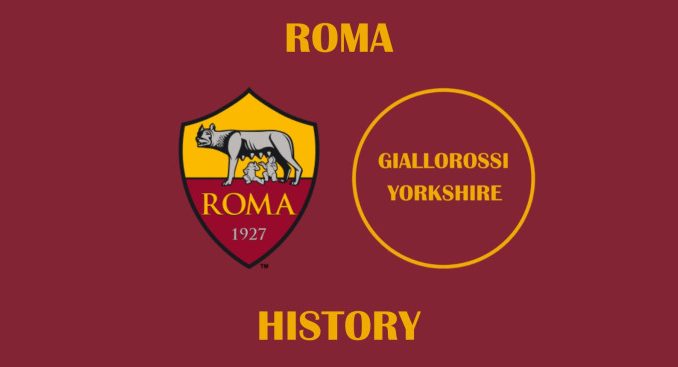 There is nothing football fans like seeing more than one of their own score for the club they support – and there have been many Rome-born Roma fans to do so.
A club with a proud tradition of having hometown players, many have made an impact, or at least got off the mark even if their careers didn't get as far off the ground.
In many instances, the first goals scored for the club by Rome-born Roma fans were the start of special stories. Only counting hometown players who grew up supporting the Giallorossi, here are all those to have scored for their boyhood team in the 21st Century.
Francesco Totti
Embed from Getty Images
The King of Rome himself, Francesco Totti scored more goals for his beloved club than anyone else in their history. The first was in September 1994, but more than 250 (a figure enough alone to outrank anyone else still) came in the 21st Century.
His first goal in the new Millenium was on January 16th, 2000, in a 3-1 win over Hellas Verona. There were many, many more to come.
Daniele De Rossi
The closest man to Totti for appearances for Roma was the man who succeeded him as captain, Daniele De Rossi. A man with a passion for the club running through his veins, the midfielder spent all his career in Rome apart from its final six months.
After debuting in October 2001, De Rossi first scored for Roma in May 2003, when making his first Serie A start against Torino. Oh, and it was an absolute belter from outside the box. He was still 19 years old at the time and would eventually surpass a half-century of goals in giallorosso.
Daniele Corvia
A Daniele who didn't enjoy as much success with Roma was Corvia, who spent two seasons in the senior squad after graduating the academy. However, he only made five appearances in the first and 20 in the second.
Corvia got one goal for his hometown team before leaving, in the 2004-05 Coppa Italia at the age of 20. He scored the fifth of Roma's goals in a 5-1 win over Siena in the Round of 16 second leg, overturning a first-leg deficit. But he left the club at the end of that chaotic season, infamous for being the one of four coaches.
Alberto Aquilani
Forever a tale of what might have been, Alberto Aquilani could have been destined for greatness were it not for injuries and Roma's subsequent need to sell him for financial reasons. In a parallel universe, he could have been the next great Son of Rome.
But Aquilani still had enough of a Roma career to celebrate, making almost 150 appearances for the club. After a goalless first season following his reintegration from a loan spell with Triestina, his first Roma goal of 15 was in the Coppa Italia, the opener in a 3-0 win over Napoli in December 2005.
Cesare Bovo
Debuting for Roma in the season after the Scudetto, Cesare Bovo then spent three years away from the club. The defender returned for the 2005-06 season, the first with Luciano Spalletti in charge.
Bovo made 36 appearances and scored his only Roma goal in a February 2006 UEFA Cup Round of 32 win over Club Brugge, then aged 23. He left permanently at the end of that season.
Aleandro Rosi
Despite starting his career in the Lazio youth ranks, Aleandro Rosi was raised a Roma fan. He was able to move across to the club he really wanted to represent when he was 12. The right-back made his senior debut a few days after his 18th birthday, late in the 2004-05 season.
In September 2006, Rosi scored the first of his three Roma goals, in a 4-0 win over Parma. Coincidentally, that club would go on to sign him from the Giallorossi after his second spell ended in 2012.
Alessio Cerci
Born in Velletri, Alessio Cerci's upbringing was 40 kilometres away from the city centre, but still within Rome. As such, Roma was the club he supported and with whom he began his career.
The winger never scored in Serie A for the club, but after three loan spells away, did get three goals in the 2009-10 Europa League. His first was in a 7-1 play-off-round second-leg thumping of Kosice in the August of that season, by which time he was 22. He left at the end of the campaign, but stayed at top-flight level for most of his career.
Leandro Greco
With Roma since the age of 10, Leandro Greco made his first strides with the senior team in the 2004-05 season after captaining the Primavera. After a few spells away, he finally got more of a chance between 2010 and 2012.
Greco never got a Serie A goal for Roma. Instead, his solitary strike for them was as a 24-year-old in a November 2010 Champions League group match against Basel. Roma won 3-2 under the management of another of their own fans, Claudio Ranieri.
Alessandro Florenzi
Someone who fulfilled the trajectory from fan to academy product, then first-team player to captain (even if that last chapter was fleeting), Alessandro Florenzi eventually reached 280 appearances for the club, scoring 28 times.
The versatile player's first goal was a product of his first Serie A start, against Inter in September 2012 at the age of 21. He went on to score some memorable ones – including a Puskas Award nominated strike from the halfway line against Barcelona in 2015 – before things began to turn sour and he left for various loan spells elsewhere.
Lorenzo Pellegrini
Another player fulfilling the path to captaincy, Lorenzo Pellegrini has led Roma since January 2021. His ascent to the leadership role was the culmination of a dedicated journey, which included two years away from Rome.
Seven games that were the making of Lorenzo Pellegrini at Roma
After being re-signed from Sassuolo in 2017, following his coach Eusebio Di Francesco, Pellegrini first found the net as a member of the first-team squad in December that year. Then aged 21, he finished off a 3-1 win over SPAL in Serie A. Although more famed for his assists, he has enhanced his goalscoring reputation in the years since.
Riccardo Calafiori
Riccardo Calafiori chose quite the way to get off the mark for Roma; he arrowed into the top corner from outside the box in a December 2020 Europa League game against Young Boys.
Aged 18 at the time, it was not the first instance of him powering home from distance, although an earlier strike in the previous season had not counted. Still, the left-back's ability to hit a ball had become clear, even if doubts over his other qualities led him away on loan 13 months later.
Edoardo Bove
With Jose Mourinho turning to youth when deprived of some senior players – and let down by others – Edoardo Bove grasped his chance by scoring his first Roma goal on his ninth appearance for the club.
The 19-year-old midfielder caught Hellas Verona off guard by finishing at the near-post with the equaliser in a 2-2 draw in February 2022. He had yet to start a Serie A game by that point, but the goal only added to his blossoming reputation, as hopes heightened further for one of the club's latest hometown talents.
---
Become a bigger fan yourself by learning these AS Roma chants.