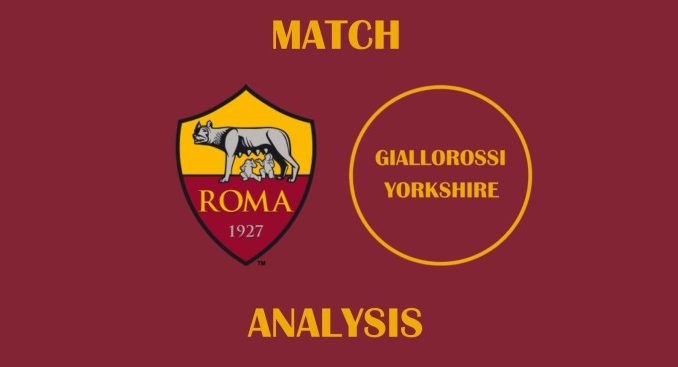 Roma got back to their high-scoring best on Saturday morning with a win over Rieti in the first of two friendlies played today.
In the morning match, Roma defeated the local Serie C side 7-0, despite only being 1-0 up at half-time. New signings Leonardo Spinazzola, Gianluca Mancini and Amadou Diawara were on display again, but it was a familiar face from last season who opened the scoring, in the shape of Nicolo Zaniolo.
After an own goal doubled the lead in the second half, Davide Santon, Cengiz Under, Alessandro Florenzi and Patrik Schick (2) scored to complete another comprehensive victory.
Many players got at least an hour on the pitch as the intensity of their workload begins to increase (with those who didn't likely to play a major part against Ternana tonight). Thanks to that extended gametime, we learnt even more about what to expect from the players next season.
Central Santon lifted by captaincy
It seems unlikely that Santon will be a starter this season. Having been utilised in several different positions in pre-season so far, it appeared that Paulo Fonseca viewed him as more of a utility player. But he showed against Rieti that he still has a big part to play. Fonseca handed him the captain's armband as he was deployed in central midfield again, from where he looked solid and created a couple of chances – including a through ball to Juan Jesus in the second half. Even if he is just a rotation player, Santon's versatility and experience could come in handy this term.
Roma not afraid to be patient
Rieti proved quite hard to break down in the first half especially, suffocating the space for Roma with a compact formation. However, Roma didn't panic, and adapted their game accordingly. The Giallorossi weren't afraid to keep moving the ball so the could start fresh, with the increased time in possession undoubtedly being beneficial. The approach was about waiting for the right moment to pounce, and Roma did that, punishing their opponents when they began to grow tired in the second half. At any level, that ruthless edge is the difference between a good side and a great one.
Nzonzi building up a rhythm
Steven Nzonzi still looks likely to leave Roma this summer, but he put in another positive display. He was the bridge between defence and attack, getting on the ball and showing composure as the play went through him. If one of his passes went awry, he quickly rectified the mistakes by closing down the opponent and regaining possession. The Frenchman could still become an important player for Roma if he shows the right desire and commitment.
Set piece struggles
In a game that was broken up fairly often by fouls, Roma struggled to capitalise on their chances from set pieces. From one of their first free kicks, Zaniolo and Justin Kluivert made their plans too obvious, with the latter rolling the ball across to the former, whose shot was blocked. It was too easy for the onrushing opponents to read, meaning it was a good chance wasted. Likewise, from corners, Roma rarely hit the right areas, with many of Kluivert's crosses in particular going too deep. If the coaching staff can think of a way to vary up the set piece routines, Roma may have more success.
Schick's finishing something to build on
Patrik Schick will be causing Fonseca a headache at the minute. He has got on the scoresheet frequently this pre-season, but has struggled to get involved in the build-up play. In his shorter cameo against Rieti, he managed two good goals, through which he showed he can be a clinical finisher. It gives Fonseca something to work with; now the coach needs to work out how to integrate him better into the system and to play to his strengths. Of course, Schick may have to make some adjustments to his game too, which could be seen in more detail in tonight's game against Ternana.
Player Ratings: Olsen 6; Karsdorp 5; Mancini 6; Bianda 6; Spinazzola 8; Nzonzi 7; Santon 8; Zaniolo 7; Antonucci 7; Kluivert 6; Defrel 5
Subs: Fuzato 6; Florenzi 7; Fazio 6; Jesus 6; Kolarov 6; Diawara 6; Cristante 6; Under 7; Pastore 7; Perotti 6; Schick 7
Man of the Match: Spinazzola