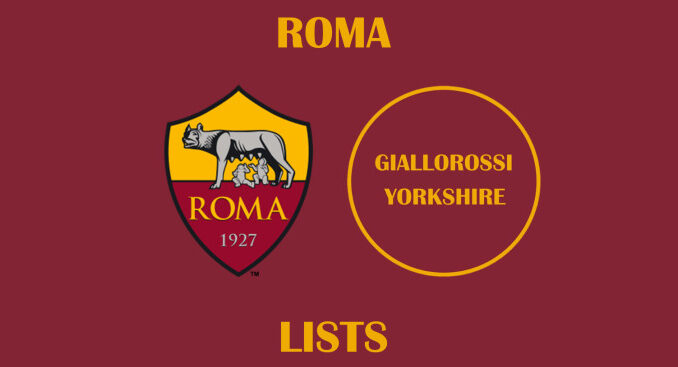 The pattern of Romelu Lukaku's first three goals for Roma has placed him among a select group of players to have scored for the club in consecutive Serie A games either side of a European fixture.
In recent years, and especially when Roma's European commitments have been on Thursday nights rather than in the Champions League, the team have often struggled to adapt from one competition to another, with bad results in Serie A sometimes bookending good ones in Europe, or vice versa.
But on an individual level, some players have kept up some decent form in front of goal by finding the net in three consecutive games – specifically, with a goal in a UEFA match sandwiched between goals in two Serie A games.
Here are all those to have done so in the 21st Century.
Lukaku (October 2023)
Immediately at the next time of asking after already doing so in September, either side of matchday one in the Europa League, Lukaku began October by scoring in a Serie A win, matchday two Europa League win and another Serie A win – against Frosinone, Servette and Cagliari respectively. In fact, he got a brace in the latter game, just before an international break, to reach a tally of seven goals from his first eight games for the club.
Lukaku (September 2023)
Unlike any other player in the club's history, Lukaku scored in each of his first three starts for Roma after his loan arrival from Chelsea. First, he opened his account in the 7-0 demolition of Empoli, before adding a goal against Sheriff in the Europa League and then scoring versus Torino when the focus returned to domestic duties. The goal against Sheriff ensured he set the longest run of consecutive games with at least one goal in the Europa League (12) – stretching way back before he became a Roma player – which he would later extend.
Pellegrini (April 2023)
The only midfielder among this group, Lorenzo Pellegrini recovered some form towards the back end of the 2022-23 season after a difficult start. In April 2023, he was among the scorers in a 3-0 win over Udinese, before putting the icing on the cake of an extra-time triumph over Feyenoord in the Europa League quarter-final and then getting Roma's consolation in a 3-1 league loss to Atalanta.
Dybala (October 2022)
Like Lukaku, Paulo Dybala enjoyed a three-game scoring streak at some stage in his debut Roma season. In his case, it was when he scored in back-to-back 2-1 wins in Serie A against Inter and Lecce in early October, with a penalty in a Europa League loss to Real Betis providing the filling. Coincidentally, Chris Smalling also scored in the two domestic wins, but not in the midweek UEFA interruption.
Dzeko (September 2019)
As the third leading scorer of all time for Roma, it was only natural that Edin Dzeko's spell with the club would include some streaks of multiple games with a goal. The final example of him scoring in the league, Europe and the league again came in September 2019, when he netted in wins over Sassuolo and Bologna either side of a Europa League goal at Istanbul Basaksehir's expense.
Dzeko (September-October 2017)
Dzeko was monumental on Roma's best run of the modern Champions League era in the 2017-18 season. Of his seven goals in the competition that campaign, his first came on matchday two of the group stage with what was effectively the winner against Qarabag. It fell between the openers in league triumphs over Udinese and Milan as the Bosnian carried over his record-breaking form from the previous season; indeed, the goal against Milan was the finale of a streak of seven goals from Roma's first six league games of the Eusebio Di Francesco era.
Dzeko (February 2017)
As for that record-breaking previous season, in which Dzeko was the joint-top scorer of the entire Europa League despite Roma's run ending in the round of 16, he enjoyed a hat-trick against Villarreal in the first leg of the round of 32 tie in UEFA's secondary tournament. Either side that February, he scored league goals in wins against Crotone and Torino.
Gervinho (September-October 2015)
Gervinho's maverick Roma career would end halfway through the 2015-16 season, but in its first part over the autumn, he put his name to goals in a 5-1 win versus Carpi, 3-2 Champions League loss at BATE Borisov and 4-2 victory at Palermo. After drawing a blank on matchday eight in the league, he would also go on to score in successive Serie A fixtures in rounds nine and 10.
Totti (November 2008)
Roma's record scorer of all time as well as specifically in UEFA competitions, Francesco Totti also holds the honour of being their oldest scorer in the Champions League. Even long before he managed that feat, the above-30 captain was consistent, such as when he scored in wins over Lecce (3-0), Cluj (3-1 in the Champions League) and Fiorentina (1-0) in November 2008.
Totti (September 2007)
Him again. Having won the European Golden Shoe in 2006-07, Totti started the following campaign in decent form too, scoring in Roma's second, third and fourth league games of the season. In between the third (a 2-0 win at Reggina in which he scored the last goal) and fourth (when he got a brace against Juventus), Totti signed off a Champions League win over Dynamo Kiev.
Montella (October-November 2004)
Any mention of the 2004-05 season can bring trauma to Roma fans after they famously went through multiple coaches in it and only finished three points above the relegation zone (in an albeit congested table), but it did have some brighter sparks. For example, that season's top scorer, Vincenzo Montella, scored a late brace in a 5-1 win over Cagliari in October, then got a stoppage-time equaliser against Bayer Leverkusen in the Champions League and next another leveller in a draw away at AC Milan.
Cassano (February-March 2004)
After scoring a hat-trick against Siena, Antonio Cassano's next league appearance saw him start Roma's comeback in a 4-1 win over Parma. Next on his hitlist was a goal against Gaziantepspor in the round of 32 of the UEFA Cup – a competition he had also scored in each of the legs of the previous round in – and then he opened the scoring in another 4-1 win, this time against Inter. By the end of the season, Cassano fell two short of matching Totti as top scorer.
Totti (October 2001)
Him again. After winning the Scudetto in 2001, Roma were involved in the Champions League for the first time in the modern era in the subsequent campaign. Totti scored their first goal in the competition, versus Real Madrid, against whom he would also score in the reverse fixture at the Bernabeu that October. That latter goal was bookended by a league brace against Lecce and a late goal in the derby against Lazio. It was probably around this time that Totti began to arouse the interest of Real Madrid, not that he's ever mentioned it since.
---
This article was originally published on 26th September 2023 and has been updated since.