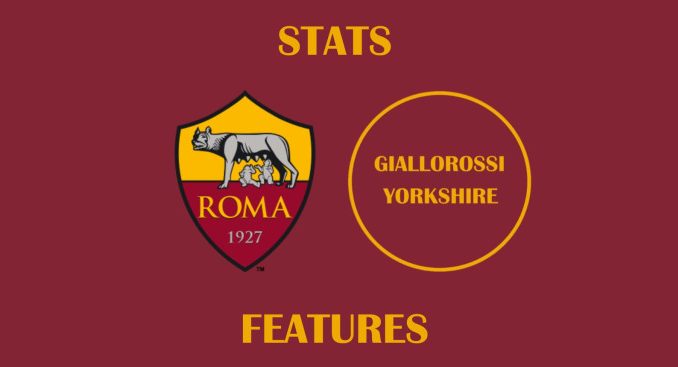 Sometimes new attacking arrivals at Roma have failed to hit the ground running, before matching their scoring tally from their first season in much less time in their second.
Not everyone gets a second chance after failing to meet expectations, but sometimes those that do can be motivated to prove themselves still.
Here, Giallorossi Yorkshire looks at strikers from the 21st Century who scored 10 goals or fewer in their first Roma season but improved their individual tally in their second season, ranking them by the percentage of games it took them to match their tally from their disappointing first season. The player who tops the list may come as a surprise…
Antonio Cassano
6 goals in 30, then 6 in 22 (73.33%)
After breaking their transfer record to sign Gabriel Batistuta in 2000, Roma celebrated their Scudetto win by parting with the second biggest fee in their history (at that point) in 2001 to sign Antonio Cassano.
The prodigy from Bari had scored just six goals in 50 games for his previous club, but was regarded as a high-potential option to evolve Roma's attack.
In his first season in Rome, he scored as many goals as he had in two with Bari, but six was still an underwhelming tally. Things improved for him the following season, though, with Batistuta fading ever more to the fringes.
Cassano hit double figures for the first time in his career in 2002-03, eventually getting 14 goals. He matched his tally of six from the previous season within 22 appearances, eight fewer than the first time of asking. His final haul improved again in his third season, too.
Patrik Schick
3 goals in 26, then 3 (and 4) in 19 (73.08%)
The player to finally break Batistuta's long-standing record as Roma's most expensive signing was Patrik Schick in 2017. However, he had to live in the shadows of Edin Dzeko, who had just set his own Roma record as the player with the most goals for the club in a single season.
Coupled with injury issues, it meant Schick played just 26 times in his debut season (only half of those appearances were starts), scoring three goals amid a lack of confidence.
His sophomore season was hardly better, concluding with five goals – a tally that convinced the club to cut their losses. That said, he did match and surpass his debut season's tally by January, when he scored a brace (goals three and four of the season for him) in a Coppa Italia win over Virtus Entella.
Ultimately, there would only be one more Schick goal for Roma before he moved on to the Bundesliga.
Adem Ljajic
6 goals in 31, then 6 in 15 (48.39%)
Brought to Rudi Garcia's new-look Roma in 2013 after a 12-goal season for Fiorentina, Adem Ljajic could only reach half that figure in his first season in the capital.
Although he occasionally featured as a false nine, he was more of a winger, which meant the onus wasn't wholly on him to get the goals. Still, there was room for improvement after his haul of six.
The following season, Ljajic was Roma's joint-top scorer in Serie A alongside Francesco Totti. This time, he got eight league goals and one in the Europa League, reaching six in less than half the amount of games he had taken part in the previous term.
Nevertheless, Ljajic's Roma career ended one game into his third season after he was sent to Inter.
Edin Dzeko
10 goals in 39, then 10 in 14 (35.90%)
Perhaps the prime example of a striker succeeding at Roma after a difficult start (Roberto Pruzzo and Rudi Voller would also be in the conversation from before the turn of the century), Dzeko eventually became the club's third leading scorer of all time.
It could have been a different story, though. While on loan from Manchester City in the 2015-16 season, Dzeko's misses were more memorable than his 10 goals. Regardless, Roma activated their option to buy him.
Good job; in the following season, he scored as many goals as the number of games he had played in his first season (39). This time, under the guidance of Luciano Spalletti, it only took Dzeko 14 games to hit double figures.
As stated earlier, the 39 goals he scored in 2016-17 was a record for the club. The fact that Spalletti's side set a new benchmark Roma's highest-scoring Serie A season was largely down to Dzeko.
Mirko Vucinic
3 goals in 33, then 3 in 10 (30.30%)
A player who underperformed the Serie A form that had prompted Roma to buy him initially, Mirko Vucinic scored 22 goals in his penultimate season at Lecce and nine at his last.
However, the versatile forward only got three goals from 33 games after being integrated into Spalletti's squad. Fortunately, there was an upturn in his fortunes thereafter and he would score double figures of goals in the other four seasons he endured in the capital.
In his second, Vucinic took just 10 games to match the three goals it had taken him all season to get the year before. In fact, the Montenegro international's tally in all competitions improved in each of his seasons at Roma, apart from the last.
Andrea Belotti
4 goals in 46, then 4 goals in 8 (17.39%)
Andrea Belotti's first season at Roma was nothing short of a disaster. Failing to score at all in Serie A, his first four goals for the club all came in cup competitions.
Nevertheless, his initial one-year deal was extended while main striker Tammy Abraham was injured. Over the summer, Roma waited to sign Sardar Azmoun and Romelu Lukaku, but Belotti finally opened his league account for the club in the meantime with a brace on the opening day against Salernitana.
Another brace, in the Europa League against Servette on his fourth start of the campaign, saw him equal his previous season's total by early October and gave him a one-in-two scoring record for the season at the time.
Perhaps the next targets for Belotti, despite remaining behind the strongly starting Lukaku in the pecking order for bigger matches, would be to score against sides stronger than the first couple on his hitlist for 2023-24 and aim for double figures for the first time since his penultimate season with Torino.
Justin Kluivert
2 goals in 35, then 2 in 4 (11.43%)
The unexpected leader of this list is former flop Justin Kluivert, around whom there was a fair bit of hype when he was bought from Ajax in 2018.
Kluivert struggled to justify those expectations, scoring just twice in his debut Roma season, which was a calamitous one for the club. Despite getting an assist on his debut, only one goal came in Serie A.
The following season, now under Paulo Fonseca's guidance, his assist tally went down, but his goal tally went up. Indeed, the Dutchman scored against Sassuolo on matchday three in Serie A and then against Istanbul Basaksehir on matchday one in the Europa League a few days later.
However, by the end of the season, Kluivert's final tally was seven, an improvement of just five from the previous attempt. He would never get the chance to complete another full season with Roma, being sent here, there and everywhere on loan before Bournemouth ultimately bought him in 2023.
---
READ NEXT: The biggest goalscoring declines by Roma players from one season to the next