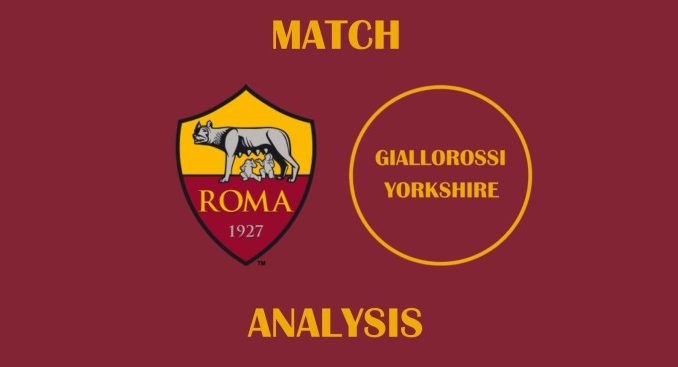 Roma find themselves in the bottom three of the Serie A table at the September international break after their third match of the season finished as a 2-1 loss to AC Milan.
Olivier Giroud's penalty put Milan ahead inside the opening 10 minutes, before an acrobatic Rafael Leao effort doubled their lead.
The consolation for Roma came only in stoppage time when Leonardo Spinazzola's effort from outside the box deflected past Mike Maignan.
Here, Giallorossi Yorkshire looks at three themes from the match – one starting with A, one with B and one with C.
A – Areas exploited too easily by Milan
Over the course of the game, Milan completed more than 100 passes more than Roma managed – and you didn't need to count them to be able to tell.
Milan's possession play was much more fluid than Roma's, but the resistance was lacking to stop them anyway. It was far too easy for the visitors to pick off spaces on the Stadio Olimpico turf and exploit gaps in the Giallorossi defence.
The move that led to Milan's penalty was a simple one-two between Ruben Loftus-Cheek and Giroud, which completely took Chris Smalling out of the game, while Diego Llorente was also found out of position.
Furthermore, for Milan's second goal, there was some more expansive play, but Roma did little to close the spaces in the build-up. Leandro Paredes was slow to push out from the box to close down Tijjani Reijnders, whose pass found Davide Calabria (unmarked by Nicola Zalewski) in the channel and became the pre-assist.
After the unexpected departure of Nemanja Matic, their only competent defensive midfielder since Daniele De Rossi, Roma need to quickly find a solution to become more combative in the middle of the park and in other areas.
B – Belated attempt at testing Maignan
It took Roma until the 69th minute, by which point Milan were down to 10 men, to muster up their first shot on target. Their belief seemed to be lacking and the ball was just not sticking up front.
Stephan El Shaarawy's attempt was the only one Roma got on target other than the goal credited to Spinazzola, which as mentioned came in stoppage time.
Thus, Maignan only made one save, whereas Roma's Rui Patricio had to make two. One, to Patricio's credit, was an impressive tip over the bar, in the face of all the criticism he has received recently.
Nevertheless, after he was (somewhat harshly, but understandably) penalised for the spot kick, the Patricio topic remains an issue looming over Roma at present. But at the other end of the pitch, there are glaring issues to fix too.
After a stunning pre-match reception, Romelu Lukaku came on for his debut and fired his first Roma shot over the bar, which at least drew some kind of reaction from the crowd, but more ideas and efficiency are required up front.
C – Channels cause concern
On a similar topic, Roma's wide play was rarely a route that could be classed as useful. Although Spinazzola's goal game courtesy of him drifting in from his wing-back territory, there were no other genuine examples of Roma causing danger with their width.
According to the statistics, Roma's wide players attempted 11 crosses in the match (six from Zalewski, three from Spinazzola and two from Zeki Celik), but alarmingly, none of them were successful.
It put a large emphasis on Roma trying to force things through the middle, but that was tough too after the withdrawal of Houssem Aouar due to injury and a lack of sharpness from Lorenzo Pellegrini, who had started from the bench for a reason.
In the defensive phase, the wide areas were once again picked apart too easily, as had also happened against Hellas Verona last week. For example, when Milan made it 2-0, Celik – a surprise starter, given he has been linked with a move away – was caught completely on the wrong side of Leao.
Fair play to Leao for his finish, but once again, individual shortcomings meant Roma did not deal with the chance like they should have.
Some observers are now wondering if the 3-5-2 formation is even viable anymore because of the lack of potency from the wide players, while there are also concerns about how they would be taken advantage of defensively in a four.
With Celik, Rick Karsdorp and Kristensen to choose from on the right, Spinazzola on the left and Zalewski in either role, Roma need to settle on a formula they can rely on in what is swiftly becoming their next problem position.
And right now, there are too many of those.