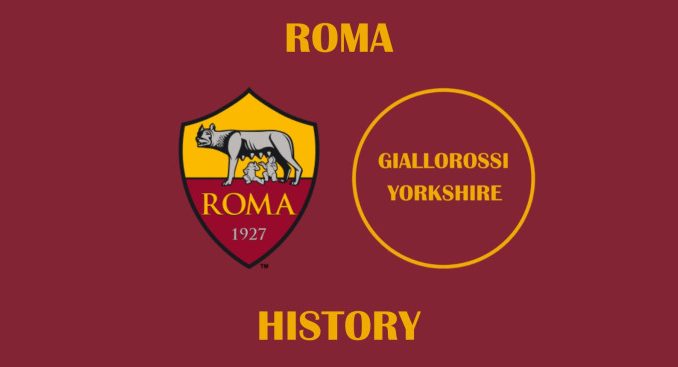 It's nearly time for Roma to play their final game of the decade.
The past 10 years have been full of change, with several players of differing qualities coming in and out of the doors at Trigoria.
None from the squad of 2010 remain, with Daniele De Rossi being the last to leave this summer, but two academy players of the time are now key figures in the first team – Roman duo Alessandro Florenzi and Lorenzo Pellegrini.
So, what did Roma's squad look like at the start of the decade? Here, Giallorossi Yorkshire looks back at the first lineup Roma selected in 2010, for a game against Cagliari on 6th January.
It certainly wasn't the ideal start to the decade, as despite taking a two-goal lead, Roma conceded two goals in stoppage time – including one by former academy player Daniele Conti, son of the legendary Bruno Conti – to be pegged back to a draw.
GK: Julio Sergio
Embed from Getty Images
The 2009-10 season was a breakout year for Julio Sergio, who had been called the 'best third-choice goalkeeper in the world' by former coach Luciano Spalletti. He had not featured at all for the club in his first three seasons, but finally made his debut in Spalletti's last game in charge, with Doni and Artur both injured.
Sergio ended the season as first choice thanks to his performances, playing a total of 30 times in Serie A. However, he fell down the pecking order again a couple of years later, and retired in 2014.
The Brazilian has since become a coach, and has been in charge of Linense in his homeland since 2018.
DF: Marco Cassetti
Right-back Cassetti passed 100 Serie A appearances for Roma in 2010, but hadn't quite reached that landmark by January. First choice ahead of Marco Motta that year, the Brescia-born defender had scored a rare goal to win the final Derby Della Capitale of the previous decade in December 2009.
Cassetti continued at Roma for just two more seasons, leaving for Watford at the age of 35, as one of the English club's first signings under the Italian ownership of the Pozzo family.
Having retired in 2016 after a season at Como, Cassetti took his coaching badges in December 2017. He also works as a pundit for Tele Radio Stereo.
DF: Nicolas Burdisso
Signed from Inter in the summer of 2009, Burdisso was one of the focal points around whom Roma entered the new decade. The defender made more appearances than any other centre-back at the club in his first campaign in the capital.
His appearances reduced in the years that followed, while he also stepped away from the Argentine national team. He now serves as sporting director at Boca Juniors back in South America – being the main man behind their signing of Roma legend De Rossi this past summer.
DF: Juan
Embed from Getty Images
In his prime, one of the best defenders Roma have had this century, Juan's five years at the club were split halfway between the turn of the decade.
2009-10 was the only season in which he did not score for the club, but goalscoring was never what he was there for. Always a solid defender, the Brazilian was a key component of Roma's backline for many years.
After returning to his first club Flamengo, he retired earlier in 2019.
DF: John Arne Riise
Roma's most-used player of the season, dynamic full-back Riise enjoyed his best spell with the club during 2009-10 – a campaign in which he scored a famous winning goal against Juventus.
With eight goals across all competitions, the committed Norwegian equalled the highest-scoring seasons of his career, having reached the tally twice with Liverpool – but needing more games to do so on both occasions. He also became the first Roma player to pick up a yellow card in the 2010s.
Riise would spend only one more full season with Roma before returning to England with Fulham, but his work rate on the pitch had endeared him to the Giallorossi supporters.
After retiring in 2016, he has tried his hand at several different experiences, including a short spell as sporting director of Birkikara in 2019 and time as an agent.
MF: David Pizarro
Pizarro had become a key figure in Roma's midfield after joining from Inter in 2006. The Chilean was renowned for his strength on the ball and energy.
It was he who scored Roma's first goal of the new decade by slotting in a penalty against Cagliari. It also marked his first goal of the season.
After leaving Roma, the midfielder had spells at Manchester City, Fiorentina and back in his homeland. He retired in 2018.
MF: Daniele De Rossi
The only player of this lineup to still be an active professional footballer, De Rossi could have completed a whole decade at Roma had he not been denied a contract extension in the summer. Instead, the 36-year-old – who had played for the club since 2001 – had to move on, joining Boca Juniors with Burdisso's help.
2009-10 was his most prolific season as a goalscorer, with his 11 goals making it the only season in which he reached double figures.
In keeping with his combative character on the pitch, he earned a booking on his first appearance of the new decade.
MF: Rodrigo Taddei
Embed from Getty Images
During his fifth season at Roma, the versatile Taddei passed 200 appearances for the club. Still featuring predominantly as a winger in those days, the Brazilian played 46 times for the club that term, making it his second best season in terms of gametime.
Falling just short of the 300-game mark by the time he left the club, Taddei went on to play for Perugia in Serie B before retirement in 2016.
He finished his career having played more than double the number of games for Roma as he had for all his other clubs combined.
MF: Simone Perrotta
Perrotta made it 2-0 against Cagliari with the first goal Roma scored from open play in the decade. The English-born midfielder was nearing the end of his career at 32, but was still one of the Lupi's most commonly used players.
He retired in June 2013, having already begun a collaboration with the governing body for football in Italy, the FIGC. He is currently in charge of the Youth Department of the Italian Footballers' Association.
MF: Mirko Vucinic
Tied with Francesco Totti as Roma's top scorer in Serie A games that season, Vucinic scored 14 league goals and a further five in cup games, mainly as a winger. It had, however, taken him until November 2009 to score his first goals of the season – marking the beginning of the fracture in his relationship with the fans.
That distance would only grow larger when he joined rivals Juventus in 2011. Vucinic went on to spend three years in Turin, winning the league title in each of them – a sour sight for the Roma faithful.
After quitting football in 2017, he became a professional golfer in his homeland of Montenegro the year after, much to everyone's amusement.
FW: Julio Baptista
Baptista had scored a reasonable 11 goals in his first season at Roma, but the former Real Madrid striker showed much worse form in his next year, only managing to net four times.
In Totti's absence, he led the line against Cagliari, but was taken off after 75 minutes.
He retired in 2019 after a controversial spell at CFR Cluj, where he became one of the best paid players in Romania, despite only making two appearances as a substitute.
Subs:
Jeremy Menez
The man to replace Baptista was French winger Menez, who managed to pick up a yellow card in stoppage time.
Menez only spent three years at Roma – with 2009-10 the second of those – but still managed to make more appearances for the club than any other team he represented.
He still plays now, having joined second-tier French side Paris FC in September 2019.
Luca Toni
Embed from Getty Images
The first game of January gave Roma the chance to unveil their first new signing of the decade (although, technically, his transfer had been completed on 31st December), with Toni coming off the bench to replace Vucinic.
Toni only spent six month at Roma, scoring five goals in 15 league games. It was enough to make him their fifth top scorer of the season.
The Italian striker aged like a fine wine, winning the golden boot in Serie A with Verona in 2015, at the age of 38. Since retiring a year after, he was initially intended to become their sporting director, but he only stayed with them for one year. He has been working his way through his coaching badges instead, beginning his UEFA Pro Licence in the summer of 2019.
Matteo Brighi
The final change made by coach Claudio Ranieri was to bring on Brighi for Pizarro. The midfielder had been owned by the club since 2004, but had had to wait until 2007 for his debut after a long loan at Chievo.
Eventually making more than 100 appearances for Roma, he is now unattached after leaving Empoli at the end of last season.
Coach: Claudio Ranieri
Embed from Getty Images
Had things turned out a certain way, Ranieri could have started and ended the decade as Roma coach. He took over his hometown club when they were in crisis in September 2009, and made an instant impact to turn things around. Ranieri eventually guided the Giallorossi to a second-place finish, thanks in part to a 24-game unbeaten run in Serie A, which equalled their longest ever run of league games without defeat.
He only lasted one more full season, but returned on an interim basis towards the end of last season – at another time when things weren't exactly going well for the team. An older and wiser Ranieri stabilised things, and got Roma back on track for European qualification.
His appointment was only ever on an interim basis, despite there being rationale to give him the job permanently. Instead, the role was handed to Paulo Fonseca, leaving Ranieri to replace former Roma boss Eusebio Di Francesco for the second time in a year, this time at Sampdoria.