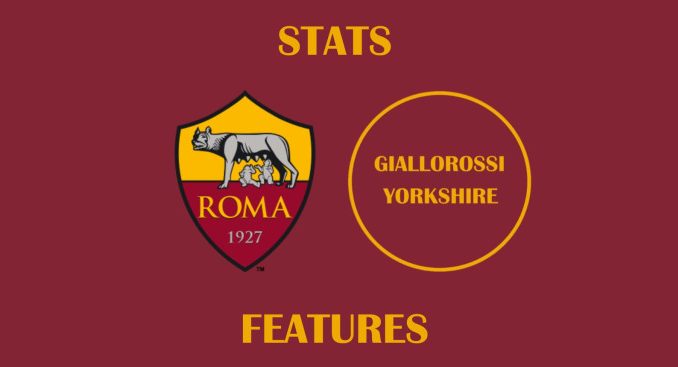 Not long awaits until Roma return to action in Serie A, with Paulo Fonseca's squad ready to try and reach the target of Champions League qualification.
Fonseca has rotated his squad to some degree this season, although he does clearly prefer some players to others. Nonetheless, he will have to make big choices about who starts which games when the action returns with a busy schedule.
But which players have inspired the most success for Roma this season?
Here is a ranking of the club's win percentages in Serie A games, in which each player has started this season. Some players, like Carles Perez and Davide Zappacosta, have not started in the league, and therefore are not included.
If players have the same percentage, then the one who has played the greater number of games is ranked more highly. If that's the same, then they will be separated by taking into account their draws and defeats as well.
It's the full range of results, from 0 to 100 per cent – so which player has enjoyed the most success as a starter this season?
24. Juan Jesus (0%)
Embed from Getty Images
When Paulo Fonseca arrived as Roma head coach last summer, he found himself in charge of a squad that needed defensive reinforcements. The best of those – Chris Smalling – didn't come until after the first game of the season, so he had to rely on Federico Fazio and Juan Jesus on the opening day.
That game against Genoa remains Jesus' only start in Serie A this season – and he was taken off after 66 minutes. Roma ended up drawing 3-3, having been 3-2 up at the time of his withdrawal.
Jesus appears to have lost Fonseca's trust since then, although he decided to stay at the club in January.
23. Antonio Mirante (0%)
Embed from Getty Images
Antonio Mirante is unfortunate to find himself so far down this list. He became the first goalkeeper to keep a clean sheet against high-flying Inter Milan in his only league start of the season – but his teammates at the other end failed to score.
Since that December game, only Juventus' Wojciech Szczesny has matched Mirante in keeping Inter out. However, Mirante has had to settle for a backup role to Pau Lopez.
With doubts over the Spaniard's fitness, though, there may be an opportunity again for Mirante when Serie A returns.
22. Leonardo Spinazzola (30%)
Embed from Getty Images
Roma spent a lot of money to bring Leonardo Spinazzola to the club last summer, but he has struggled to truly settle in. Unable to nail down a starting spot ahead of Aleksandar Kolarov in his preferred left-back position, Spinazzola has had to settle for a role on the right-hand side of defence.
It has not been his preference, and while he hasn't been awful, Roma were prepared to sacrifice him in January to re-sign Matteo Politano, before the deal with Inter Milan fell through.
Of the 10 games Spinazzola has started in Serie A this year, Roma have won just three. Two of those came when he played as a right-back, and one as a left-back.
21. Bryan Cristante (33.3%)
Embed from Getty Images
There are rumours that Bryan Cristante could be sold to Juventus this summer. While Roma fans are usually frustrated to lose players to their rivals, there seems to be less tension about the prospect of that happening for Cristante.
He has received repeated praise from Fonseca, but it isn't clear how Cristante best fits into his system. The Italian would probably not get into Roma's best midfield if all options were fit.
Nonetheless, he has been commended for his commitment. On occasion, that has helped Roma on the pitch, as they have won in four of his 12 league starts (although it should be noted that one of his starts – the draw with Sampdoria – lasted just eight minutes).
Interestingly, three of those wins saw Roma score four goals – including the win over Sassuolo, in which he netted his only goal of the season.
20. Diego Perotti (37.5%)
Embed from Getty Images
The days of Diego Perotti being a regular starter appear to be a thing of the past. The winger has struggled with injuries in recent years, and has only managed eight starts this season.
Roma have won three of those games, but Perotti is behind Justin Kluivert and Henrikh Mkhitaryan in the pecking order.
Worryingly, Roma lost all four games that Perotti has started in 2020 – even though he scored in one of them, against Juventus.
The Argentine remains one of the club's most effective men from the bench, however, so could still be a useful asset in the weeks to come.
19. Nicolo Zaniolo (40%)
Embed from Getty Images
Perhaps the first genuine surprise on this list. Nicolo Zaniolo is Roma's most valuable player and has been sorely missed during his time out injured.
#ASRoma prodigy Nicolo Zaniolo is the 50th most valuable player in Europe, and sixth most valuable in Serie A, according to the latest report from @CIES_Football.

His value is estimated at €70.1m (£62.5m). pic.twitter.com/LXOaL1VIFg

— Giallorossi Yorkshire (@RomaYorkshire) June 9, 2020

  
However, the Giallorossi have won just six of the 15 games he has started. Admittedly, they have drawn five of the others, but it seems surprising that his influence has not been felt more. Perhaps there has sometimes been too much of a burden on him.
Often someone Roma are seen as being reliant on, Zaniolo provided four league goals in 2019-20, before his injury – already matching his tally from last season. Since that unfortunate event, his teammates have managed three wins from seven league games without him.
18. Davide Santon (42.9%)
Embed from Getty Images
A player who has started as many games this season as he has made substitute appearances, Davide Santon has struggled to build up regularity in the first team.
Nonetheless, he has been fairly useful when called upon. While he has not provided any goals or assists, Roma have won just under half of their games in which Santon has started.
However, of his four league starts in 2020, only one win has resulted. It is a trend he will be hoping to reverse when he returns to the pitch.
17. Cengiz Under (44.4%)
Embed from Getty Images
Cengiz Under became a key player for Roma in his first two seasons, but had to spend a fair chunk of this campaign away from the pitch due to injury.
During that time, he firmly fell behind Zaniolo in the pecking order. Under returned in late October, but it took him until January to score again.
Roma have only lost twice in the Serie A games he has started, but his win percentage is restricted by the fact that a third of his nine starts have ended as draws.
16. Chris Smalling (47.6%)
Embed from Getty Images
Another name that would have been expected to be seen higher up this list, Chris Smalling has been Roma's most important defender this season. Reliable through thick and thin, the Englishman has started 21 games – all of which were starts.
He is one of just six players to experience 10 wins or more as a starter in the league this season. However, he has also been on the losing side seven times.
That has not necessarily been Smalling's fault. He has generally been exceptional, becoming one of Fonseca's most trusted men. It is a shame that Roma have not always got the results he has deserved.
15. Nikola Kalinic (50%)
Embed from Getty Images
Playing a back-up role to someone who can be considered one of your club's best ever players is never easy. That's the situation Nikola Kalinic has found himself in this season, behind Edin Dzeko.
Kalinic has started just twice in Serie A this season. The first was a goalless draw with Sampdoria, but things went better for the Croatian in his most recent appearance.
The 32-year-old scored a brace in the last game before the break, finally opening his Roma account against Cagliari. Hence, Roma are unbeaten in league games he has started this season, however few they have been.
14. Lorenzo Pellegrini (50%)
Embed from Getty Images
The second of three players to have won exactly half of their Serie A starts this season, Lorenzo Pellegrini has been one of the club's most important men recently.
The academy product has assumed a role of responsibility this year, and has been the creator in chief with eight league assists. However, at times, Roma have been too dependent on him to perform well – a problem when he has not always been consistent.
Therefore, Roma have won just nine of Pellegrini's 18 appearances – all of which have been starts – suffering five defeats. With the Giallorossi still only having lost once when he has scored or got an assist, his performance at his peak is essential to their chances of a strong end to the season.
13. Gianluca Mancini (50%)
Embed from Getty Images
A player who arrived in the summer and has since outlined great potential, Gianluca Mancini has started one more game than his centre-back partner Chris Smalling – although there was a time when the Italian was playing in midfield instead.
Roma have won 11 of Mancini's 22 Serie A starts, drawing five and losing six. His form alongside Smalling has made him one of the club's most valuable assets.
The intriguing thing about Mancini is that there are still areas of his game that he can improve. If he does, then perhaps those win percentages will start increasing.
12. Pau Lopez (52%)
Embed from Getty Images
The first player on this list to have a win percentage greater than Roma's overall score of 50% (having won 13 of their 26 league games), Pau Lopez has been virtually ever-present in goal. Missing just one game, the former Real Betis shot-stopper has won 13 of his 25 league starts.
Lopez took a couple of weeks to settle in, and while he is yet to have a truly remarkable game in the manner that Alisson Becker grew accustomed to doing so for Roma, he has made relatively few mistakes as well.
The goalkeeper is now reportedly attracting Premier League interest, despite only joining last summer.
11. Edin Dzeko (52.2%)
Embed from Getty Images
With 23 starts in Serie A, no outfield player has been used from minute one more than Edin Dzeko for Roma this season. And that makes perfect sense, for the man who has become club captain and remains one of their strongest players.
Roma have 12 wins, four draws and seven defeats when Dzeko has started in the league. They have only been able to win once without him.
Despite his increasing age, Dzeko remains a striker of the highest level – and not just physically. Greater consistency may still be desirable, but there can be few complaints about his overall output.
10. Justin Kluivert (52.9%)
Embed from Getty Images
Only three players have scored more for Roma in Serie A than Justin Kluivert this season. That is testament to how he has improved at finishing.
While there are other areas of his game that still require a lot of work – such as his decision making – Kluivert has been better in his second year than his first. That potential is now attracting interest from Arsenal.
The Dutchman has only been on the pitch for three of Roma's seven league defeats, winning nine of his 17 starts.
9. Federico Fazio (54.5%)
Embed from Getty Images
Someone who is more reliable than he gets credit for, Federico Fazio was used as a starter in the first five league games of 2019-20, but has not really had much of a look in since then.
With the understanding that Mancini and Smalling have built up at the back, it has been hard for Fazio to force his way into Fonseca's plans. However, Roma have won twice as often as they have lost when he has started.
The six victories from 11 starts may indicate that Fazio deserves more of a chance when Fonseca chooses to rotate.
8. Jordan Veretout (54.5%)
Embed from Getty Images
Rarely spectacular but often dependable, Jordan Veretout has been a wise addition to this Roma squad. Arriving from Fiorentina in the summer, the Frenchman has become Fonseca's most-used midfielder.
With his boundless determination, energy and ability from set pieces, it's easy to see why. Veretout brings balance to one of the most important areas of the pitch.
As he has been used so often, his statistics are understandably varied. In 22 starts – only Dzeko and Lopez have more – Veretout has contributed to 12 wins, four draws and six losses.
7. Aleksandar Kolarov (54.5%)
Embed from Getty Images
Aleksandar Kolarov is the type of professional for whom winning is everything. Fully committed and always serious, the veteran is a vital member of the squad due to his experience.
However, that experience can hinder him at times on the pitch. The left-back has sometimes struggled to maintain his usual standards of energy due to his increasing age – which sometimes gives opponents spaces to exploit.
Nonetheless, Kolarov remains one of Fonseca's most frequent starters, and like Veretout, that means his results are mixed. Kolarov has also won 12 of his 22 starts, but has lost one fewer time than Veretout – hence his higher ranking here. Overall, his starting spot is usually a certainty.
6. Amadou Diawara (60%)
Embed from Getty Images
If Cristante and Veretout have carried the waters in Roma's midfield this season and Pellegrini has been the most advanced creator, then it is Amadou Diawara who has made everything tick.
The deep-lying playmaker arrived last summer as part of the deal that sent Kostas Manolas to Napoli. Since them, Diawara has had a notable impact on the team.
Sometimes one of those players you notice the absence of more than when he is there, Diawara's passing ability has been crucial to Roma's functionality – and they have suffered without him.
While Diawara has only managed 10 starts, due to an injury, Roma have usually been at their best in those games, winning six of them and only losing twice.
When he hasn't played, Roma have won just seven times out of 16.
5. Henrikh Mkhitaryan (62.5%)
Embed from Getty Images
Of all the new signings to make an impact, few have matched that of Henrikh Mkhitaryan. While the first few months of his Roma career were a bit stop-start, the Arsenal loanee was beginning to become one of the Giallorossi's most important players before the enforced break.
Having proven himself with his impact from the bench, Mkhitaryan has also begun to impress as a starter. Used from the first minute on eight occasions, the Armenian has been on the winning side five times and the losing side just twice in those games.
Without Mkhitaryan starting, Roma have won just three more times than they have lost.
At times, his experience has inspired those around him to better heights. In fact, he would be the highest player on this list if only players with more than five starts were considered.
4. Bruno Peres (66.6%)
Embed from Getty Images
Returning midway through the season to a mixed reception was Bruno Peres. The right-back's first spell at the club did not go to plan, although he did play a vital role in Roma's Champions League run of 2017-18, with his goal-line block against Shakhtar Donetsk.
Peres seems to have improved slightly since his return. After he got back up to speed in terms of fitness, Fonseca has given him three starts. Roma have won two of those, but lost the other.
His record when coming on is exactly the reverse – losing two and winning one of his three substitute appearances.
The Brazilian has outlined himself as a decent option for the remainder of the season, even if the identity of Roma's first choice in his position is still unclear.
3. Javier Pastore (75%)
Embed from Getty Images
If only Javier Pastore could stay fit, he could have achieved better things this season. No-one can be under any illusions about the disappointments of his first year, but there was a brief period of time this season when Pastore finally looked like he was finding his rhythm.
The attacking midfielder's four starts all came in successive games, between the win over AC Milan in October and the loss to Parma in November. Roma won both games in the middle, as Pastore stepped up in Pellegrini's absence to give his team what they needed.
He has only played a minute since, due to injuries striking him down yet again. However, for the brief time he has been available this year, Pastore was showing more of what he could do.
2. Gonzalo Villar (100%)
Embed from Getty Images
Gonzalo Villar has only started one game for Roma, but has already established himself as a player with high potential. The midfielder was one of the key players in the 4-3 win over Cagliari, as he got his first chance to start.
Villar impressed with not just his passing ability, but also his strength on and off the ball. He fully deserved to be on the winning side.
Unfortunately, no action has taken place since then, which means Villar has missed out on the chance to build from his promising full debut. However, his spark of energy and creativity will make him an interesting proposition in the remaining games.
1. Mert Cetin (100%)
Embed from Getty Images
Mert Cetin is by no means a regular at Roma. He has not played since January, but in each of the five league games he has played in – two as a starter, three as a substitute – Roma have emerged victorious every time.
In reality, that's probably mainly down to the players around him than Cetin himself. The 23-year-old is still lacking experience at the top level, and consequently became one of six players to be sent off for Roma this season back in November.
Despite his relative inactivity, though, Cetin does appear to have some potential. Could he be a lucky charm in helping Roma in their last section of the season?