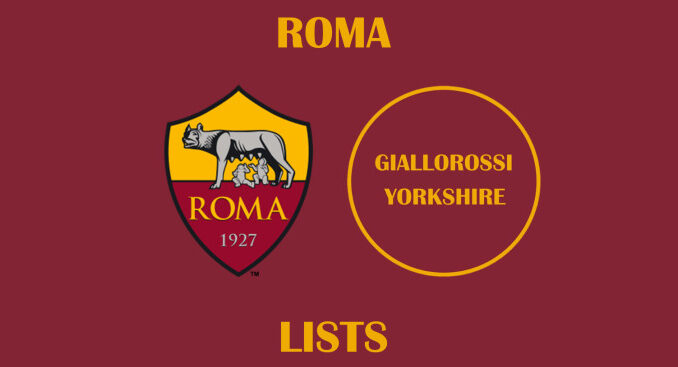 Gianluca Petrachi was the Roma sporting director for only 51 weeks, but he signed a total of 13 players for the first team in that time.
Roma tasked Petrachi with conducting their transfer business when appointing him on 25th June, 2019, in the summer in which Paulo Fonseca also joined the club as head coach.
However, Roma dismissed Petrachi on 18th June, 2020, after a controversial falling out with the club's president at the time, James Pallotta.
Petrachi went on to take Roma to court for his dismissal, but he finally lost his case against the club in June 2023.
With a line drawn under the matter – for now – it seems like an appropriate time to reflect on the work Petrachi did get to complete for Roma. Here is a ranking of the 13 players he signed for the club, from worst to best.
13. Pau Lopez
Embed from Getty Images
The downgrade Roma had implemented from Alisson Becker to Robin Olsen under the direction of previous sporting director Monchi was a serious error that had to be rectified as one of Petrachi's first priorities in the summer of 2019. Sadly, the replacement for Olsen he chose wasn't much better.
Petrachi made Pau Lopez the most expensive goalkeeper Roma had ever bought when purchasing him from Real Betis. Perhaps the high fee didn't help with expectations, but the Spaniard was far from the reassuring presence that he should have been for that money.
Lopez only kept 18 clean sheets from his 76 appearances for Roma – memorably making a costly clanger in a derby – and made way for Marseille after two seasons.
12. Mert Cetin
Probably Petrachi's most forgettable recruit for Roma, Mert Cetin signed from Genclerbirligi in the Turkish second tier. He went on to make just six Serie A appearances for the club, most notably getting sent off for two yellow cards in the space of three stoppage-time minutes against Napoli in November 2019.
In 2020, Roma sacrificed Cetin as a counterpart in the deal to sign Marash Kumbulla from Hellas Verona.
11. Davide Zappacosta
After barely featuring for Chelsea in the 2018-19 Premier League, Petrachi brought Davide Zappacosta – who was born within 60 miles of the city of Rome – back to Italian football on a short-term loan deal.
Sadly, an injury in October 2019 halted his chances of making any progress with the club. His temporary stay was renewed for the full duration of the 2019-20 season, but the right-back finished it with only nine appearances to his name.
10. Nikola Kalinic
After club-record signing Patrik Schick flopped at Roma (thanks again, Monchi), a new backup striker to Edin Dzeko was required for the 2019-20 season.
To a mixed reception, Petrachi brought former Fiorentina forward and Milan flop Nikola Kalinic back to Serie A from Atletico Madrid. It took him until March 2020 to get off the mark for his new club, with a brace against Cagliari, but he actually did alright in the closing weeks of the season after lockdown.
In fact, Kalinic scored in each of his last three outings for Roma that July and August, though none of them were actually consecutive appearances and he was returned to sender after his 19-appearance spell.
9. Amadou Diawara
With Roma needing to sell a key player because of Financial Fair Play, their biggest windfall in the summer of 2019 came from giving up Kostas Manolas to Napoli. Consequently, at the start of the new financial period, they took Amadou Diawara for less money in the opposite direction.
The Guinea international did alright at first, but – in direct contrast to Kalinic – became sloppy after the enforced break in the season. After that, he found it hard to resurrect his standards.
Nevertheless, he ended his debut season at Roma with more appearances than he had managed in any of his three terms with Napoli. Diawara stuck around for two more campaigns, but barely featured in Jose Mourinho's first in charge – albeit making four appearances in the Europa Conference League conquest – before Tiago Pinto sold him to Anderlecht at a fraction of the price Petrachi had paid for him.
8. Gonzalo Villar
There was a brief time when Gonzalo Villar looked like he might have ended up far higher on this list, but unfortunately his star faded quite quickly after it had begun shining.
Roma picked the midfielder up for just €4m from Elche in the Spanish second tier in January 2020, meaning not much went to waste even if he didn't reach his potential. Villar earned 11 appearances in his debut half-season, showing some glimpses of what he could develop into, before Fonseca – partially out of necessity because of other injuries in midfield – showed almost too much faith in him in the 2020-21 season.
By the end of it, after 47 appearances in all competitions and still no goals, Villar was burned out. Subsequently, Jose Mourinho never used him in Serie A, sending him back to Spain on loan after six months of his own reign. It has been hard to find a permanent solution for him ever since – but for a time, he at least looked like he could have been a shrewd buy.
7. Carles Perez
Along with Villar, another Spaniard to arrive at Roma in January 2020 was Carles Perez, chosen as an alternative after an emotional homecoming for Matteo Politano fell through. Perez was quicker to make an effective impact than Villar, scoring the winner against Gent in the Europa League round of 32.
Unfortunately inconsistent, Perez never scored more than three goals in a single season for Roma across his two-and-a-half-year stint with the first team. However, when he did score, the goals were often spectacular.
The winger ultimately struggled to claim a regular starting spot, though.
6. Leonardo Spinazzola
Embed from Getty Images
The most expensive purchase Petrachi made for Roma was Leonardo Spinazzola, although the net spend was reduced by the inclusion of Luca Pellegrini (who later became even more of an enemy with Lazio) in the deal with Juventus.
Spinazzola struggled at first and was almost sold after six months, but a problem with a medical at Inter opened up a second chance for him at Roma. A formation change implemented by Fonseca from then on – to a back three with wing-backs – transformed the Italian's fortunes.
Spinazzola went from strength to strength on the left flank, culminating in his standout showings for his country at Euro 2020 (which took place in the summer of 2021) until a serious injury struck.
After his long-awaited recovery, Spinazzola stayed on as part of the Roma squad to win the Europa Conference League final in 2022.
5. Jordan Veretout
Roma needed to strengthen their midfield in Petrachi's first window at the helm following the departure of Daniele De Rossi. It was a tough task that has taken years to actually address, but the most useful addition to the position they made at the first time of asking was Jordan Veretout.
Already experienced in Serie A from his time with Fiorentina, Veretout soon settled in and became a dynamic presence for Roma. When given freedom in a box-to-box role, he brought echoes of Radja Nainggolan.
Veretout was also a standout player for his reliability from the penalty spot, which was one of the factors behind him hitting double figures of goals in his second season.
His third, then under Mourinho's guidance, saw him win the Conference League after playing 50 times in all competitions, but his goal tally suffered and Roma ultimately decided to sell him to Marseille.
4. Roger Ibanez
Despite him already being at a Serie A club in the shape of Atalanta, Roger Ibanez was not a household name when Roma were linked with him in January 2020. In fact, he had only ever played twice for Gian Piero Gasperini's side.
Ibanez had to be patient for his chance at Roma too, but – as another to benefit from the change to a back three – began to make a name for himself in the post-lockdown period of the 2019-20 season.
After 18 months on loan, Ibanez's move became a formally permanent one for just €8m. Because of that low fee, the Brazilian could be classed as a shrewd signing.
Admittedly, there have been inconsistencies in his game and some costly errors, but taking value for money into account, the fact that Ibanez became a regular starter pretty much from the start of his first full season earns him a place high on this ranking.
3. Henrikh Mkhitaryan
After falling by the wayside at Arsenal, Henrikh Mkhitaryan suddenly became available for Roma to sign on loan late in the summer 2019 transfer window. It hadn't even been clear he was on the club's radar until about 24 hours before the move became official.
The union between Roma and Mkhitaryan instantly gave both parties a shot in the arm. The Armenian attacking midfielder scored on his Serie A debut against Sassuolo and finished his debut season with nine goals.
In the post-Petrachi era, Roma managed to sign Mkhitaryan on a permanent transfer after Arsenal cancelled what remained of his contract. The best goalscoring season since his Borussia Dortmund days followed, as he hit 15 goals in all competitions in 2020-21.
There was scepticism as to how he would get on when reuniting with Mourinho that summer, after their frosty relationship at Manchester United, but Mkhitaryan carved out a functional role for himself in the new setup and left on a high note as a Europa Conference League winner, even if his involvement in the final ended prematurely due to a recurrence of the injury he had fought back from to make his last Roma appearance.
2. Gianluca Mancini
Effectively chosen as the replacement for Manolas in the summer of 2019, Gianluca Mancini arrived from Atalanta to add to Roma's defence.
He quickly became a frequent sight in the starting lineup and even adapted well to a defensive midfield role during an injury crisis there within his first six months at the club.
One downside to Mancini initially was his discipline record, but over time, he became a member of Roma's leadership group. When Mourinho began his managerial role in 2021, he made Mancini the vice-captain to Lorenzo Pellegrini.
At the time of writing, Mancini is under contract until 2027 and seems almost certain to end up as the longest-lasting Petrachi signing at Roma.
Embed from Getty Images
1. Chris Smalling
Of course it's Chris Smalling. Even before he became so important to Roma, this transfer was an encapsulation of how the relationship between a sporting director and a head coach should work.
Fonseca wanted a defender physically capable of operating in a high line. After frustrations with some other pursuits, Petrachi identified Smalling as someone who could fit the bill, bringing the Englishman in on loan from Man Utd.
It was a match made in heaven. Smalling soon developed an understanding with fellow new arrival Mancini and was the Giallorossi Yorkshire player of the season for 2019-20 after a dominant debut campaign in Italian football.
In the time since, Smalling has gone on to become a cornerstone of the Roma team after eventually making his move permanent. The number six was the man of the match in the Conference League final, for example, and was also one of La Magica's better performers in the following season's Europa League final.
Like Mkhitaryan, concerns over how he would adapt to reuniting with Mourinho quickly became a thing of the past. Hence, Smalling has been a dominant force for Roma across two managerial reigns and, even if there was some uncertainty about his ability before he completed his move, was an inspired pick-up by Petrachi.
---
READ NEXT: Ranking every signing Monchi made at Roma