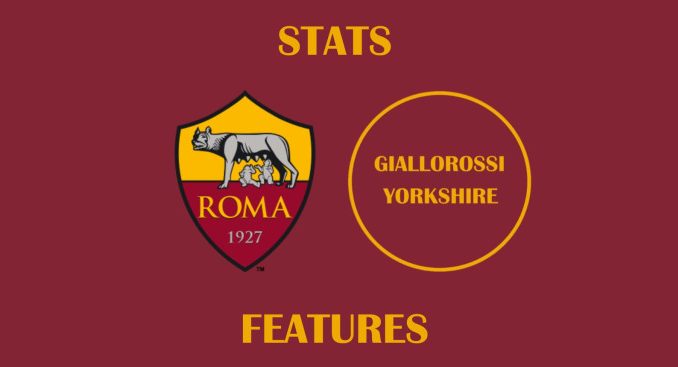 Riccardo Calafiori made a big impression when making his home debut for Roma on Thursday night.
The young left-back, who had two appearances to his name before Thursday, was a starter in the 3-1 win against Young Boys on matchday five of the Europa League group stage.
One of Roma's most highly-rated youngsters, Calafiori showed why the club believe so much in him by scoring his first goal for the club in the 59th minute.
And what a goal it was. As the ball dropped to him outside the box, he sent a left-footed half-volley soaring into the top corner.
The keeper didn't even bother to move 😳 

Riccardo Calafiori scored his first Roma goal with an absolute rocket! ☄️ pic.twitter.com/GR7g0TtT5i

— Football on BT Sport (@btsportfootball) December 3, 2020

  
It was a remarkable way to get off the mark in senior football, capturing the confidence Calafiori has in himself.
Those who have been watching his progress since his recovery from serious knee injuries two years ago will not have been surprised by his strike. Indeed, he scored a similar goal on his club debut, away at Juventus last season, only for it to be ruled out because the ball had gone out of play before it arrived to him.
Against Young Boys, though, Calafiori's goal stood – and nobody could take away the joy that it brought the young Roman.
The 18-year-old was subsequently chosen as the man of the match via Roma's Twitter account, and it would be hard to argue. His display was full of confidence and excitement.
A night to remember... 🚀
 
Congratulations to Riccardo Calafiori, voted the @qatarairways #ASRoma Man of the Match against Young Boys! 🏅 pic.twitter.com/TJkXif71UJ

— AS Roma English (@ASRomaEN) December 4, 2020

  
Roma will be hoping to enjoy a lot more of Calafiori in the coming years, with talks over a contract renewal reportedly having progressed since. But in the meantime, here are five stats about Calafiori and his goal.
13th youngest scorer in Roma history
Very few footballers have made a scoring impact at such a young age for Roma. Calafiori's goal made him the 13th youngest player to ever score for the club.
The record is held by Amedeo Amadei, and is never likely to be broken. Amadei was just 15 when he scored his first Roma goal – an age it is unthinkable to be playing senior football at these days.
Calafiori has scored relatively early in his own career, though, at 18 years and six months old. In terms of the 21st Century only, Calafiori is the fourth youngest scorer – behind Stefano Okaka, Filippo Scardina and Alessio Romagnoli.
Hence, no other member of the current Roma squad has scored for the club at a younger age than Calafiori.
Second youngest scorer for Roma in Europe
Roma have been using the Europa League group stage to give opportunities to younger players this season. For example, Paulo Fonseca has handed debuts to Tommaso Milanese and Filippo Tripi.
Calafiori has also been shown faith by the coach, making two starts in the competition. In fact, all three of his games for the club so far have been from the first minute. In August, he became the first academy graduate to make his debut as a starter since Elio Capradossi in 2018.
Ever since that day, Calafiori has been taking his chances to impress. There aren't many better ways to do so than scoring such a wonder goal.
By doing so, he became one of Roma's youngest scorers in a European competition – considering the Champions League, European Cup, UEFA Cup, Europa League, Inter-Cities Fairs Cup and European Cup Winners' Cup.
In fact, only one man has scored for Roma in Europe at a younger age than him – the aforementioned Scardina.
Fourth youngest defender to score in Europa League
The impressive stats surrounding Calafiori's Europa League goal do not just relate to his club, but to the entire competition.
Since it became the Europa League in 2009, 43 players from other clubs have scored at a younger age than Calafiori. However, only three of those have been defenders.
Calafiori clearly likes to get forward from his full-back position, and his sense of adventure paid off on Thursday.
Second current Roma player to score first goal from outside box
Even the greatest strikers sometimes need tap-ins to get off the mark for a new club. But occasionally, a chance presents itself to a player that is just too inviting.
Calafiori witnessed that first-hand when the ball sat up for him on Thursday. His rocket from outside the box gave him his first goal for the club.
Of the current Roma squad, only Pedro has also scored from outside the penalty area before scoring from inside it.
First Roma academy graduate to score on home debut this century
While Calafiori had had two tastes of first team football before, both his previous appearances had come away from home. Hence, the game against Young Boys was his Stadio Olimpico debut.
It could not have gone much better. Academy players can find the step up to senior football daunting, but Calafiori seemed to thrive from the challenge – and showed his confidence with his goal.
Thus, he became the first Roma academy graduate to score on his home debut since Daniele Conti in May 1998.
His celebration showed how much it meant to him – and he will be hoping to carve out a bright future for himself at the venue going forwards.
Show your support by following Giallorossi Yorkshire on Twitter, Facebook and YouTube, and subscribe to the new monthly newsletter.