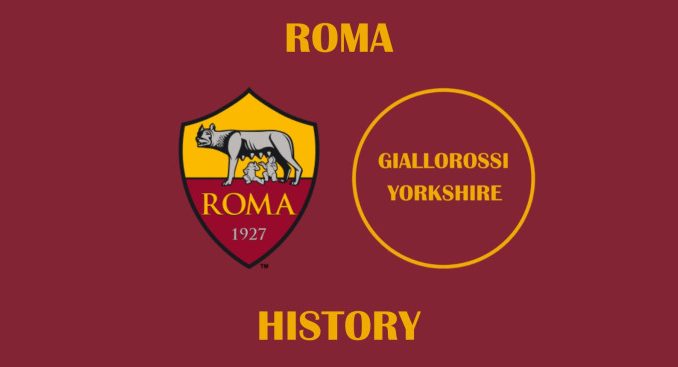 For many readers of this site, opportunities to watch Roma matches live are rare and special occasions.
A journey from the UK to Italy is not the cheapest, especially when the destination city is one of the most historic places in the world.
Therefore, trips to watch Roma play at their Stadio Olimpico home can be spread out largely — and with pre-season tours more likely to visit the USA or other regions, British Romanisti wait in hope of a European tie against a club from the UK.
In total, there have been 32 competitive Roma matches played on British shores. Here's how each one went.
Hibernian (1961)
The first time Roma played in the UK, it was an Inter-Cities Fairs Cup semi-final in Scotland. The opponents were Hibernian — a side that Roma would be expected to beat, but who had eliminated Barcelona in the previous round.
Indeed, Hibs were no pushovers, and Roma were pegged back twice in Edinburgh as the first leg finished as a 2-2 draw. Francisco Lojacono had put Roma ahead in either half, but the opposition found a way back both times, to ensure the Giallorossi did not leave Easter Road with an advantage.
The two sides drew again in the return leg, this time 3-3. Fortunately, the away goals rule was not in place, so a replay determined who would reach the final. Roma won that at the Olimpico 6-0, with Pedro Manfredini scoring four, before going on to make history shortly after.
Birmingham City (1961)
Indeed, the final of that year's competition put Roma up against another British side, this time one from England. A two-legged affair, Roma once again were held to a 2-2 draw, with Manfredini getting both the goals on this occasion.
Birmingham battled back from their two-goal deficit, but Roma were on top in the second leg back in Italy, with Paolo Pestrin following up an own goal to give the Giallorossi what remains their only European trophy.
Sheffield Wednesday (1961)
Unfortunately, Roma were not able to repeat their success in the following edition of the Fairs Cup, bowing out at the first hurdle. For their first ever trip to Yorkshire, the Giallorossi visited Hillsborough to face Sheffield Wednesday in the second round, having received a bye past the first stage.
One-time England international Gerald Young scored a hat-trick as Roma were beaten 4-0. There was to be no comeback in the second leg, as the Lupi only managed one goal without reply.
Chelsea (1965)
Roma's last ever appearance in the Fairs Cup also ended in England. Starting in the first round this time, Chelsea earned a 4-1 advantage in the first leg, thanks to goals from Terry Venables and George Graham.
Paolo Barison had levelled things up after Venables' opener, but the future England manager went on to complete a hat-trick to make Roma's first trip to London a miserable one.
Ards (1969)
Roma's next opportunity to play in Britain came after their triumph in the 1969 Coppa Italia — a trophy which saw them qualify for the European Cup Winners' Cup.
Their first round opponents were Northern Irish outfit Ards FC, who managed to hold them to a goalless draw in the first leg. When returning to Rome, however, the Lupi advanced to the next round with a 3-1 win.
It could have been the start of a historic journey. Roma made it all the way to the semi-finals that season, only to be denied a chance in the final by losing a coin toss to Gornik Zabrze — an outcome still rued to this day.
Swindon Town (1969)
1969 saw the inauguration of the Anglo-Italian Cup, giving English and Italian sides the chance to face off more frequently. Roma were involved in the first edition, facing a Swindon side who had been promoted into the Second Division for that season.
Due to their ranking, Swindon had not been permitted to take part in the Inter-Cities Fairs Cup, despite winning the League Cup the year before.
As Coppa Italia winners, Roma stepped up to take on the Robins, and despite winning the home leg 2-1, the scoreline in the ensuing trip to England makes for horrifying reading now. A hat-trick from Arthur Horsfield condemned Roma to a 4-0 loss at the County Ground, giving Swindon the trophy.
Carlisle United (1972)
Roma were involved in the Anglo-Italian Cup once again a few years later, with the tournament having expanded to feature six teams from each nation. The Giallorossi were drawn in Group 1, alongside Catanzaro, Carlisle United and Stoke City.
Having lost at home to Carlisle in their opener, Roma were out for revenge when they headed to the North West of England. However, despite a goal from youth product Ivo Banella, they were 3-1 down just after half-time.
Renato Cappellini struck late after an own goal had reduced the deficit in order to see Roma come away with a point.
Stoke City (1972)
Just three days later, Roma were playing in England again — the shortest ever turnaround between two matches played by the side on British soil. Sergio Santarini and Valerio Spadoni scored either side of a Stoke goal to ensure the Lupi came away with a 2-1 win in their last group game.
Having finally gained their first ever victory in the UK, Roma were the best performing Italian team in the competition, booking their place in the final — where they went on to beat Blackpool in a one-legged match at Stadio Olimpico.
Fulham (1973)
Seeking to defend their title the next season, Roma faced four group matches against English teams — playing at home to Newcastle and Oxford United, games which both ended as 2-0 defeats — and heading to England to play Fulham and Blackpool.
The Fulham encounter saw Cappellini give Roma the lead, but they were pegged back, and the game ended as a 1-1 draw. It was the only point Roma picked up in the competition.
Blackpool (1973)
Roma then found themselves coming up against the team they had beaten to win the previous trophy in their last group game. Lucio Mujesan gave the Giallorossi a lead, but Blackpool bounced back to clinch a 2-1 win at Bloomfield Road.
It was a disappointing end to Roma's last involvement in the now defunct Anglo-Italian Cup, but a few months later, Nils Liedholm would be appointed for his first spell as manager, paving the way for an era of greater success.
Ballymena United (1981)
More than a decade had passed since Roma's last visit to Northern Ireland, when they returned for a Cup Winners' Cup clash. Ballymena United found themselves on the receiving end of a free-flowing Roma at full force.
In the away leg, Odoacre Chierico and Carlo Ancelotti scored to give the Giallorossi a 2-0 advantage — which was multiplied when the two sides reconvened in Rome for the second leg, a game which saw Liedholm's side win 4-0.
Sadly, Roma lost to Porto in the next round.
Ipswich Town (1982)
Roma first appeared in the UEFA Cup in 1982, qualifying by virtue of a third place finish in Serie A the season before. Of course, Roma went on to win the league next time around, but they also had to balance European duties that year as well.
The home leg was won in quite convincing fashion, with Roberto Pruzzo netting a brace in a 3-0 win. It was just enough to ensure that Ipswich's 3-1 return upon their next meeting in England didn't turn the tie around. Aldo Maldera scored the crucial goal with a rocket of a free kick at Portman Road to give Roma the aggregate win.
Liedholm's men reached the quarter-finals that season.
Dundee United (1984)
A couple of years later, Liedholm would inspire Roma's greatest ever European adventure, having got them into the European Cup for the first time as Italian champions.
Having already overcome Goteborg, CSKA Sofia and Berliner Dynamo, all that stood between Roma and a place in the final were Scottish side Dundee United.
The first leg was away, and Roma gave themselves a mountain to climb in what became one of United's most famous ever matches. Falling to a 2-0 defeat, Roma had it all to do in the second leg — but they showed their true colours to produce a comeback which saw them win 3-0 at the Stadio Olimpico to book their place in the final at the same venue.
Unfortunately, the final – which also put them against British opponents — became the biggest heartbreak in Roma history, as Liverpool edged them out in a penalty shootout to beat them to the trophy.
Wrexham (1984)
Slight consolation came a few weeks later when Roma bounced back to win the Coppa Italia, which once again put them into the hat for the European Cup Winners' Cup.
In the second round, they came up against Wrexham. Even though the opponents played in the English league system, they were allowed to compete in the Welsh Cup, which they finished as runners up in to qualify for the European competition.
Roma earned a 2-0 advantage in the first leg at home, before taking their first ever trip to Wales to ensure they had now played in all four countries of the UK. Francesco Graziani scored the game's solitary goal to confirm Roma's place in the next round.
Leeds United (1998)
Embed from Getty Images
Roma's next visit to the British Isles would bring them to the birthplace of Giallorossi Yorkshire — Leeds. Both sides qualified for the UEFA Cup due to their league positions, and their paths crossed in the second round.
Roma were at home for the first leg, which they won 1-0, before setting off for Elland Road for the return fixture two weeks later. It wasn't a game to write home about, as it finished goalless — but it was enough to send Roma into the next round.
Newcastle United (2000)
Roma were back in Britain as part of the UEFA Cup again in the very next season. Their opponents in the third round were Newcastle — the northernmost side they have ever faced in England.
After Francesco Totti had scored a penalty to put the Giallorossi in front in the first leg at home, things once again ended goalless in England — enough for Roma to advance.
Leeds United (2000)
The next round of that same competition would see Roma returning to Yorkshire for another showdown with Leeds United. This time, things didn't turn out as well.
A goalless draw at the Olimpico meant Roma were at a disadvantage heading back to Elland Road, and Harry Kewell scored for Leeds to eliminate the Lupi from the competition. To compound the disappointment, Vincent Candela and Zago were both sent off late on.
Liverpool (2001)
Nearly two decades on since their fateful meeting in the European Cup Final, Roma finally had a chance for revenge against Liverpool. However, the Reds once again came away from Italy as winners, claiming the first leg of their UEFA Cup fourth round clash 2-0.
The Lupi headed to Anfield for the first time one week later, and did cut the deficit with a Gianni Guigou goal to win the game — but it wasn't enough to win the tie overall.
Liverpool went on to win the competition as part of a treble of cups.
Liverpool (2002)
The one trophy Liverpool didn't win that season was one that Roma did, in equivalent terms – their league title. Buoyed by their success, Fabio Capello's side had more optimism when they met Liverpool in the next season, for their first ever appearance in the Champions League since its rebranding.
As part of a secondary group stage, Roma held a Liverpool side now featuring John Arne Riise to a goalless draw in Italy, only to suffer a 2-0 defeat when they returned to Anfield. That head-to-head record saw Liverpool — who had the same points tally and even a worse goal difference — go through to the quarter-finals at Roma's expense.
Arsenal (2003)
Appearances in Europe's top competition became more common in the 21st Century, and while Roma could not retain their Serie A title, they did enough to qualify for a second successive Champions League.
In the second group stage, they faced Arsenal for the first time — losing at home to a Thierry Henry hat-trick before managing a 1-1 draw in their only visit to the Gunners' old Highbury ground. Antonio Cassano scored in both meetings, but in London, it was solely as an equaliser to a goal from future Inter Milan and Juventus midfielder Patrick Vieira.
Neither Arsenal nor Roma advanced from the group.
Middlesbrough (2006)
As part of the 2005-06 UEFA Cup, Roma ventured to the upper echelons of Yorkshire for their first ever meeting with Middlesbrough. A penalty from Yakubu ensured the home team won at Riverside, and despite a 2-1 win for Roma in the return leg, Luciano Spalletti's side were knocked out from the Round of 16 tie on away goals.
Manchester United (2007)
Let us not dwell on this one too much. In a Champions League quarter-final, Roma had actually put themselves in a good position ahead of their first visit to Manchester by winning the home leg 2-1, but everything unravelled in extraordinary proportions for the second leg.
Daniele De Rossi scored for Roma at Old Trafford, but that was little consolation, as the Giallorossi suffered their biggest ever defeat in a 7-1 loss. Ouch.
Manchester United (2007)
There were two chances for revenge the following season. The first came in the group stage of the Champions League, when Roma were just beaten 1-0 at Old Trafford — Wayne Rooney scoring the only goal. Both sides qualified for the knockout stages, where they would meet yet again.
Manchester United (2008)
Roma must have been sick of the sight of those red shirts by the time they met again in the quarter-finals of the same competition. Having lost the first leg at home 2-0, Spalletti's men were once again beaten by a single goal in Manchester — this time from future Juventus forward Carlos Tevez.
Things could have turned out differently had De Rossi not missed a penalty in the first half, which would have put Roma ahead on the night and helped reduce the aggregate deficit.
Embed from Getty Images
Chelsea (2008)
Roma were back in London for the next season's Champions League group stage, coming up against Chelsea for the first time since their Fairs Cup drubbing nearly half a century earlier.
The scoreline was more respectable this time, as the Lupi lost just 1-0 at Stamford Bridge. A 3-1 win at the Olimpico helped Roma finish as group winners ahead of the Blues, though — setting them up for another London adventure.
Arsenal (2009)
Once again, it was a 1-0 defeat in London as Roma lost to Arsenal in the Round of 16. The Giallorossi were able to match that scoreline back at the Olimpico, but were eliminated after an agonising sudden death penalty shootout.
Fulham (2009)
The scenario was quite different for Roma's next visit to London. The season after the elimination to Arsenal, a Giallorossi side now managed by Claudio Ranieri were back in the English capital, but this time as part of the Europa League — in its first season since rebranding from the UEFA Cup.
At Craven Cottage, Roma required a stoppage time equaliser from Marco Andreolli to seal a 1-1 draw against a side whom Ranieri also went on to manage.
Like against Chelsea in the previous Champions League, a win back in Rome saw the Lupi finish as group winners above their English opponents. However, Roma were knocked out in the next round — and Fulham made it all the way to the final, where they took Atletico Madrid to extra time.
Manchester City (2014)
A lot had changed since Roma's last visit to the north of England in the 2014-15 Champions League group stage. Manchester City had just won their second league title since a takeover which had provided them with unheard of riches.
Playing in the Champions League again after a three-year absence, Roma did well to match City at the Etihad Stadium, and even though the game ended as a 1-1 draw, a piece of history was made as Francesco Totti became the oldest goalscorer in Champions League history, with his only ever goal in the UK.
ANSWER: Francesco Totti became the oldest goalscorer in #UCL history with this goal in 2014 - surpassing record set by Ryan Giggs in 2011. https://t.co/rNx3cIh8nn pic.twitter.com/95xvjeGFgQ

— UEFA Champions League (@ChampionsLeague) May 18, 2020

  
Results elsewhere in the group, however, saw Roma drop into the Europa League.
Chelsea (2017)
Roma would enjoy their best run in Europe's top competition since reaching the final in 1984 just a few years later, in a journey that featured a memorable comeback against Barcelona.
One of the first signs that Eusebio Di Francesco's side could compete with the very best came when they stunned Premier League champions Chelsea in a thrilling group stage game.
Roma looked to be heading for defeat when they went two goals down, before Aleksandar Kolarov pulled one back before half-time with one of the most underrated goals of the Giallorossi's campaign.
Edin Dzeko then turned the tie on its head in remarkable fashion, firing in a famous left-footed volley to level things up. The goal has gone down as arguably the best of his career, and Roma fans packed in the corner at Stamford Bridge were given even more to cheer about when he headed in a third goal to put the Lupi ahead moments later.
Fazio ➡️ Dzeko 🚀 

Throwback to the two birthday boys combining to phenomenal effect against Chelsea in 2017...#ASRoma #Dzeko #Fazio #UCLpic.twitter.com/mhtTjMQh9O

— Giallorossi Yorkshire (@RomaYorkshire) March 17, 2020

  
Despite other chances, Roma were eventually pegged back, and had to settle for a 3-3 draw. But given the dramatic nature of the game, and the fact that Roma have never won a Champions League match on English soil, this encounter has become one of the most fondly remembered of the recent era.
Liverpool (2018)
After beating Chelsea convincingly back in Rome, and causing one of the greatest upsets in Champions League history by beating Barcelona, Di Francesco's men found themselves up against a familiar foe in the semi-finals of that competition.
While the former Sassuolo coach's tactics had inspired a miracle against Barca, the trick could not be repeated at Anfield, and what had begun as being the final step before a dream quickly became a nightmare.
Liverpool raced into a five-goal lead, with ex-Roma star Mohamed Salah haunting his former teammates. Two goals were restored late on by Dzeko and Diego Perotti, and Roma pushed hard to fight back in a controversial second leg in which they just fell short, but the damage had already been done.
Manchester United (2021)
Roma's next European semi-final was the 2020-21 Europa League, in which they faced Man Utd.
Sadly, despite a promising start, their latest visit to Old Trafford was another disappointment. Bruno Fernandes put the hosts ahead, before Roma claimed the half-time advantage after goals from Lorenzo Pellegrini and Dzeko.
But Paulo Fonseca's side collapsed in the second half, showing little understanding of how to manage a lead. They crumbled, eventually succumbing to a 6-2 defeat that they would not be able to overturn on aggregate, only going on to win the second leg 3-2.
Leicester City (2022)
The 2021-22 season gave Roma their first ever UEFA trophy and they claimed an English scalp along the way. In the semi-finals of the Europa Conference League, they met Leicester City for the first time.
At the King Power Stadium – in a city with Roman heritage – Pellegrini put them ahead before a Gianluca Mancini own goal restored parity. It would end as a 1-1 draw, but Roma went on to win the return fixture in Italy.
In doing so, they booked their place in the final, which they won to create a piece of history.
---
This article was originally published on May 19th, 2020, and has been updated with further fixtures since.