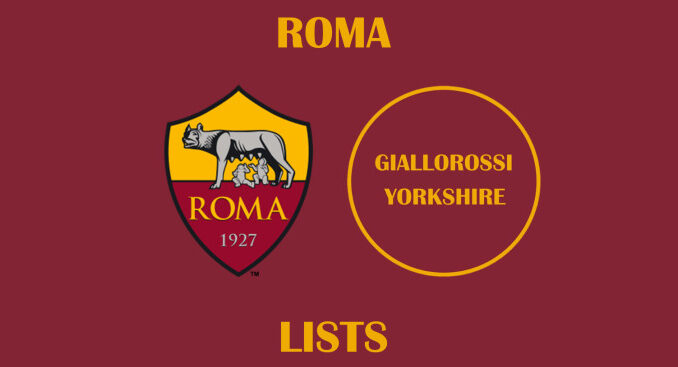 Roma have had some prolific players over the years, but not all of their great goalscorers have been consistent across multiple campaigns.
Sometimes, attackers have enjoyed one particularly fruitful season in front of goal before suffering from a downturn in fortunes the year after.
Here, Giallorossi Yorkshire has looked back at the Roma players whose goal tallies decreased the most from one season to the next. And, interestingly, many of those included are still regarded as being among the club's best ever frontmen.
This list only includes examples where the players completed the two consecutive campaigns in question, rather than leaving for another club halfway through, and doesn't take into account players who might have scored more for their former club in their last season there before declining in their debut Roma season.
Vincenzo Montella (-21)
One of the star strikers from Roma's most recent Scudetto in 2001 – and also a goalscorer in the victorious Supercoppa Italiana final that same year – Vincenzo Montella hit double figures of goals in each of his first four seasons with the club.
Then, after only scoring five goals in Fabio Capello's final season in charge of Roma, Montella bounced back in the otherwise turbulent 2004-05 campaign. Without his 23 goals that season, Roma – who only finished three points above the bottom three – could have been facing an unthinkable fate.
The appointment of Luciano Spalletti in 2005 prompted immediate improvements for the team's overall fortunes, but Montella – aged 31 at the time – regressed again, only scoring twice from 16 appearances in the new coach's first season in charge.
He left on loan for Fulham halfway through Spalletti's second season and spent the third with Sampdoria, before returning to Roma for a goalless 2008-09 campaign and ultimately retiring.
Pedro Manfredini (-19)
Roma's best striker of the 1960s, Pedro Manfredini also hit double figures in each of his first four campaigns with the club, after arriving from Racing Club in Argentina. 1962-63 was the final season in that streak, before his output declined for his last two terms with Roma.
His tally of 28 goals in all competitions wasn't even the best he ever managed for the club, illustrating how prolific he was in his prime. Unfortunately, he followed it up with just nine goals from 26 games in his penultimate season with Roma, despite being 27 years old when it started – an age many footballers nowadays would consider to be their prime.
Manfredini was still useful in 1963-64, though. Roma won the Coppa Italia for the first time in their history, with the South American striker scoring four goals along the way – including a hat-trick in the second round against Napoli – and also holding his nerve in the penalty shootout win over Fiorentina that put his side into the final.
Tammy Abraham (-18)
Tammy Abraham's first two seasons with Roma represented quite extreme opposites. No player had ever scored more than the 27 goals he managed in his debut season with the club after he joined from Chelsea in 2021. However, the England international struggled to match that form in 2022-23, missing out on a place at the World Cup in amongst it all. He finished his sophomore season with just nine goals, having been unable to reach double figures before an unfortunate ACL injury ended his campaign on the final day.
Rudi Voller (-18)
Rudi Voller spent five seasons with Roma, initially making a slow start before becoming one of their most iconic strikers of all time. His most prolific campaign with the club was 1990-91, in which he made more than 50 appearances and scored 25 goals as Ottavio Bianchi's side reached the finals of the Coppa Italia and UEFA Cup.
In Voller's final season, though, his goalscoring tally reduced to seven. There was actually only a decrease of four in terms of the league goals he scored in 1991-92 compared to 1990-91, meaning he still led the way for his side in Serie A, but he failed to score any cup goals, having found the net 14 times in other tournaments in his penultimate season with the club.
At the age of 32, he was let go by Roma at the end of the 1991-92 season.
Pedro Manfredini (-17)
The 1963-64 season was not the only one in which Manfredini scored significantly fewer goals than the campaign before. As alluded to earlier, his best season with the club saw him score a phenomenal 34 goals in 1960-61, helping Roma win the Inter-Cities Fairs Cup.
Naturally, it was going to be hard for him to follow that up. He was still Roma's leading goalscorer in 1961-62, but only with 17 goals as his output halved.
This time, Roma only reached the round of 16 in the Fairs Cup, meaning there were fewer opportunities for Manfredini to make his mark anyway.
Pierino Prati (-17)
More famed for his previous spell with AC Milan, Pierino Prati was Roma's main striker for Nils Liedholm's first spell in charge. He scored a respectable 41 goals across four seasons, from 1973 to 1977 – making him the club's top scorer of that decade – but more than half of them (22) came in the 1974-75 campaign.
The following season, as his 30th birthday approached and physical issues began to catch up with him, Prati played in 20 fewer games, only managing to score five goals. In fact, 1974-75 was the only season in which he hit double figures for Roma.
Roberto Pruzzo (-16)
By the summer of 1986, Roberto Pruzzo had already been Roma's record goalscorer for a while. Then 31 years old, he was emerging from a season in which he had scored 20 goals, including 19 in Serie A that made him the league's top scorer in 1985-86 (the third and final Capocannoniere award of his career).
Sadly, he would never score double figures of goals again. In 1986-87, Pruzzo only found the net four times. Illustrating how underwhelming Roma's attack was that season, he was actually still only one away from matching the team's leading marksmen in Sven-Goran Eriksson's final campaign in charge.
Pruzzo then went on to score just once in his final season with Roma before seeing out his career with another one-goal season at Fiorentina.
Gabriel Batistuta (-15)
Gabriel Batistuta's impact after becoming Roma's then-record signing in 2000 was immeasurable. Although already 31, he had broken the 20-goal barrier in the three consecutive campaigns before his departure from Fiorentina.
We all know what happened next. With 20 goals from 28 games in Serie A, Batistuta top-scored as Roma won the third Scudetto in their history. His whole tally for the season also included one more goal from the UEFA Cup.
Unfortunately, Batistuta's next two seasons with Roma were rather forgettable, as his star faded. In the title-defence season, during which Capello was bedding in new signing Antonio Cassano, the Argentina legend scored just six times from 35 games in all competitions.
Yet more than two decades on, it would be hard to find a single Roma fan who doesn't look back on Batistuta's spell with the club with immense fondness, for what he helped the club accomplish in his debut season.
Dino Da Costa (-15)
In the late 1950s, Dino Da Costa was a goalscoring inspiration for Roma. The 1958-59 season included 18 goals by the Brazilian-born, once-capped Italy international (he had broken the 20-goal barrier in both the previous campaigns).
After Manfredini's arrival that summer, though, Da Costa was no longer the focal point for Roma. He went on to record just three goals from 19 games in 1959-60, after which his time with the club practically reached its conclusion (as a loan spell with Fiorentina preceded a permanent move to Atalanta).
Edin Dzeko (-15)
Edin Dzeko's tally of 39 goals for Roma in the 2016-17 set a new record for one of the club's players in a single season. Hence, it was always going to be tough to replicate those standards the following year, especially after a change of coach from Spalletti to Eusebio Di Francesco.
Nevertheless, in 2017-18, Dzeko spearheaded Roma's run to the Champions League semi-finals, scoring 24 goals in all competitions. While it represented a decrease of 15 compared to the previous season, it ended up as the Bosnian's second-best campaign in Roma colours; he would fail to breach the 20-goal landmark again despite reaching double figures in his final three terms in the capital.