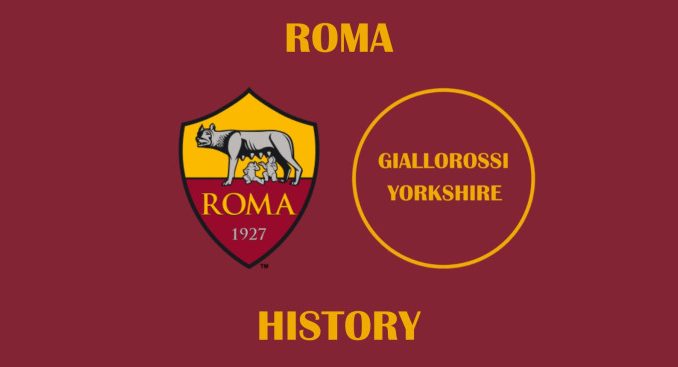 Roma's history is decorated with a long line of loyal players whose names roll off the tongue.
Francesco Totti, Daniele De Rossi, Giuseppe Giannini – all were heroes who spent the bulk of their careers fighting for the same badge. They were players who could have played on an even bigger stage and succeeded – Totti has made no secret of how close he was to joining Real Madrid, while De Rossi was courted by Manchester United, among others.
In the cases of the above trio, their loyalty was rewarded with some honours. Totti captained Roma to their third Scudetto, while Giannini was just starting out when the Giallorossi won their second. All three won the Coppa Italia with the club.
But decades before them came a player who did not enjoy the same successes, despite years of longevity and loyalty. That man was Arcadio Venturi.
🎂 91 years young... 
 
Happy birthday to Arcadio Venturi, a member of the club's Hall of Fame! 💛❤️ #ASRoma pic.twitter.com/nfMe427FqN

— AS Roma English (@ASRomaEN) May 18, 2020

  
A midfielder, Venturi was born in Vignola, within the Emilia-Romagna region, in 1929. Just two years younger than the club itself, he would go on to become one of Roma's original flag-bearers.
After a season playing in his hometown, Venturi came to Roma in 1948, at the age of just 19. The club had won their first ever Serie A title just six years before, but had not emerged from the Second World War as strong as they had been previously.
Venturi provided a beacon of new hope to his new teammates, who had finished just one point above the relegation zone in the season prior to his arrival. One of a handful of new arrivals to try and change Roma's fortunes, the midfielder was shown faith straight away by his new coach Luigi Brunella, who had just retired from his own playing career with the Giallorossi.
Making his debut in the season opener against Bologna, Venturi began to sense he could be part of something more positive when striker Mario Tontodonati – another of the players to be brought in during the pre-season – put Roma ahead just nine minutes in. Bologna equalised, but a goal from Bruno Pesaola ensured the season began with a win.
Venturi soon scored a brace in their biggest win of the season, 4-0 against Bari, to open his account for his new club, and he would net again when the same scoreline was repeated against Livorno.
By that point, nine games into the new season, things still looked positive, with Roma up in fourth place. But by the end of the campaign, they had dropped as low as 14th. Five places, but only three points, separated them from the drop.
Venturi's promise was a positive to take, though, and he continued to establish himself as a key player despite his tender years in the following season. This time, he found himself managed once again by a former Roma player in Fulvio Bernardini.
In his second season, Venturi registered 35 appearances, one more than he had in the previous season. However, it ended with an even closer brush with relegation, as Roma survived by just one place and two points.
When Roma were relegated at the end of the next season, Venturi's third with the club, it was a low point that had been coming.
Things would change dramatically for the club's sojourn in Serie B. There was another change of personnel on the touchline, with Giuseppe Viani taking over after the club had gone through three managers the prior season.
Key players like Tontodonati, Tommaso Maestrelli and Ione Spartano – all of whom had featured heavily in the preceding years – all departed, returning to clubs in the top flight. But Venturi was one of those to stay, determined to inspire the club back to their former glories.
Only defender Amos Cardarelli could match the 37 appearances that Venturi made in Serie B that year, missing just one match. The addition of Carlo Galli up front proved to be shrewd, as his goals helped fire Roma back into the top flight at the first time of asking – but Venturi was just as important to the club's resurgence.
Venturi scored six goals that season, the most of any season in his career to that point. During the campaign, he also made his senior Italy debut in a friendly against Sweden, before appearing competitively against Switzerland. In doing so, he became the first ever player to represent Italy while playing in the second division – a symbol of how grateful Roma should have been for his quality.
At the end of the season, he was called up to Italy's squad for the Olympics, where he scored his first and only international goal against the United States of America.
Venturi's form over that period suggested he was a player more than capable of playing at the top. But he made a decision with his heart, and stayed with Roma at their most critical time.
📷 Gallery: New #ASRoma #HallOfFame member Arcadio #Venturi in five photos...

👉 https://t.co/GLqKXhfNFP pic.twitter.com/Pm7JenIWQr

— AS Roma English (@ASRomaEN) July 19, 2016

  
Roma's first season back in the top flight brought much more success, with Venturi a common feature again in the club's ascent to a sixth-placed finish. Not only had he dug deep to get Roma out of the trenches, he had inspired them to a greater level than where they had been at the time of his arrival.
The loyalty he had shown was rewarded in 1953, ahead of Roma's second season back in Serie A, when he inherited the captain's armband from another hero of the solitary season in the second tier, defender Armando Tre Re.
In the same summer, Roma welcomed World Cup winner Alcides Ghiggia to the club, signalling the dawn of a brighter new era. The Uruguay international became one of just two players – the other being Egisto Pandolfini – to make more appearances for the club than Venturi in the season that followed.
Not a season went by when Venturi wasn't very near the top of the appearance charts for Roma. By the time of his departure in 1957, only Guido Masetti and Bernadini had made more appearance in the club's history than him.
All good things must come to an end, though, and Venturi finally had to leave Roma in 1957. With the club under financial pressure, he was sold to Inter Milan, where he spent three years before a pair of seasons at Brescia, retiring in 1962 at the age of 33.
In the years following Venturi's retirement, his legacy lived on. Such was his reputation as a person first and foremost, and a player second, that Ghiggia even named his son Arcadio in Venturi's honour.
In 2016, Venturi was inducted into the AS Roma Hall of Fame, prompting him to declare once more his love for the club. "With the greatest respect for my other clubs, I can solemnly say that once you've played for Roma, you remain a Giallorossi player for life," he enthused, nearly half a century since his last appearance for the club.
"I'm in constant contact with the club and that is unique – I really mean that. The fact that there's always a place for former players in the stands is a mark of respect towards those that have contributed to the history of Roma."
And the contribution Venturi made to Roma was just as vital as any other player. Yes, Totti, De Rossi and company will always be revered for their loyalty, and rightly so – and in terms of technical ability, they reached higher levels. But Venturi's loyalty came at a time when Roma needed it the most.
It would have been easy for him to walk away when the club dropped into Serie B, but he stayed for the benefit of the bigger picture. Without that selfless attitude, Roma may not have made the instant return that they did.
It is telling that Venturi only left when there was no alternative. For someone not even born in Rome, he took the city as his home and became a proud representative of the club – briefly crossing paths with Giacomo Losi, the man who picked up the baton and became Roma's most iconic captain born outside the city thereafter.
Venturi's time with Roma brought no trophies other than that Serie B title. He could have won much more elsewhere, but he showed immense loyalty and leadership to lay the groundworks for the success the club would enjoy in the future. In their darkest hour, Roma needed a hero – and Venturi was exactly that.